By Jim Butler and the Global Hospitality Group®
Hotel Lawyers | Authors of www.HotelLawBlog.com
17 January 2014
Hotel Lawyer on Hotel Mixed-Use.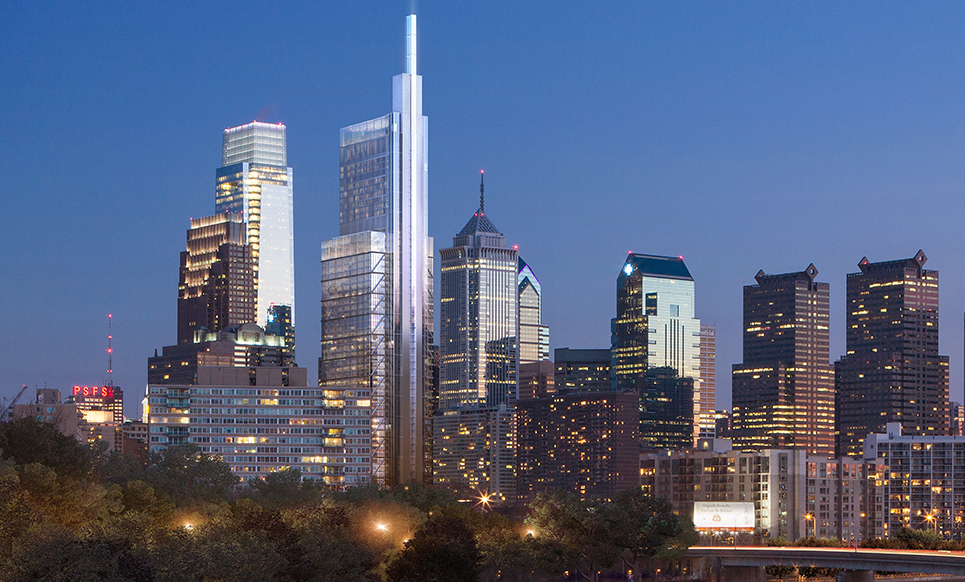 Proposed $1.2 billion, 59-story Comcast Center with Four Seasons Hotel in Philadelphia, PA.
JMBM's hotel lawyers are proud to be the hotel legal and advisory team for the developers on the Four Seasons luxury hotel component of this spectacular project. This is one of the high-profile hotel-retail-office mixed-use projects we have been working on for more than a year.
Hotel mixed-use is back! Hotels are being added to projects with retail, residential, office, entertainment and other uses — and the multiple uses enhance each other's value, so the value of whole is worth more than the sum of the parts. If this subject interests you, see the links below the press release.
Here is the press release from Comcast and Liberty Property Trust announcing the project.
---
PRESS RELEASE
Comcast Corporation and Liberty Property Trust
Designed by Lord Norman Foster and developed by Liberty Property Trust to achieve LEED Platinum Certification, the 59-story tower will include a Four Seasons Hotel. Thousands of jobs and billions of dollars of economic activity will be created in Philadelphia and the Pennsylvania commonwealth.
Comcast Corporation (Nasdaq: CMCSA, CMCSK) and Liberty Property Trust (NYSE: LRY) announced today they will jointly develop the "Comcast Innovation and Technology Center" on the 1800 block of Arch Street in Center City Philadelphia. The proposed $1.2 billion 59-story, 1,121-foot tower will neighbor Comcast Center, Comcast Corporation's global headquarters, and become a dedicated home for the company's growing workforce of technologists, engineers, and software architects. The facility will also create a media center in the heart of the City by becoming home to the operations of local broadcast television stations NBC 10/WCAU and Telemundo 62/WWSI and offer space for local technology startups.
Designed by world-renowned architect Lord Norman Foster of Foster + Partners, the glass and stainless steel tower will complement Comcast Center as a new energetic dimension to Center City. The 1.517 million rentable square foot project will include a new Four Seasons hotel and a soaring, block-long lobby with a glass-enclosed indoor plaza accompaniment to Comcast Center's existing, dynamic outdoor plaza. The lobby will feature a restaurant and a new concourse will provide direct connections with SEPTA's Suburban Station, enhancing accessibility and providing new options for commuters. The $1.2 billion mixed-use tower is expected to be the tallest building in the United States outside of New York and Chicago and will be the largest private development project in the history of Pennsylvania.