29 July 2014
Click here for the latest articles on EB-5 Financing. 
A viable source of capital and now mainstream
The EB-5 Immigrant Investment Visa program offers an alternative means of raising capital for hotel development projects in the U.S., and the lawyers in JMBM's Global Hospitality Group® and Chinese Investment Group™ have worked on more than sixty EB-5 projects all over the United States.
Over just the past 3 years, the EB-5 program has quickly gained the support of some of the largest, institutional-quality developers as well as major hotel brands. Perhaps a bit late, many developers have recently noticed the significant capital being raised through EB-5 and they are scrambling to catch up with those already far down the track.
Looming problem of limited bandwidth
Fortunately, EB-5 capital remains abundantly available. But unfortunately, there is limited bandwidth to tap into it. As a result, the competition of developers for access has become quite intense as they seek to gain the attention of the small number of players with the track record of success to complete their capital raise, and the increasingly discerning EB-5 investors who are much more careful today on who they trust with their immigration visa investment.
Why it is important to gain "preferred" status
Not surprisingly, the hotel developers who will win this race to receive EB-5 funding for their projects will be "preferred" hotel developers in every sense – preferred as to the excellence of the track record and experience of the developer, the quality of the project, the structure of the deal to satisfy EB-5 investor requirements and protect the developer, the experience and relationships with Regional Centers and sales teams, and experienced Counselors to advise on every aspect of the project.
The JMBM Global Hospitality Group® helps high quality developers with great projects achieve this "preferred" status and win the race for EB-5 capital. Some background on which developers and deals will be successful in raising EB-5 capital may be helpful in order to understand the importance of planning, structuring and positioning necessary to obtain the best result.
How to win the race for EB-5 capital:
Obtaining "preferred" status for developers and projects
by
Jim Butler and Jonathan Bloch
What does it mean to establish "preferred" status? What does it take?
The preferred status of a developer and project with respect to EB-5 financing has certain elements are more or less inherent in the project and developer, and other elements relate to structure and positioning to satisfy the needs of various participants in the EB-5 capital chain. An outstanding developer and project might fail to qualify as "preferred" without the proper Counseling, advice and structure, while a good developer might make the cut.
On the other hand, an inexperienced developer with a marginal project will never become preferred, even with the greatest coaching.
What are the benefits of being "preferred"? You win the race for EB-5 capital. Your deal qualifies for and receives EB-5 funding — in the maximum amount, at the lowest cost, in the shortest time, and with the greatest degree of certainty.
Who wins the race for EB-5 capital?
Who wins the race for EB-5 capital? The standard bell curve shown in the first graphic below helps answer this question.
The Y-axis in the graphic below represents the total number of projects seeking EB-5 financing, and the X-axis represents the relative strength or weakness of certain "Determining Factors" discussed in in the next section.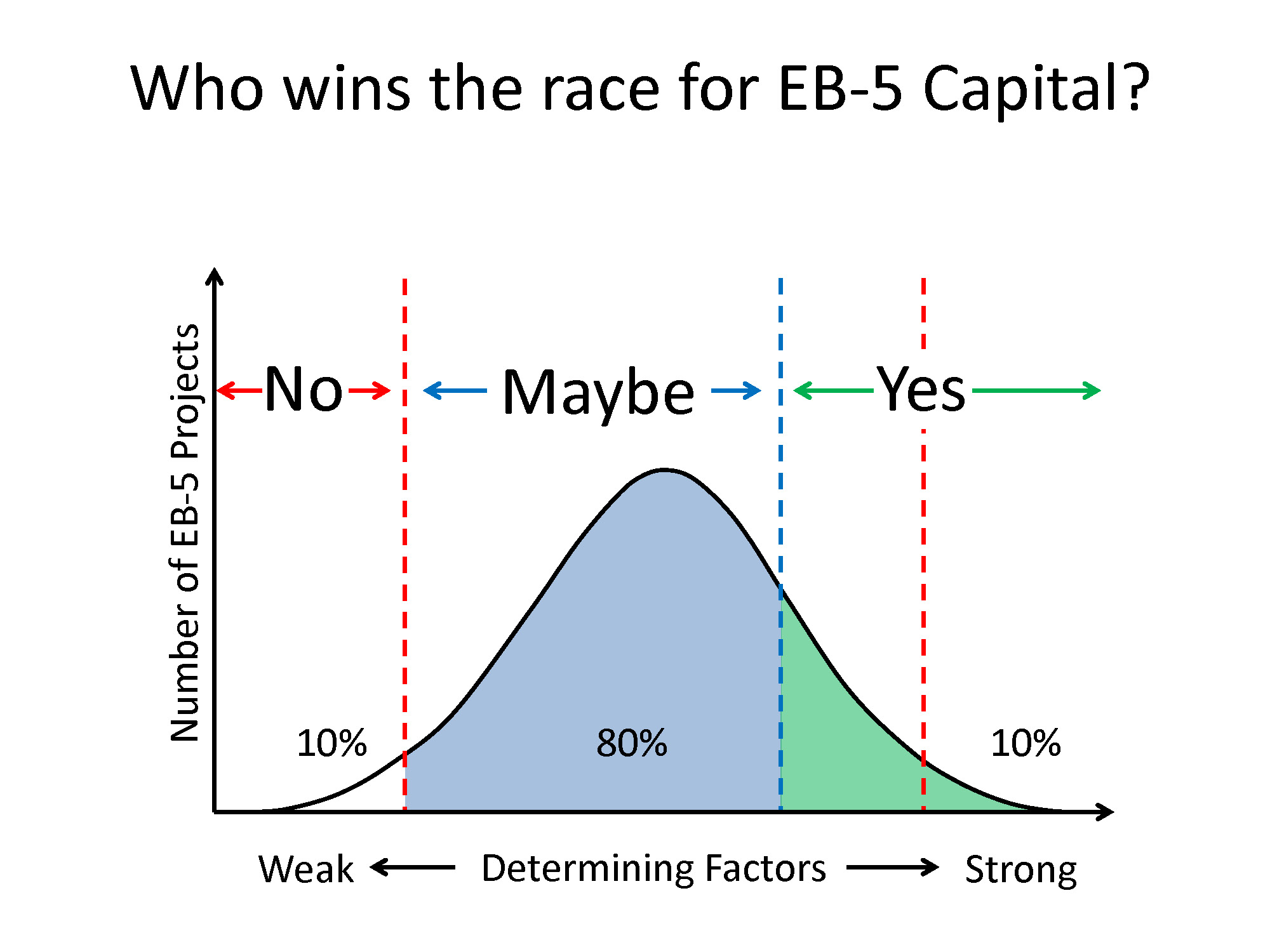 This graphic is intended to indicate that a small percentage of projects (shown here as 10%) are in the "Yes Zone" and would almost certainly qualify for preferred status. Another small percentage of projects (again shown here as 10%) are in the "No Zone" and would almost certainly fail to obtain preferred status. The vast majority of projects, however, are in the "Maybe Zone" and many are capable of being moved into the "Yes Zone" with proper counseling, structuring, and positioning.
We assist our hotel developer clients to move into the preferred "Yes Zone" by aggressively working with the relevant Determining Factors indicated on the X axis in the first graphic above and as listed in the table below.
Determining Factors to win the race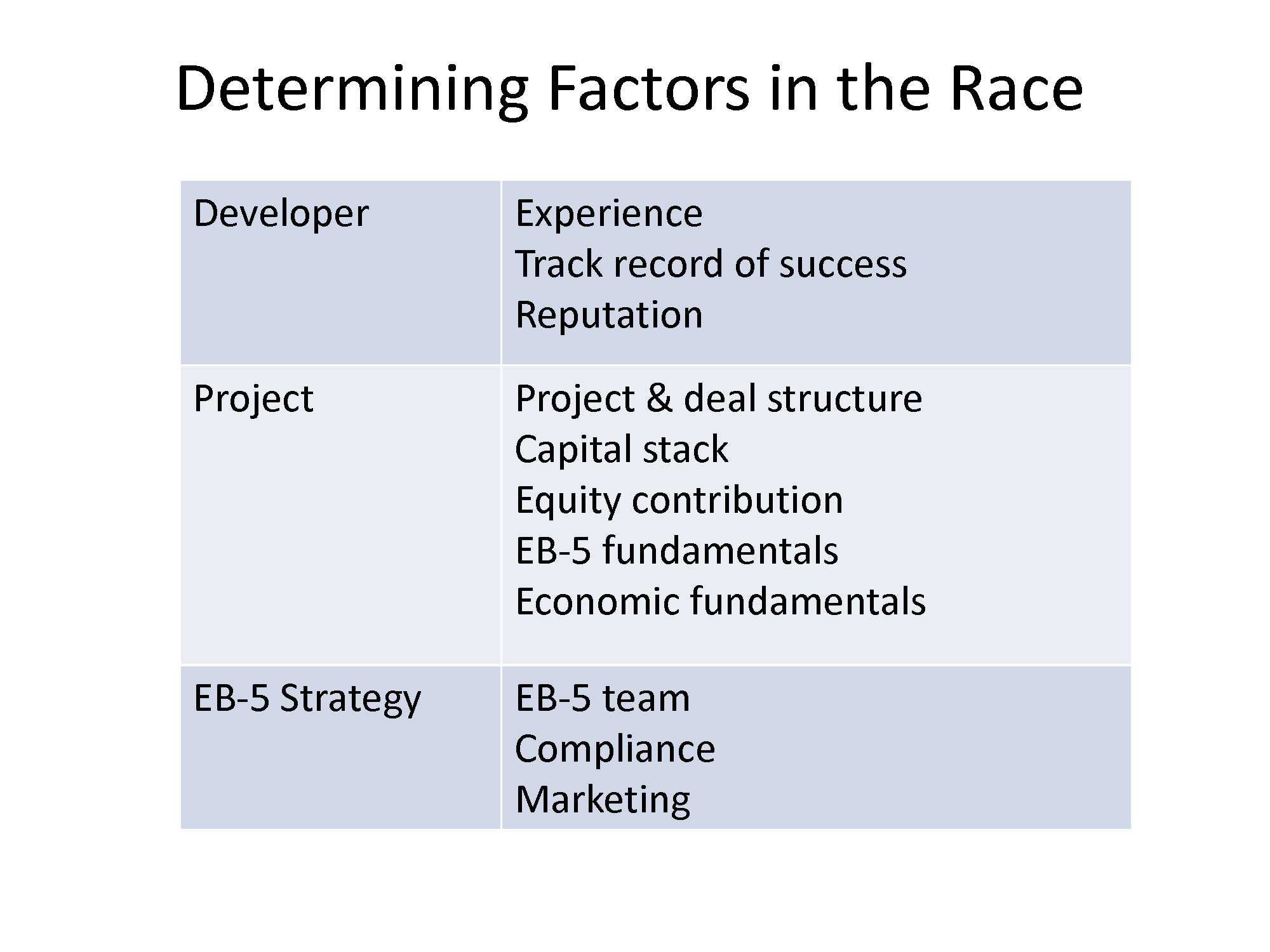 To win the EB-5 race, a developer wants all of the Determining Factors moved as far to the right as possible in the first bell curve chart above. Some of the factors are pretty well set at a given point in time, such as the developer's experience, track record, and reputation as well as the project's economic fundamentals. However, even these factors can be presented in a profile that is specifically responsive to the needs of the EB-5 capital raising chain. And other Determining Factors can be substantially created, shaped and substantially enhanced to obtain the best result. That is what good Counselors do for a project.
>Moving to the "Yes Zone"
In essence, with the right guidance, structuring, and team, projects in the "Maybe Zone" can be moved into the "Yes Zone" as represented by the yellow arrow in the graphic below.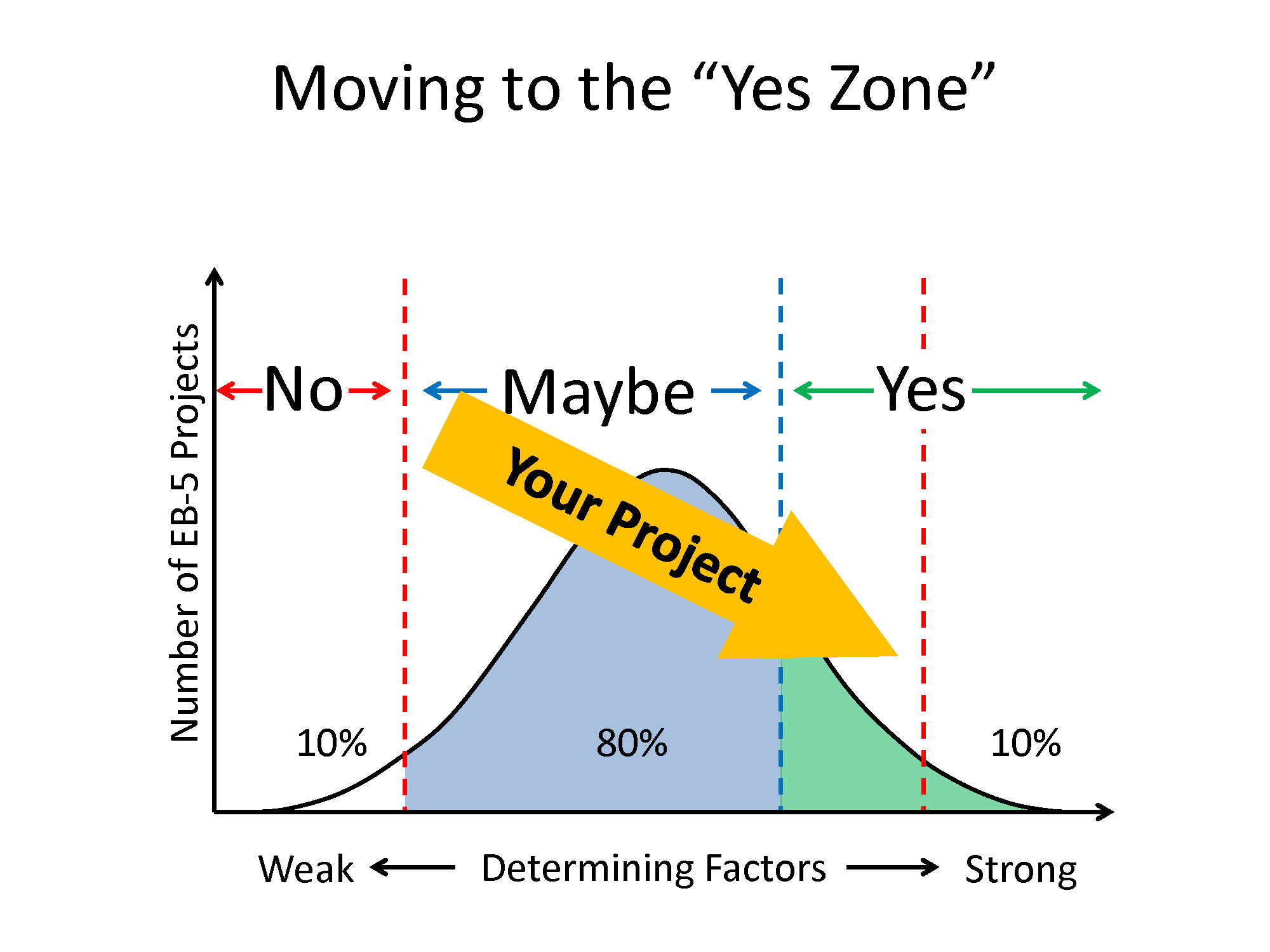 Other articles on EB-5 Financing
To access our rich library of articles on EB-5 financing, go to www.HotelLawyer.com, scroll down the right-hand side under LEARN MORE ABOUT and click on "EB-5 Financing." For your convenience, here are a few popular EB-5 articles that may be of interest:
JMBM has sourced more than $700 million of EB-5 financing for new development projects
Hotel Financing 2015: JMBM's "preferred" EB-5 construction financing program for top developers and projects.
FAQs about EB-5 project financing for new hotel development
Hotel development & EB-5 financing: Why you don't want to form your own regional center
Hotel development financing: How to win the race for EB-5 capital
Financing hotel development today: The 5 questions every hotel developer is asking about EB-5 financing
Executive Summary of the EB-5 Immigrant Investor Program
Hotel Lawyer to Developers: Looking for EB-5 Financing? The China "Retrogression" means you should act sooner than later!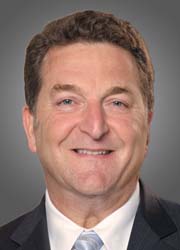 Jonathan Bloch
is a corporate partner and a senior member of the Global Hospitality Group® at JMBM. He has more than 15 years of experience in venture capital, private equity and alternative investments focused on large institutional investors specializing in operations, sophisticated fund formation issues and legal and regulatory compliance. Jonathan works with developers of hotel and other commercial real estate, as well as energy infrastructure companies, in sourcing, structuring, negotiating, documenting and closing EB-5 loans. He was the founder and Senior Managing Director of a large fund-of-funds firm (over $700 million in investments), which was targeted at venture capital, growth equity, medium-size buyout funds and clean-tech investing. Contact Jonathan at
310.201.3531
or
JBloch@JMBM.com
.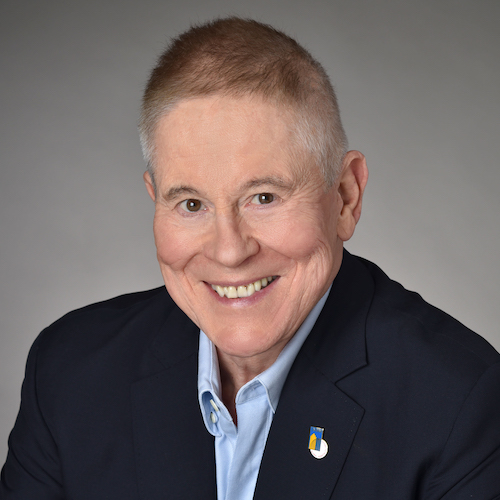 Jim Butler
is a founding partner of JMBM, and the founder and chairman of JMBM's Global Hospitality Group® and Chinese Investment Group™. He is recognized as one of the top hotel lawyers in the world and has authored or co-authored The HMA & Franchise Agreement Handbook, How to Buy a Hotel Handbook, and The Lenders Handbook. Jim has led the Global Hospitality Group® in more than $68 billion of hotel transactional experience, involving more than 1,500 hotel properties located around the globe. Jim's team has worked on more than 60 EB-5 projects over the past three years.
310.201-3526
or
jbutler@jmbm.com
This is Jim Butler, author of www.HotelLawBlog.com and hotel lawyer, signing off. We've done more than $68 billion of hotel transactions and have developed innovative solutions to unlock value from hotels. Who's your hotel lawyer?
---
Our Perspective. We represent hotel owners, developers and investors. We have helped our clients find business and legal solutions for more than $68 billion of hotel transactions, involving more than 1,500 properties all over the world. For more information, please contact Jim Butler at jbutler@jmbm.com or +1 (310) 201-3526. Jim Butler is a founding partner of JMBM, and Chairman of its Global Hospitality Group® and Chinese Investment Group™. Jim is one of the top hospitality attorneys in the world. GOOGLE "hotel lawyer" and you will see why. Jim and his team are more than "just" great hotel lawyers. They are also hospitality consultants and business advisors. They are deal makers. They can help find the right operator or capital provider. They know who to call and how to reach them.