PREVAILING WAGE LAW is California's "other" minimum wage. It requires workers to be paid union wages on publicly funded construction projects. But in recent years, the law in California has EXPANDED well beyond its initial purpose.  It has become a tool for workers to demand union wages on virtually any construction project in California. These claims can increase the cost of a major construction project by millions of dollars—and can be brought years after construction is complete.
$8 million Prevailing Wage verdict in 2011
for work on the Hilton San Diego Bayfront Hotel
by
Jon Welner, Hotel Lawyer
Rent credit from Port District triggered prevailing wage; $8 Million in back wages paid by Hensel Phelps Construction Company
In California Prevailing Wage Law, "public funds" come in many forms. In the case of the Hilton San Diego Bayfront Hotel, the Hotel learned the hard way that a "rent credit" can transform a $350 million, privately funded project into a "public work."
In 2005 the Hotel signed a ground lease with the Port of San Diego. The lease required the construction of a hotel and convention center by the end of 2008. Rent would be a minimum of $2.25 million per year during construction and $4.5 million per year thereafter. To help support the project, the Port agreed to a "rent credit" of up to $46.5 million during the first eleven years of the lease.
Does a rent credit = the payment of public funds?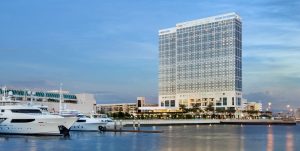 The Hotel claimed that project was privately funded and not a "public work." It argued that the rent credit was not the "payment…of public funds" because the overall lease—including the credit—was at fair market value (FMV).
The unions disagreed. They argued that a "rent credit" falls squarely within the statutory definition of "public funds," which includes "rents…that are paid, reduced, charged at less than fair market value, waived, or forgiven" by the government. CONTINUE READING →