Author of www.HotelLawBlog.com
19 June 2008
Hospitality Lawyer on green hotel development. Here at www.HotelLawBlog.com, we have a rich library of articles on green hotel development. (Just go to the blog, search down the right hand side for "Topics" and then click on "Green Hotels.") But as we now release the DVDs from our recent conference on green hotels — which are free to all conference attendees — we thought many of our readers would like to see the major PowerPoint presentations from our high-powered speakers, so we have published them here for your benefit. You will not want to miss this series of important presentations!
Deirdre Wallace is the Founder and President of The Ambrose Collection, a Santa Monica-based company focused on developing and managing eco-lifestyle boutique hotels. Her flagship property, The Ambrose, has won numerous awards since opening in 2003, setting a new industry standard for environmental responsibility while regularly outperforming competitors in both occupancy rate and gross revenues. Deirdre Wallace can be reached at (310) 382-2145 or deirdre@ambrosecollection.com.
In her own words, Deirdre Wallace shares with us her experience of "going green" in an already existing building.

Hospitality Attorney with Deirdre Wallace on The Ambrose Collection
The Ambrose Collection feels it is important to stay aligned with our mission and focus on our core values.
Our Mission: Through our uniquely crafted hotels, The Ambrose Collection seeks to offer exceptional guest experiences while minimizing negative environmental impact. Among the company's core values are sustainability, comfort, authenticity, integrity, inspiration and community.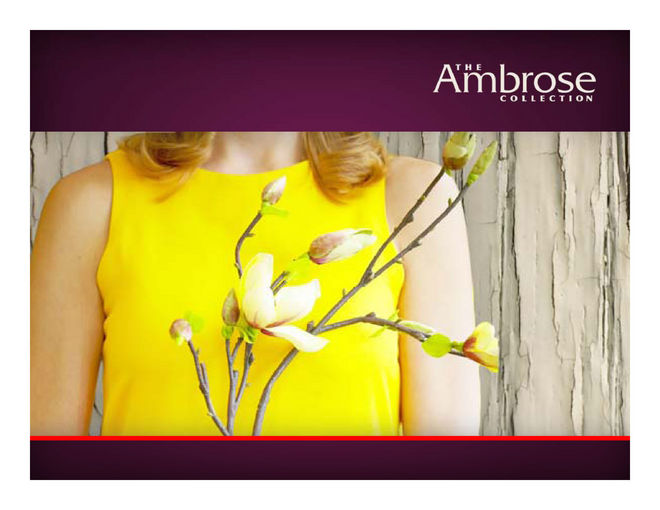 The Ambrose was built to be a health conscious property and The Ambrose Collection team felt the obvious next step was going "green". Once a third party consultant was hired to conduct an environmental audit, we began to take simple steps towards becoming a more eco-friendly property. Our executive team recognized early on that the involvement of the entire staff was of utmost importance and immediately began to focus on training and education, striving to get everyone involved in the implementation of the new program.
The Ambrose Sustainable Practices include:
* Linen Re-use Program
* Low flow toilets and faucets throughout the hotel
* Compact fluorescent light bulbs throughout the hotel
* Energy Star systems throughout the hotel
* Cleaning products purchased in bulk
* Sustainable non-toxic housekeeping program
* In-house recycling and composting program
* Sustainable purchasing program for all office supplies
* Purchase offsite renewable energy
* Community outreach
* Director of environmental practices
As a "green" hotel with many environmental initiatives already in place, The Ambrose Collection team felt prepared to move into a higher standard of certification – USGBC's LEED for Existing Buildings, which would focus mainly on operations, maintenance, and reporting.
LEED EB, The Next Step
The U.S. Green Building Council's Leadership in Energy and Environmental Design for Existing Buildings (LEED EB) is a rating system that helps building owners and operators measure operations, improvements and maintenance on a consistent scale, with the goal of maximizing operational efficiency while minimizing environmental impacts. LEED for Existing Buildings addresses whole-building cleaning and maintenance issues (including chemical use), recycling programs, exterior maintenance programs, and systems upgrades. It can be applied both to existing buildings seeking LEED certification for the first time and to projects previously certified under LEED for New Construction or Core & Shell.
LEED EB at The Ambrose
The following outlines some of the steps that the Ambrose Collection took in order to go for LEED certification for an existing building:
* No major renovations were needed

* Opted out of demolition credits and modified current operation and maintenance policies
* Sustainable purchasing policy
* Source reduction and Waste Management Policy
* Sustainable Housekeeping Policy
* Water Conservation program
* Preventative Maintenance Program
* Staff training
* Eco team
* Guest education and communication
Most assume going green is not cost effective. However, listed below are some of the costs incurred during The Ambrose's LEED EB application process and what we are now saving:
What it cost The Ambrose:
* Consultant fees
* Commissioning
* Building owners and managers training
* LEED application
* Minor renovations
* Time
What The Ambrose is Saving:
* 20% savings on water bill with low flow toilets and faucets
* 30% less energy is used each year with Energy Star Systems in place – $32,300 saved per year
* 17% of The Ambrose energy is offset with RECs (Renewable Energy Credits) = 6,000 kwh per month, which is equivalent to planting 15,200 trees, taking 12 cars off the road per year or eliminating 392,940 lbs of CO2 emissions per year

* 75% of hotel waste is recycled and 13.5 tons of waste avoids landfill per year
The slide below is a picture of the living room at The Ambrose. It looks exactly the same as when the hotel first opened but it is now "green". This proves that you don't have to sacrifice luxury when going "green"!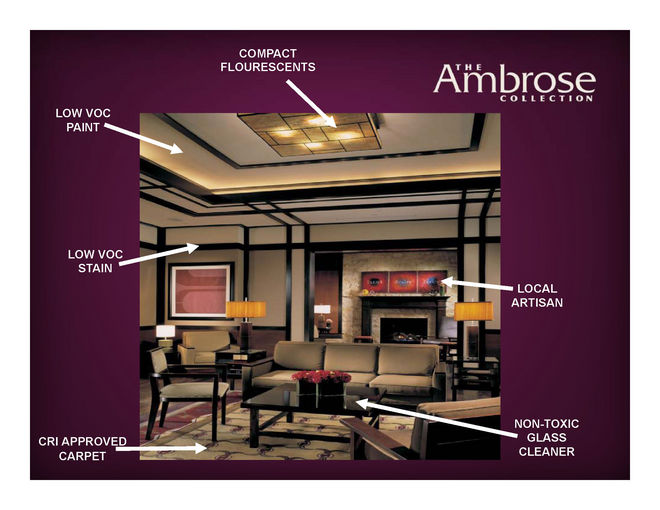 Thank you, Deirdre. Great work!
JMBM's Hotel Developers Conference
For the past five years, the Global Hospitality Group® of Jeffer Mangels Butler and Marmaro LLP has presented The Hotel Developers Conference™. Each year, this high level conference focuses on a current, cutting-edge issues such as resort development, condo hotels, and hotel mixed-use. In 2008, the conference, supported by UNLV and the USGBC, Nevada chapter, was devoted solely to green hotel development, renovation and operation.
Some of the great presentations from this series by the hospitality lawyers at JMBM include the following:
* Hospitality Lawyer Talks with The Ambrose Collection's Deirdre Wallace on Going Green with an Existing Building

* Compelling economics of green hotels by Gary Golla – going LEED Silver with a luxury hotel only costs 1/4% premium and provides 30% ROI plus 28% savings on energy, water and sewage for life of building.

* Saving money by going LEED Platinum by Kip Richardson
* How to get LEED certification and make it pay(harvesting all the incentives) by Lynn Simon
* Beyond LEED: The Future of Sustainable Design by Kip Richardson
* The Orchards — Green Case studies in green hotel development and renovation by Stefan Mühle
* Demystifying LEED by Howard Wolff
* EPA Energy Star and other resources available to hotels by Stuart Brodsky
And there are many more valuable articles at www.HotelLawBlog.com, particularly under the Topic of "Green Hotels."
This is Jim Butler, author of www.HotelLawBlog.com and hotel lawyer, signing off. We've done more than $87 billion of hotel transactions and more than 100 hotel mixed-used deals in the last 5 years alone. Who's your hotel lawyer?
________________________
Our Perspective. We represent developers, owners and lenders. We have helped our clients as business and legal advisors on more than $87 billion of hotel transactions, involving more than 3,900 properties all over the world. For more information, please contact Jim Butler at jbutler@jmbm.com or 310.201.3526.
Jim Butler is one of the top hospitality attorneys in the world. GOOGLE "hotel lawyer" or "hotel mixed-use" or "condo hotel lawyer" and you will see why.
Jim devotes 100% of his practice to hospitality, representing hotel owners, developers and lenders. Jim leads JMBM's Global Hospitality Group® — a team of 50 seasoned professionals with more than $87 billion of hotel transactional experience, involving more than 3,900 properties located around the globe. In the last 5 years alone, Jim and his team have assisted clients with more than 100 hotel mixed-use projects — frequently integrated with energizing lifestyle elements.
Jim and his team are more than "just" great hotel lawyers. They are also hospitality consultants and business advisors. They are deal makers. They can help find the right operator or capital provider. They know who to call and how to reach them.
Jim is frequently quoted as an expert on hotel issues by national and industry publications such as The New York Times, The Wall Street Journal, Los Angeles Times, Forbes, BusinessWeek, and Hotel Business. He is the Conference Chairman of The Hotel Developers Conference™ and Meet the Money®.
Contact him at jbutler@jmbm.com or 310.201.3526. For his views on current industry issues, visit www.HotelLawBlog.com.