30 April 2011
JMBM's Global Hospitality Group® will kick off the 21st annual Meet the Money® hospitality finance conference by hosting a pre-conference roundtable among hotel industry leaders.
The Hotel Business® 2011 Executive Roundtable–Capital Ideas: Financing Solutions For Opportunistic Dealmakers will take place Monday, May 2 at the Sheraton Gateway Los Angeles.

Hotel Business® has gathered some of the best minds in the industry to address topics that will continue to be explored on panel discussions and discussed in hallways for the next two days at Meet the Money®: the cost of equity and the price of debt, current deal structures and asset values, and more.
I am very pleased to be included in the Executive Roundtable dialog, but you can be assured that Hotel Business® will cover the Roundtable's highlights in an upcoming issue. We will let you know when it is available.
CSI Global is the sponsor for the Hotel Business® Executive Roundtable.
For more information about Meet the Money® 2011, visit www.MeetTheMoney.com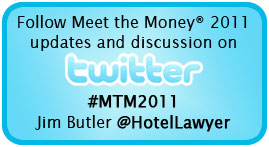 Social media can help you connect with conference delegates, speakers and sponsors, making it easy to follow up afterward and continue talking about deals and opportunities. Use the hashtag (a simple way to group posts about the same topic) #MTM2011 in any of your tweets about the conference to let us know what you're thinking about–what presentations and ideas you find useful, what you'll be applying to your transactions in the next few years, and how you're interpreting the research our experts have compiled. Join the conversation! We're looking forward to hearing from you.
_______________________
This is Jim Butler, author of www.HotelLawBlog.com and hotel lawyer, signing off. We've done more than $87 billion of hotel transactions and have developed innovative solutions to help investors be successful in bidding for hotel acquisitions, and helping investors and lenders to unlock value from troubled hotel transactions. Who's your hotel lawyer?
________________________
Our Perspective. We represent hotel lenders, owners and investors. We have helped our clients find business and legal solutions for more than $125 billion of hotel transactions, involving more than 4,700 properties all over the world. For more information, please contact Jim Butler at jbutler@jmbm.com or 310.201.3526.
Jim Butler is a founding partner of JMBM and Chairman of its Global Hospitality Group®. Jim is one of the top hospitality attorneys in the world. GOOGLE "hotel lawyer" and you will see why.
JMBM's troubled asset team has handled more than 1,000 receiverships and many complex insolvency issues. But Jim and his team are more than "just" great hotel lawyers. They are also hospitality consultants and business advisors. For example, they have developed some unique proprietary approaches to unlock value in underwater hotels that can benefit lenders, borrowers and investors. (GOOGLE "JMBM SAVE program".)
Whether it is a troubled investment or new transaction, JMBM's Global Hospitality Group® creates legal and business solutions for hotel owners and lenders. They are deal makers. They can help find the right operator or capital provider. They know who to call and how to reach them.