Author of www.HotelLawBlog.com
8 February 2007
Hotel Lawyer on hotel fundamentals. One of the things that has fascinated me about the hospitality industry for more than 20 years now, is the close — almost intimate — relationship of industry performance to the U.S. economy's performance. Some might say this is intuitive, that when the economy does well, all business does well. But that is not always true. There are some businesses which do better in hard times, like discount and bargain stores, and there are some that seem impervious, like ultra luxury goods. However the relationship of the lodging industry's performance to the general economy, has been carefully documented by the experts, and it is worth noting. The implications are interesting.

Industry analysis by PricewaterhouseCoopers
Bjorn Hanson, Ph.D. and principal, PricewaterhouseCoopers Hospitality and Leisure practice, explains this so well, as I watched him again at the recent Los Angeles hotel investment conference. And Bjorn was kind enough to share his graphics with me.
Bjorn and economists speak of the "elasticity" of demand. In the case of the lodging industry and the U.S. economy, the relationship has historically had a very close statistical "correlation." A correlation of "1" is a very high correlation establishing virtually a direct relationship between two items. As you can see from the following chart, the correlation between lodging demand and the U.S. Real GDP was 1.2 for 24 years from 1967 through 1991.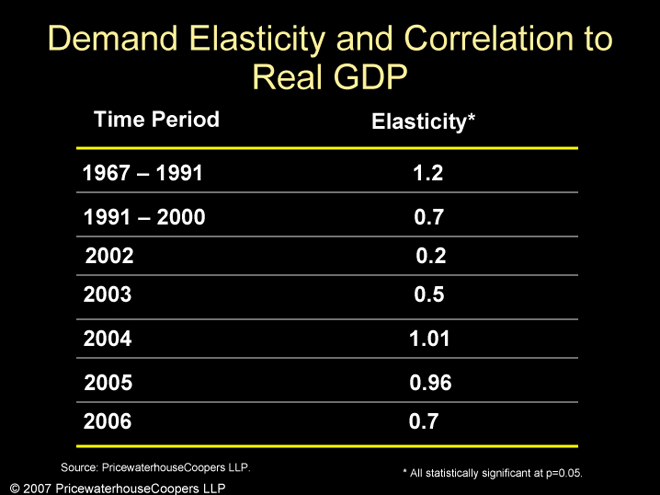 What does this mean? It means that if the U.S. economy grew by 1%, then lodging demand grew by 1.2%. This is pretty remarkable. But then, for about a decade between 1991 and 2000, the correlation dropped to .7. That meant that if the U.S. economy grew by 1%, then lodging demand grew by .7%. This is still a very impressive correlation, though not as strong as before.
Then, as you can see from the chart, everything changed in 2002 after 9-11, and the correlation plunged to .2 in 2002, rose to .5 in 2003, got to 1.01 in 2004, and has wobbled a bit the past two years, but still at a very high level of correlation or direct relationship.
Here is another of Bjorn Hanson's charts to illustrate the relationship a different way.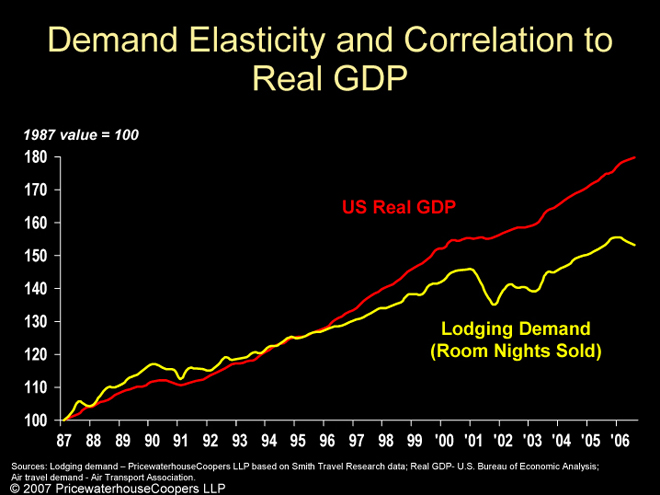 In this chart, you can see how the U.S. Real GDP and lodging demand tracked so closely from 1987 until 2002, and then virtually reset at a lower scale, but still paralleling the GDP.
This is an amazing correlation or relationship. Of course, the supply side of things is also critically important to the impact on profitability of the U.S. lodging industry, but these charts, and the correlations that PwC has documented show how important the economy is to our industry. No matter how strong the industry fundamentals may be — and they are very strong right now — the lodging industry will be directly affected by any economic downturn, as the demand growth will almost certainly parallel the GDP.
More on industry fundamental for 2007 soon.
________________________

Our Perspective. We represent developers, owners and lenders. We have helped our clients as business and legal advisors on more than $87 billion of hotel transactions, involving more than 3,900 properties all over the world. For more information, please contact Jim Butler at jbutler@jmbm.com or 310.201.3526.
Jim Butler is one of the top hotel lawyers in the world. GOOGLE "hotel lawyer" or "hotel mixed-use" or "condo hotel lawyer" and you will see why.
Jim devotes 100% of his practice to hospitality, representing hotel owners, developers and lenders. Jim leads JMBM's Global Hospitality Group® — a team of 50 seasoned professionals with more than $87 billion of hotel transactional experience, involving more than 3,900 properties located around the globe.
Jim and his team are more than "just" great hotel lawyers. They are also hospitality consultants and business advisors. They are deal makers. They can help find the right operator or capital provider. They know who to call and how to reach them. They are a major gateway of hotel finance, facilitating the flow of capital with their legal skill, hospitality industry knowledge and ability to find the right "fit" for all parts of the capital stack. Because they are part of the very fabric of the hotel industry, they are able to help clients identify key business goals, assemble the right team, strategize the approach to optimize value and then get the deal done.
Jim is frequently quoted as an expert on hotel issues by national and industry publications such as The New York Times, The Wall Street Journal, Los Angeles Times, Forbes, BusinessWeek, and Hotel Business. A frequent author and speaker, Jim's books, articles and many expert panel presentations cover topics reflecting his practice, including hotel and hotel-mixed use investment and development, negotiating, re-negotiating or terminating hotel management agreements, acquisition and sale of hospitality properties, hotel finance, complex joint venture and entity structure matters, workouts, as well as many operating and strategic issues.
Jim Butler is a Founding Partner of Jeffer, Mangels, Butler & Marmaro LLP and he is Chairman of the firm's Global Hospitality Group®. If you would like to discuss any hospitality or condo hotel matters, Jim would like to hear from you. Contact him at jbutler@jmbm.com or 310.201.3526. For his views on current industry issues, visit www.HotelLawBlog.com.