Author of www.HotelLawBlog.com
13 March 2007
Hotel lawyer on hotel mixed-use development. "Hotel Mixed-Use" . . . and how it can be the pass key to unlocking both new development and bigger profits was the entire focus of The Hotel Developers Conference™ in Rancho Mirage. Creative ideas flowed and mixed. Nuggets of valuable insight were gathered. Introductions were made. Deals were done. The opening session of The Hotel Developers Conference™ was covered in my last posting on www.HotelLawBlog.com. And here's what happened in the second full day.

"Back to the Future" — Mixed-Use on Main Street.
The theme of the 2007 Hotel Developers Conference™ was Hotel-Enhanced Mixed-Use, and the general sessions were packed with hundreds of hotel developers and industry experts sharing their enthusiasm for the hotel mixed-use concept. Developers, architects, consultants and capital providers discussed their urban mixed-use projects in New York, Los Angeles and Chicago, and their destination projects in Costa Rica, Cabo and Hawaii. They also talked about master planned communities with components that are phased in over decades.
Noting that the basic concept of mixed-use has been around for a long time, Bill Stone of Excel Realty Holdings said "We used to have mixed-use when I was a kid. We called it 'downtown'." Peter Connolly of Palladian Development called the exploration of hotel mixed-use a trip "back to the future." And so it began . . . looking at how dramatically mixed use has changed — moving to an entirely different level and morphing into a blockbuster category or real estate.
But the selection of uses and brands, and the INTEGRATION of the components takes an experienced hand guided by experience and judgment.
What is hotel mixed-use? That depends on who you listen to.
Marty Collins of Gatehouse Capital described their $800 million hotel mixed-use project in Hollywood California, anchored with a W Hotel, Residences and retail. He speculated that the premium from this kind of hotel mixed-use might be in the 50-100% range and said that hotel mixed-use provides a key that may open one of the few doors available for significant new projects today.
Bradley Pontius of Shea Properties described the Legacy Park hotel mixed-use development that Shea is developing in Orange County. "Our Main Street is the 'theater' – there will be lots of activity on the street level," he said. "That's why we will have wide sidewalks and lots of walking spaces." A boutique style hotel will anchor Legacy Park's Main Street. Pontius believes that mixing lifestyle retail brands and hotel lifestyle brands will drive the project's success.
Marc Gordon of Morgans Hotel Group LLC recounted Morgans' strong role in extending the definition of the boutique hotel, often mixing high-design and innovative restaurants and bars with the hotels. "We try to make our amenities fun. Our bars and restaurants are key to the concept, and we cater to locals in addition to guests. It's all about the experience," he said.
Dan Leverett of General Growth Properties affiliate The Woodlands Development Company has been involved on the commercial end of hotel mixed-use projects long before it was the thing to do. "People seek out places where they have a sense of belonging. If it is inviting, people will stay and spend their time and money." He should know. GGP's Woodlands community is one of the models of hotel mixed-use success. Retail, hotel and conference center not only co-exist, but thrive, with numbers that outpace their local competition.
What ingredients do you mix together to cook up a successful hotel mixed-use project? William Stone of Excel Realty Holdings put it simply: "There is no pat formula. You have to know your market and you have to do a thorough feasibility study." He believes each market is unique and warns that there are big differences in urban and suburban markets. Destination spots are different, too. "We like to look for the holes," he said. "We want to know what's missing in the market. Can we exploit those holes and fill a need?" In fact, Excel has identified a hole in the upper-end hotel market in Anaheim, California, near Disneyland. Their development will include a hotel for leisure travelers another for business travelers, and a timeshare project — to help feed and energize a huge retail lifestyle project. "Vacationers outspend locals 8 to 1 when they shop," he said. And in addition to vacationers, there are more than 1 million local shoppers in the market. Stone is also aware of the second home market, and how those consumers fit into the mix.
Joanne Beskin Elkin of Cooper Robertson & Partners took the long view. For master plan projects like Battery Park City in New York City, many architects, developers and professionals contributed to the project. Conceived in the 1960s when New York had to deal with the landfill from building the World Trade Center, the project covered 52 acres and went through a 20-year design phase. Ultimately, Battery Park added 12 million feet of commercial space and 2 residential neighborhoods. "The open space along the Hudson River is the most critical element of the project," said Elkin. "The community of workers and residents have great views and walking opportunities." The Ritz-Carlton at the southern end of the project was one of the last elements added. With condos included, the Ritz-Carlton has unobstructed views of the Statue of Liberty.
Scott Pickert of Marriott's Renaissance Club Sport described another successful formula for suburban mixed-use: a big sports club with hotel rooms. The concept mixes a hotel, a 50,000+ square foot fitness/spa/sport club and a restaurant. Located in upscale suburban communities with professional office space nearby, 10,000 Renaissance Club Sports memberships — owned by local families — support the hotel and provide ongoing hotel referrals. "I knew the concept was working when a business traveler called for a reservation and also made sure there was room in the 6 am spin class," said Pickert. The numbers on the properties have proved him correct.
Stan Woelfel of the Valencia Group described their successful hotel in the Santana Row development in San Jose, California. "People crave an experience, a place where they are comfortable and happy. If you can offer an experience of value, price becomes less important to the customer," he said. The infill project is located near a number of Fortune 50 companies in the Silicon Valley. The Valencia Hotel that anchors the Santana Row project provides the 24/7 activity critical to the project's energy and success.
In the eyes of many, Valencia is redefining lifestyle hotels and hotel mixed-use, or is almost synonymous with "lifestyle." The slide below — showing RevPAR penetration of 150% to 180% of the competitive set — is an astonishing testament to the premium values of a great new lifestyle brand, and what they can accomplish in a model hotel mixed-use project like Santa Row. How else could a new hotel provide a RevPAR premium of 50 to 80% over the competition?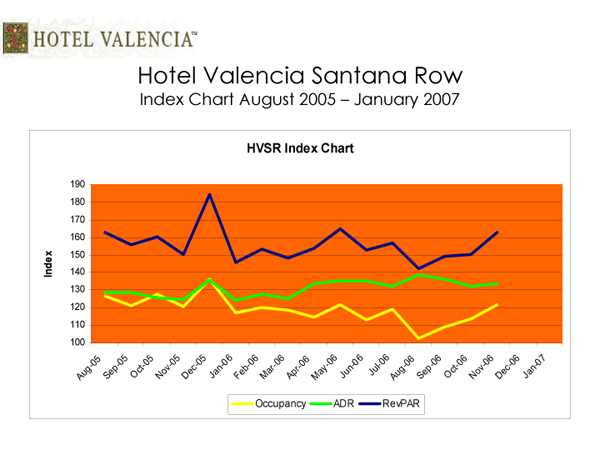 Many of the conference's participants talked about the "exponential" success of hotel mixed-use projects, and the critical role played by hotels. But integrating all elements successfully, is difficult. "We are learning how to merchandize across asset classes," said GGP's Tom D'Alesandro.
I started the conference with highlighting the critical importance of picking the right uses, and brands, and then INTEGRATING them so that each use complements and enhances the other. The challenges in the selection and integration was a theme that surfaced throughout the Conference. But the rewards are "exponential" for those who can do so successfully. And that is the trick that separates the successes from the failures.
Discussion about deals and projects continued at the wrap up reception on a balmy evening at the Starlight Terrace at Rancho Las Palmas. Overlooking the desert mountains and palm trees, participants exchanged business cards and set up meetings. It's a good time to be in the hospitality industry, and a good time to focus on hotel mixed-use.
________________________

Our Perspective. We represent developers, owners and lenders. We have helped our clients as business and legal advisors on more than $87 billion of hotel transactions, involving more than 3,900 properties all over the world. For more information, please contact Jim Butler at jbutler@jmbm.com or 310.201.3526.
Jim Butler is one of the top hotel lawyers in the world. GOOGLE "hotel lawyer" or "hotel mixed-use" or "condo hotel lawyer" and you will see why.
Jim devotes 100% of his practice to hospitality, representing hotel owners, developers and lenders. Jim leads JMBM's Global Hospitality Group® — a team of 50 seasoned professionals with more than $87 billion of hotel transactional experience, involving more than 3,900 properties located around the globe.
Jim and his team are more than "just" great hotel lawyers. They are also hospitality consultants and business advisors. They are deal makers. They can help find the right operator or capital provider. They know who to call and how to reach them. They are a major gateway of hotel finance, facilitating the flow of capital with their legal skill, hospitality industry knowledge and ability to find the right "fit" for all parts of the capital stack. Because they are part of the very fabric of the hotel industry, they are able to help clients identify key business goals, assemble the right team, strategize the approach to optimize value and then get the deal done.
Jim is frequently quoted as an expert on hotel issues by national and industry publications such as The New York Times, The Wall Street Journal, Los Angeles Times, Forbes, BusinessWeek, and Hotel Business. A frequent author and speaker, Jim's books, articles and many expert panel presentations cover topics reflecting his practice, including hotel and hotel-mixed use investment and development, negotiating, re-negotiating or terminating hotel management agreements, acquisition and sale of hospitality properties, hotel finance, complex joint venture and entity structure matters, workouts, as well as many operating and strategic issues.
Jim Butler is a Founding Partner of Jeffer, Mangels, Butler & Marmaro LLP and he is Chairman of the firm's Global Hospitality Group®. If you would like to discuss any hospitality or condo hotel matters, Jim would like to hear from you. Contact him at jbutler@jmbm.com or 310.201.3526. For his views on current industry issues, visit www.HotelLawBlog.com.