Author of www.HotelLawBlog.com
27 May 2008
Hospitality Lawyer on green hotel development. We have a rich library of articles on green hotel development here at www.HotelLawBlog.com. (Just go to the blog, search down the right hand side for "Topics" and then click on "Green Hotels."). But as we now publish the DVDs from our recent conference on green hotels — which are free to all conference attendees — we thought many of our readers would like to see the major PowerPoint presentations from our high-powered speakers, so we have published them here for your benefit. You will not want to miss this series of important presentations!
Here is the complete presentation at The Hotel Developers Conference from Lynn. N. Simon, AIA, LEED AP, President, Simon & Associates, Inc. based in San Francisco, California. She has more than 18 years of experience in green building and helps clients attain LEED certification and sustainability. A California-licensed architect, Lynn has served on the Board of Directors of several building industry organizations, including the U.S. Green Building Council (USGBC) for six years. She is a LEED® Faculty member, a LEED® Accredited Professional, and a Certified Green Building Professional. Lynn can be reached at 415-908-3757 or lynn@greenbuild.com.

How do you get LEED certification for your hotel?
If you listened to the war stories of Wen Chang at The Hotel Developers Conference™ (owner and developer of the first LEED gold certified hotel in the United States with his Gaia Hotel in Napa), this is not an easy task, and takes careful orchestration of when and how you do what (and with whom).
As the President of Simon & Associates, Lynn leads a nationally recognized green building consulting firm which uses a practical and collaborative approach and offers a wide range of services to advance sustainable and healthy building design and construction practices. Lynn is a green building pioneer and a leading authority in the industry. Here is her presentation at our Hotel Developers Conference 2008.
Lynn N. Simon, AIA, LEED AP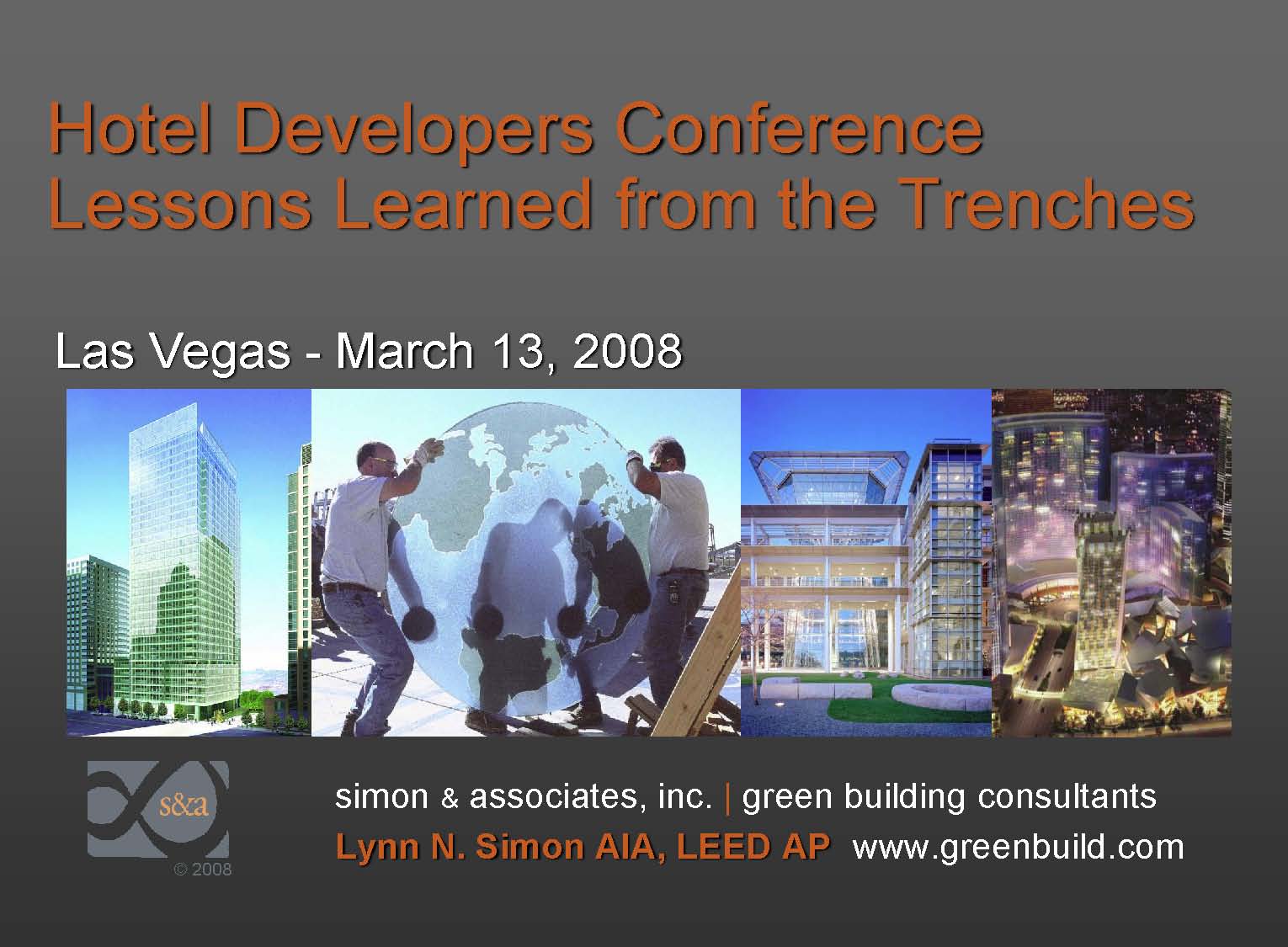 Though these three hotels differ dramatically in design, location, and client niche they share one vital commonality: a commitment to sustainability through LEED certification. I included this slide to show that LEED certification is a realistic possibility for all hotels willing to make the commitment.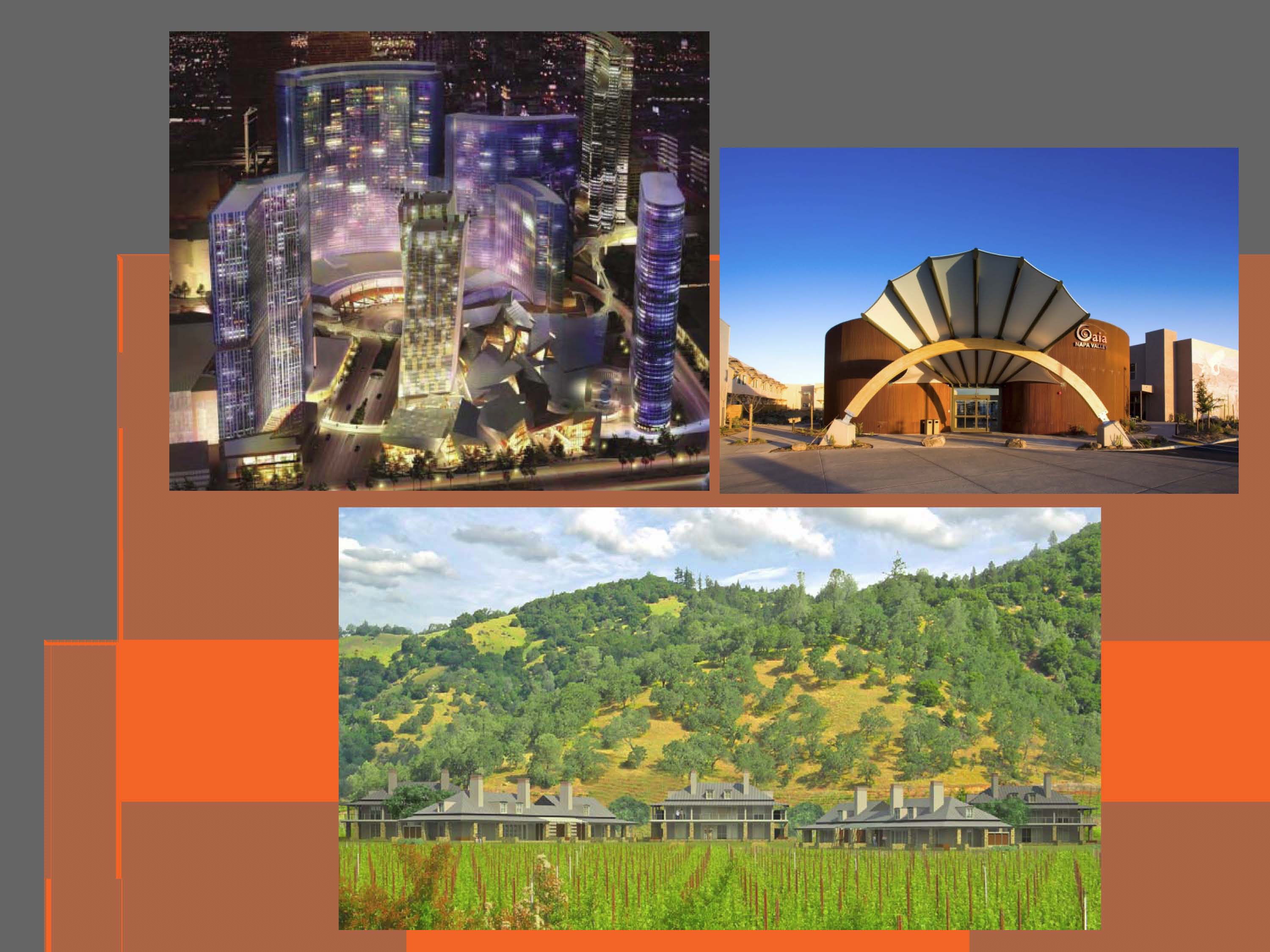 Integrated design and construction process is the fundamental principle of Green building.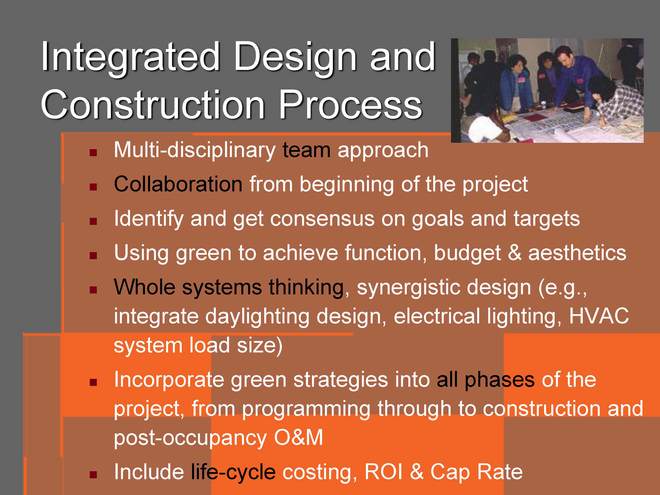 The LEED process begins with the initial phases of the design process and continues all the way through to the construction phase and even into post-occupancy. The earlier a commitment to sustainability is made the smoother the process of achieving LEED certification will be.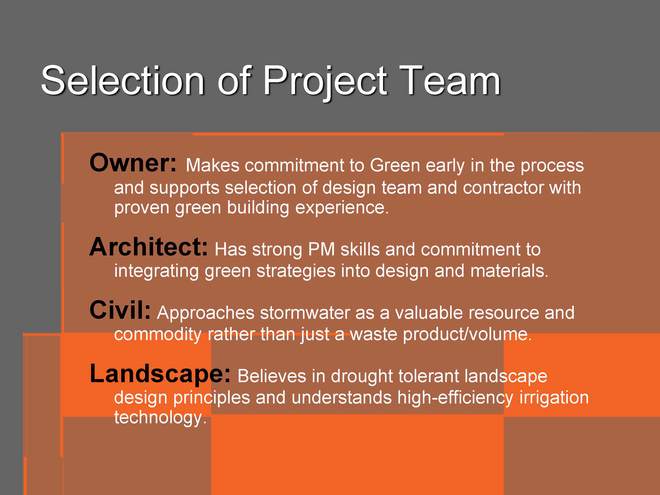 The ENTIRE project team should be selected based on their willingness to incorporate Green early in the process. This is a key aspect of an integrated approach. The owner should make a commitment to Green early on in the process and encourage the Project Team to use innovative technologies to enhance the sustainable features of the project. The Project Team should be selected based on their ability to utilize existing Green practices/technologies and their willingness to implement them.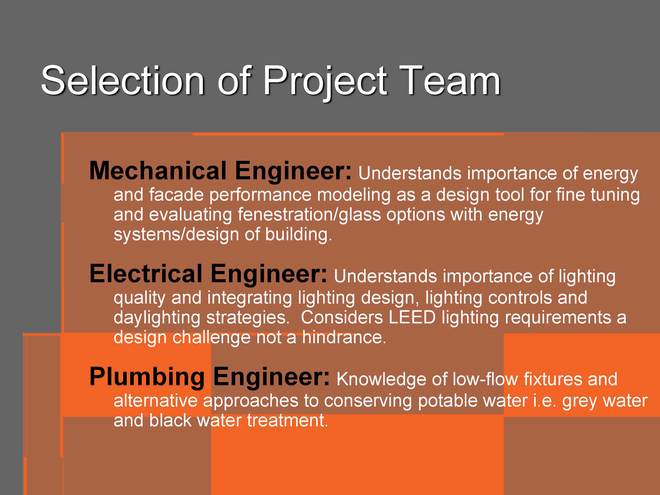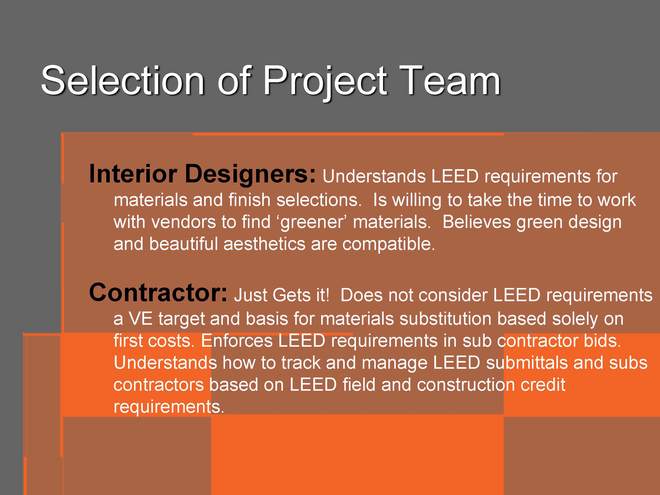 Guests expect certain things when they stay in a hotel and those expectations do not have to be sacrificed to make a hotel Green. Once again, an integrated approach is key to achieving a truly Green building. By making real commitments to sustainability, Green hotels can be a key player in the climate crisis solution.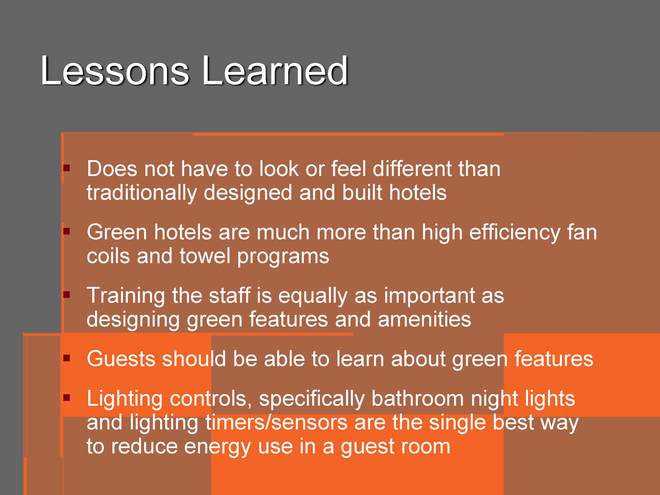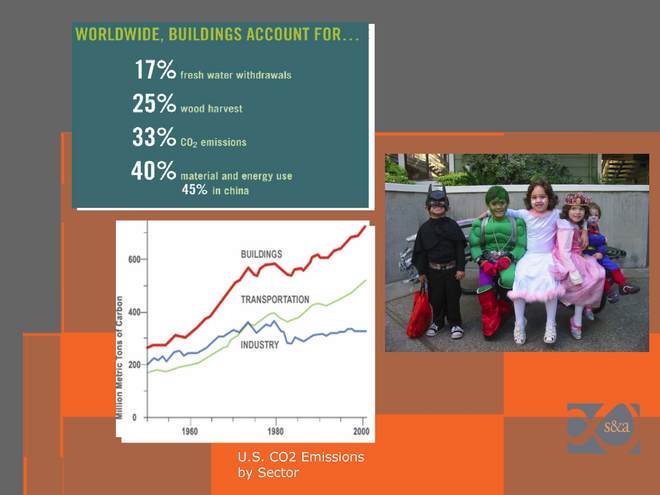 Thank you Lynn.
JMBM's Hotel Developers Conference
For the past five years, the Global Hospitality Group® of Jeffer Mangels Butler and Marmaro LLP has presented The Hotel Developers Conference™. Each year, this high level conference focuses on a current, cutting-edge issues such as resort development, condo hotels, and hotel mixed-use. In 2008, the conference, supported by UNLV and the USGBC, Nevada chapter, was devoted solely to green hotel development, renovation and operation.
Some of the great presentations from this series by the hospitality lawyers at JMBM include the following:
* Hospitality Lawyer Talks with The Ambrose Collection's Deirdre Wallace on Going Green with an Existing Building

* Compelling economics of green hotels by Gary Golla – going LEED Silver with a luxury hotel only costs 1/4% premium and provides 30% ROI plus 28% savings on energy, water and sewage for life of building.

* Saving money by going LEED Platinum by Kip Richardson
* How to get LEED certification and make it pay(harvesting all the incentives) by Lynn Simon
* Beyond LEED: The Future of Sustainable Design by Kip Richardson
* The Orchards — Green Case studies in green hotel development and renovation by Stefan Mühle
* Demystifying LEED by Howard Wolff
* EPA Energy Star and other resources available to hotels by Stuart Brodsky
And there are many more valuable articles at www.HotelLawBlog.com, particularly under the Topic of "Green Hotels."
This is Jim Butler, author of www.HotelLawBlog.com and hotel lawyer, signing off. We've done more than $87 billion of hotel transactions and more than 100 hotel mixed-used deals in the last 5 years alone. Who's your hotel lawyer?
________________________
Our Perspective. We represent developers, owners and lenders. We have helped our clients as business and legal advisors on more than $87 billion of hotel transactions, involving more than 3,900 properties all over the world. For more information, please contact Jim Butler at jbutler@jmbm.com or 310.201.3526.
Jim Butler is one of the top hospitality attorneys in the world. GOOGLE "hotel lawyer" or "hotel mixed-use" or "condo hotel lawyer" and you will see why.
Jim devotes 100% of his practice to hospitality, representing hotel owners, developers and lenders. Jim leads JMBM's Global Hospitality Group® — a team of 50 seasoned professionals with more than $87 billion of hotel transactional experience, involving more than 3,900 properties located around the globe. In the last 5 years alone, Jim and his team have assisted clients with more than 100 hotel mixed-use projects — frequently integrated with energizing lifestyle elements.
Jim and his team are more than "just" great hotel lawyers. They are also hospitality consultants and business advisors. They are deal makers. They can help find the right operator or capital provider. They know who to call and how to reach them.
Jim is frequently quoted as an expert on hotel issues by national and industry publications such as The New York Times, The Wall Street Journal, Los Angeles Times, Forbes, BusinessWeek, and Hotel Business. He is the Conference Chairman of The Hotel Developers Conference™ and Meet the Money®.
Contact him at jbutler@jmbm.com or 310.201.3526. For his views on current industry issues, visit www.HotelLawBlog.com.