27 April 2009
Hotel Lawyer with more information about the World Health Organization upgrade to "Phase 4" (on a 6 phase system) of the threat of a flu pandemic.
Today I received more reader comments on swine flu blog than I have for a long time. Clearly, blog readers are concerned about the swine flu catching the headlines. And after concern about health and safety issues, the potential implications of a "flu pandemic" are severe for the economy, and particularly, the travel and lodging industry. This was discussed in the article earlier today entitled Swine flu or SARS 2?
One of the bullet points in the cited article noted that the World Health Organization or WHO had increased its rating for the seriousness of this threat by a full notch to "phase 4." In answer to your questions, here's what that means.

WHO's 6 phase Pandemic Alert System
The World Health Organization has a great website, providing current information about <!–Epidemic And Pandemic Alerts. The following information is taken directly from WHO's website.
There are six phases of a pandemic alert, each of which has specific recommendations and approaches. As WHO just raised the alert level to Phase 4, we have now entered a phase calling for more than "just"" preparedness. This phase signals "the need for response and mitigation efforts."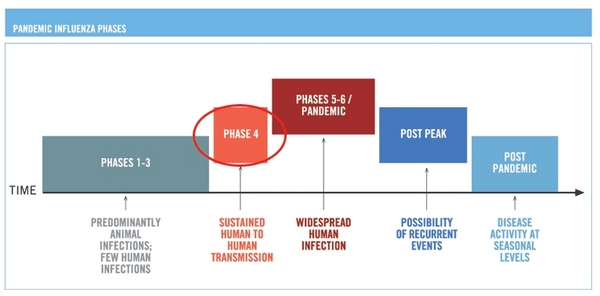 The current WHO phase of pandemic alert is 4.
In nature, influenza viruses circulate continuously among animals, especially birds. Even though such viruses might theoretically develop into pandemic viruses, in Phase 1 no viruses circulating among animals have been reported to cause infections in humans.
In Phase 2 an animal influenza virus circulating among domesticated or wild animals is known to have caused infection in humans, and is therefore considered a potential pandemic threat.
In Phase 3, an animal or human-animal influenza reassortant virus has caused sporadic cases or small clusters of disease in people, but has not resulted in human-to-human transmission sufficient to sustain community-level outbreaks. Limited human-to-human transmission may occur under some circumstances, for example, when there is close contact between an infected person and an unprotected caregiver. However, limited transmission under such restricted circumstances does not indicate that the virus has gained the level of transmissibility among humans necessary to cause a pandemic.
Phase 4 is characterized by verified human-to-human transmission of an animal or human-animal influenza reassortant virus able to cause "community-level outbreaks." The ability to cause sustained disease outbreaks in a community marks a significant upwards shift in the risk for a pandemic. Any country that suspects or has verified such an event should urgently consult with WHO so that the situation can be jointly assessed and a decision made by the affected country if implementation of a rapid pandemic containment operation is warranted. Phase 4 indicates a significant increase in risk of a pandemic but does not necessarily mean that a pandemic is a forgone conclusion.
Phase 5 is characterized by human-to-human spread of the virus into at least two countries in one WHO region. While most countries will not be affected at this stage, the declaration of Phase 5 is a strong signal that a pandemic is imminent and that the time to finalize the organization, communication, and implementation of the planned mitigation measures is short.
Phase 6, the pandemic phase, is characterized by community level outbreaks in at least one other country in a different WHO region in addition to the criteria defined in Phase 5. Designation of this phase will indicate that a global pandemic is under way.
During the post-peak period, pandemic disease levels in most countries with adequate surveillance will have dropped below peak observed levels. The post-peak period signifies that pandemic activity appears to be decreasing; however, it is uncertain if additional waves will occur and countries will need to be prepared for a second wave.
Previous pandemics have been characterized by waves of activity spread over months. Once the level of disease activity drops, a critical communications task will be to balance this information with the possibility of another wave. Pandemic waves can be separated by months and an immediate "at-ease" signal may be premature.
In the post-pandemic period, influenza disease activity will have returned to levels normally seen for seasonal influenza. It is expected that the pandemic virus will behave as a seasonal influenza A virus. At this stage, it is important to maintain surveillance and update pandemic preparedness and response plans accordingly. An intensive phase of recovery and evaluation may be required.
This is Jim Butler, author of www.HotelLawBlog.com and hotel lawyer, signing off. We've done more than $87 billion of hotel transactions and have developed innovative solutions to unlock value from troubled hotel transactions. Who's your hotel lawyer?
________________________
Our Perspective. We represent hotel lenders, owners and investors. We have helped our clients find business and legal solutions for more than $87 billion of hotel transactions, involving more than 3,900 properties all over the world. For more information, please contact Jim Butler at jbutler@jmbm.com or 310.201.3526.
Jim Butler is a founding partner of JMBM and Chairman of its Global Hospitality Group®. Jim is one of the top hospitality attorneys in the world. GOOGLE "hotel lawyer" and you will see why.
JMBM's troubled asset team has handled more than 1,000 receiverships and many complex insolvency issues. But Jim and his team are more than "just" great hotel lawyers. They are also hospitality consultants and business advisors. For example, they have developed some unique proprietary approaches to unlock value in underwater hotels that can benefit lenders, borrowers and investors. (GOOGLE "JMBM SAVE program".)
Whether it is a troubled investment or new transaction, JMBM's Global Hospitality Group® creates legal and business solutions for hotel owners and lenders. They are deal makers. They can help find the right operator or capital provider. They know who to call and how to reach them.