27 May 2009
Hospitality Lawyer Insights from Meet the Money® 2009: The hospitality lawyers of JMBM's Global Hospitality Group® have presented an annual hotel conference for 19 years. On May 5-7, 2009 in Los Angeles, California, nearly 400 industry leaders gathered at the Sheraton LAX for Meet the Money® 2009.

Presentations from Hotel Industry thought leaders by JMBM's hospitality lawyers
The PowerPoint presentations from a number of industry leaders at Meet the Money® 2009 are listed with hyperlinks at JEWELS from Meet the Money® 2009 — the "best ever" hotel conference.
Commentary and observations from the hospitality lawyers of JMBM and other industry experts on some of the critical industry issues are available at Hospitality Lawyer Insights.
Here is the latest in the Hospitality Lawyer Insights series on some of the most critical issues of our day.
#13. REITs and other institutional investors
John Arabia:

John Arabia
Senior Lodging Analyst
Green Street Advisors
949-640-8780
jarabia@greenstreetadvisors.com



"We firmly believe that the REIT of the future will operate on 20-25% leverage, not the 40-50% leverage we have seen in the past. Institutional investors have been discussing this for weeks: Companies with lower leverage outperformed those with moderate leverage, which again outperformed those without high leverage."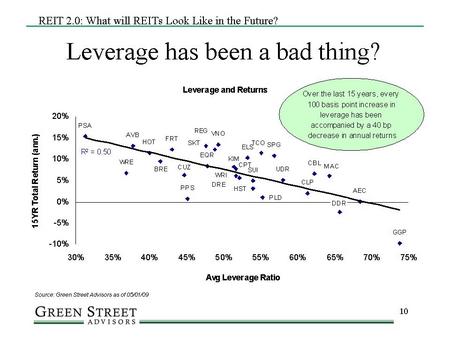 For more of John Arabia's controversial presentation that illustrates how, over the long term, investment yield varies inversely to leverage, go to Is leverage dead or deadly — a controversial new investment reality may be taking hold.
Robert B. Stiles:

Robert B. Stiles
Executive Vice President & Principal
Cushman & Wakefield Sonnenblick Goldman
(415) 658-3601
robert.stiles@cushwake.com



"REITs could provide an efficient reset of values."
John Arabia:
"If you look at REIT pricing compared to real estate pricing, REITs have recently rebounded from the sizable NAV discounts witnessed earlier this year."
Robert B. Stiles:
"What about all the dry powder on the sidelines? Pension funds are struggling to reach cash requirements."
Bernard N. Siegel:

Bernard N. Siegel
Principal
KSL Capital Partners, LLC
(720) 284-6440
bernard.siegel@kslcapital.com



"Many pension funds are clearly experiencing a downdraft in their real estate portfolios. The more savvy funds will want to invest now, as they will underperform in the next few years if they don't."
Jonathan Roth:

Jonathan Roth
Principal
Canyon Capital Realty Advisors
310-272-1500
jroth@canyonpartners.com



"Pension funds are spread way too thin over a number of GPs. The investor is backing 15 different sponsors who are competing on the same asset. The funds are going to reduce the number of sponsors that they back, resulting in fewer investors down the road."
Chad Christensen:

Chad Christensen
Vice President
Washington Real Estate Holdings, LLC
310-234-6731
cchristensen@waholdings.com



"We have a large institutional investor partner and we are active with them in the hospitality space. We know that our partners are facing the same kind of responsibilities to their constituents that we do. They are asking us to be prudent, and we respect that."
Tom Engel:

Tom Engel
President
T.R. Engel Group, LLC
617-451-1701
thomasengel@trengelgroup.com



"Private equity from pension funds will be placed very differently in the future, much more discreetly."
David Loeb:

David Loeb
Managing Director
RW Baird & Co
414-765-7063
dloeb@rwbaird.com



"Public markets are likely the key to a broader real estate de-levering. To de-leverage hotel portfolios, we are going to need a lot of equity. Funds have capital and they are looking for winners and losers. They are looking for people with expertise. Some real estate might be leveraged at 40% but hotels may be even less leveraged."
John Arabia:
"There is a mass re-equitization of the public equity markets. This has already begun. HOST and LaSalle have gone to the markets already. Public markets will play a critical role in the re-equitizing of the commercial real estate industry."
Jim Butler :

Jim Butler
Chairman, Global Hospitality Group
Jeffer Mangels Butler & Marmaro, LLP
310-201-3526
jbutler@jmbm.com



"There is speculation as to whether the funds promised by institutional investors will actually be deployed. Because much of this capital was raised before The Great Recession, many funds are now holding a disproportionate percentage of real estate assets, which they would prefer not to have "called in."
This is Jim Butler, author of www.HotelLawBlog.com and hotel lawyer, signing off. We've done more than $87 billion of hotel transactions and have developed innovative solutions to unlock value from troubled hotel transactions. Who's your hotel lawyer?
________________________
Our Perspective. We represent hotel lenders, owners and investors. We have helped our clients find business and legal solutions for more than $87 billion of hotel transactions, involving more than 3,900 properties all over the world. For more information, please contact Jim Butler at jbutler@jmbm.com or 310.201.3526.
Jim Butler is a founding partner of JMBM and Chairman of its Global Hospitality Group®. Jim is one of the top hospitality attorneys in the world. GOOGLE "hotel lawyer" and you will see why.
JMBM's troubled asset team has handled more than 1,000 receiverships and many complex insolvency issues. But Jim and his team are more than "just" great hotel lawyers. They are also hospitality consultants and business advisors. For example, they have developed some unique proprietary approaches to unlock value in underwater hotels that can benefit lenders, borrowers and investors. (GOOGLE "JMBM SAVE program".)