05 May 2010
Sorry if you have already received this message, but for some reason we are getting a lot of emails and calls from people who have had trouble getting to The Lenders Handbook for Troubled Hotels . . . so we want to make it easier . . .Click on the graphic below to download the Handbook.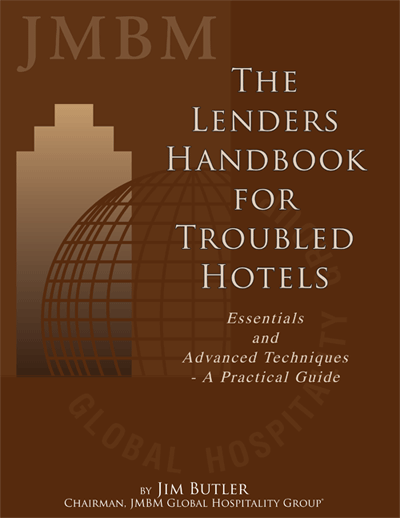 Hotel Lawyer with
The Lenders Handbook for Troubled Hotels
Troubled hotels? Hotel loan defaults? Distressed hotel assets? Hotel bankruptcies, receiverships, or workouts?
If you are dealing with the troubled hotel asset of any kind, The Lenders Handbook for Troubled Hotels will be an invaluable guide for you. This comprehensive, easy-to-read, 98-page book is FREE from the hotel lawyers at JMBM's Global Hospitality Group®.

Released this week at JMBM's 20th annual hotel conference, Meet the Money® 2010 (see Meet the Money®), this book has become an overnight success and is THE resource that anyone with a troubled hotel asset needs to have.
Although dedicated to lenders and owners, because of our substantial practice in representing them with hotels, we also represent owners and borrowers, and this resource is certainly a "must read" for them.
Free for the download, a complete PDF of the 98-page book — The Lenders Handbook for Troubled Hotels — can be obtained from the download page on www.HotelLawBlog.com at:
The Lenders Handbook for Troubled Hotels
Please contact me if you would like to discuss The Lenders Handbook or any hotel issues. It is easy to find my contact information, just GOOGLE the words "hotel lawyer.
Hope to talk to you soon!
This is Jim Butler, author of www.HotelLawBlog.com and hotel lawyer, signing off. We've done more than $87 billion of hotel transactions and have developed innovative solutions to unlock value from troubled hotel transactions. Who's your hotel lawyer?
________________________
Our Perspective. We represent hotel lenders, owners and investors. We have helped our clients find business and legal solutions for more than $125 billion of hotel transactions, involving more than 4,700 properties all over the world. For more information, please contact Jim Butler at jbutler@jmbm.com or 310.201.3526.
Jim Butler is a founding partner of JMBM and Chairman of its Global Hospitality Group®. Jim is one of the top hospitality attorneys in the world. GOOGLE "hotel lawyer" and you will see why.
JMBM's troubled asset team has handled more than 1,000 receiverships and many complex insolvency issues. But Jim and his team are more than "just" great hotel lawyers. They are also hospitality consultants and business advisors. For example, they have developed some unique proprietary approaches to unlock value in underwater hotels that can benefit lenders, borrowers and investors. (GOOGLE "JMBM SAVE program".)
Whether it is a troubled investment or new transaction, JMBM's Global Hospitality Group® creates legal and business solutions for hotel owners and lenders. They are deal makers. They can help find the right operator or capital provider. They know who to call and how to reach them.