Author of www.HotelLawBlog.com
4 March 2007
Hotel lawyer on hotel and hotel mixed-use development. Wasn't it only "yesterday" that a few hundred million dollars seemed like a lot of money and made the headlines? After Blackstone's $39 billion purchase of Equity Office Properties deal was topped in deal size by Kohlberg Kravis Roberts' bid for Texas Pacific Group (TXU) for about $45 billion, it almost seems like everyone yawns at "mere" billion dollar deals, much less something smaller. For example, did you notice any major headlines in the past couple of weeks about Winston Hotels being bought by Wilbur Investment for $850 million, or Apple Hospitality being bought by ING Clarion Partners for $890 million, or Hilton selling its Scandic Hotel chain to a private equity group for about $1.1 billion?
Nobody I know was particularly excited about these deals despite their size, which would have claimed headlines only a year ago. As I have commented before on www.HotelLawBlog.com, it really does seem that "Size no longer matters . . . at least in the hotel industry."
But what does the big dollar focus on hospitality mean from private equity and celebrities– as we have discussed with such players as Bill Gates and Prince Al Waleed, Blackstone, Morgan Stanley in its acquisition of CNL Hotels & Resorts, Barry Sternlicht on his investments in China and India, as well as his launch of new brands such as the "1" and the Crillon, Paul Allen, Shaquille O'Neal, Donald Trump, Magic Johnson, Andre Agassi and Seffi Graf?
By themselves, these events show that smart money has tremendous confidence in the U.S. economy and in the lodging sector. They also validate the industry metrics of sustained profits and continued good times for at least several more years. But, combined with a few other factors, they also reaffirm the general belief that this is a great time to be developing hotels — particularly in a hotel mixed-use context — if it is done well. Let's take a look at this and consider if we can get it right this time!

The fundamentals all point the right way.
For several years the hospitality industry has enjoyed record profit levels, and the fundamentals all seem poised for sustained profits and growth. These factors were discussed in my last posting on www.HotelLawBlog.com entitled "How good is the hotel business and how good can it get?"
If anyone needed more confirmation of the ripeness of the time, Hilton announced on February 27, 2007 that it intends to develop 1,000 select service hotels in North America by 2012, and an additional 1,000 properties by 2017.
So what are the concerns?
Although the times may be better than ever before, many worry that our industry has a history of "committing suicide" by overbuilding until the supply exceeds demand so greatly that it drives average daily rates (ADR), revenues per available room (RevPAR), and profits into the red.
And indeed it is true that the growth in supply has drifted up in the past few years, and growth in demand has moderated over this same period as reflected in this chart from Smith Travel Research.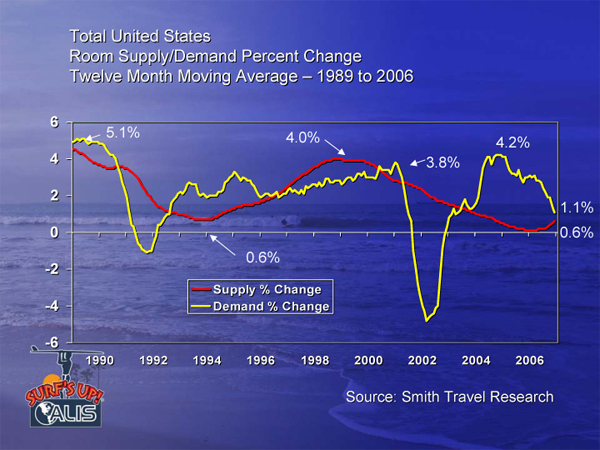 But look at the huge gap between the soaring supply growth and demand growth over the past 3 years! And anecdotally speaking, have you tried to get a hotel room in New York City recently? Could you get one at all? How hard did you have to look? What did you pay?
Did you notice that the ADR for the Four Seasons in Manhattan has broken the all time record of $1,000 per night? And that the ADR for Manhattan has hit a new all time record of $230 per night?
Maybe we don't need hotels EVERYWHERE, but clearly we need hotels in many markets around the world where demand greatly exceeds supply. This is simply a matter of developing "smarter" — where we do our analysis of the market strengths and weaknesses, barriers to entry, and other relevant considerations, and we build "for the future" with appropriate design and structure for our target market. This may mean more lifestyle-oriented hotels, with design, service, technology, and greenness that make old designs seem dated. It may mean the proper mixing of hotels with residential, retail, office, shopping center, entertainment, wellness and spa, so that we can live, work and play in attractive, cost-effective, and exciting environments.
This may mean more lifestyle oriented hotels, with design, service, technology, greenness, as well as proper mixing of uses with other real estate types such as residential, retail, office, shopping center, entertainment, wellness and spa so we can live, work and play in an attractive, cost-effective, and exciting environment that make old designs dated.
So how do we develop hotels "smarter" and how do we get it right this time?
How do we avoid the mistakes of the past? How do we develop smarter and better so that we are financially more secure and stable — and more profitable and insulated from cyclical downturns?
This will be the focus of JMBM's conference this coming week — The Hotel Developers Conference™ in Rancho Mirage, California on March 7-8, 2007 in Rancho Mirage, California on March 7-8, 2007. There is still some room for last minute registration if you haven't signed up yet.
This conference is focused on hotel development and construction — but particularly on hotel-enhanced mixed-use where a hotel is the "sparkplug" for the project, designed to enhance the excitement and sustain attendance and involvement of project visitors.
Why focus on hotel-enhanced mixed-use? Because everything we see suggests that hotel mixed-use is the hottest thing going in the industry and holds the greatest potential for developers and other stakeholders in a new project. You won't want to miss this conference if you are involved in – or considering – any kind of hotel development, but particularly hotel-enhanced mixed-use development.
What is hotel mixed-use? What does it mean to some of the most successful developers in the country? Hear their stories. Why did they do it? How did it turn out? What uses mix well together? When do you add club, fractional, spa, retail, residential, office, sports, waterpark or other components? How do you integrate the elements? What drives the economics and what are the IRR premiums? What's happened to change the feasibility of going "green"? Can you afford not to go "green" anymore? Where are we in the condo hotel phenomenon?
We have the top leaders of the industry answering all these questions and more at The Hotel Developers Conference™ (March 7-8, 2007) in Rancho Mirage. Some of the companies sharing their experience are listed below.
Owners and developers
such as: Ensemble Real Estate Services, Excel Realty Holdings, Gatehouse Capital, Gencom Group, General Growth Properties, HEI Hospitality, Irongate, John Buck Company, Palladian Development, Shea Properties, Triyar and Winston Hotels.
Hotel brands, operators, lifestyle, spa and wellness living companies such as: Boutique Club, Ambrose Group, Carlson, Dolce, Fairmont Raffles, InterContinental, Miraval Resort & Spa, Morgans, Renaissance ClubSport, Valencia Group and WTS International.
Advisers and consultants at the forefront of hotel mixed-use development on issues including hotels, green development, waterparks, spas and wellness, including: Berins & Co, CP Strategy, JLC, Johnson Consulting, Manhattan Hospitality, PKF Consulting, Plasencia Group, Warnick & Co, and Jerry Thoele.
Leading architects, including: Belzberg Architects, Cooper Robertson & Partners, RTKL, Gensler, and WATG.
Industry leaders in hotel project finance, insurance, luxury residential marketing, and other areas, including Cornerstone Real Estate Advisers, Sonnenblick-Goldman, The Greenwich Group International, Vacation Finance, Marsh USA, S&P Destination Properties, SunBurst Marketing, I will be there, of course, and invite the readers of HotelLawBlog.comto join with us for what promises to be a very interesting dialogue for these very interesting times. If you sign up now, I have a surprise and a free gift for you that I think will be a great resource in your library for years to come.
________________________

Our Perspective. We represent developers, owners and lenders. We have helped our clients as business and legal advisors on more than $87 billion of hotel transactions, involving more than 3,900 properties all over the world. For more information, please contact Jim Butler at jbutler@jmbm.com or 310.201.3526.
Jim Butler is one of the top hotel lawyers in the world. GOOGLE "hotel lawyer" or "hotel mixed-use" or "condo hotel lawyer" and you will see why.
Jim devotes 100% of his practice to hospitality, representing hotel owners, developers and lenders. Jim leads JMBM's Global Hospitality Group® — a team of 50 seasoned professionals with more than $87 billion of hotel transactional experience, involving more than 3,900 properties located around the globe.
Jim and his team are more than "just" great hotel lawyers. They are also hospitality consultants and business advisors. They are deal makers. They can help find the right operator or capital provider. They know who to call and how to reach them. They are a major gateway of hotel finance, facilitating the flow of capital with their legal skill, hospitality industry knowledge and ability to find the right "fit" for all parts of the capital stack. Because they are part of the very fabric of the hotel industry, they are able to help clients identify key business goals, assemble the right team, strategize the approach to optimize value and then get the deal done.
Jim is frequently quoted as an expert on hotel issues by national and industry publications such as The New York Times, The Wall Street Journal, Los Angeles Times, Forbes, BusinessWeek, and Hotel Business. A frequent author and speaker, Jim's books, articles and many expert panel presentations cover topics reflecting his practice, including hotel and hotel-mixed use investment and development, negotiating, re-negotiating or terminating hotel management agreements, acquisition and sale of hospitality properties, hotel finance, complex joint venture and entity structure matters, workouts, as well as many operating and strategic issues.
Jim Butler is a Founding Partner of Jeffer, Mangels, Butler & Marmaro LLP and he is Chairman of the firm's Global Hospitality Group®. If you would like to discuss any hospitality or condo hotel matters, Jim would like to hear from you. Contact him at jbutler@jmbm.com or 310.201.3526. For his views on current industry issues, visit www.HotelLawBlog.com.