Author of www.HotelLawBlog.com
26 February 2007
Hospitality Lawyer on state of the hotel industry and its prospects. We are enjoying great times in the hospitality industry and the prospects are excellent that the good times will continue for at least several more years. But how good is it, and how good can it get? Let's take a look!

Record industry profits being set and likely to continue
In recent postings on www.HotelLawBlog.com, I have talked about the state of the hotel industry. To get another perspective on how good things are, let's examine industry profits.
The chart below gives one of my favorite views of the industry — industry profits for the past 25 years as shown in this slide from Bjorn Hanson, Ph.D. of PricewaterhouseCoopers. When the final results are tallied, we expect industry profits for 2006 to set an all time record for the industry at $25.2 billion, and 2007 is projected to grow to $29.7 billion.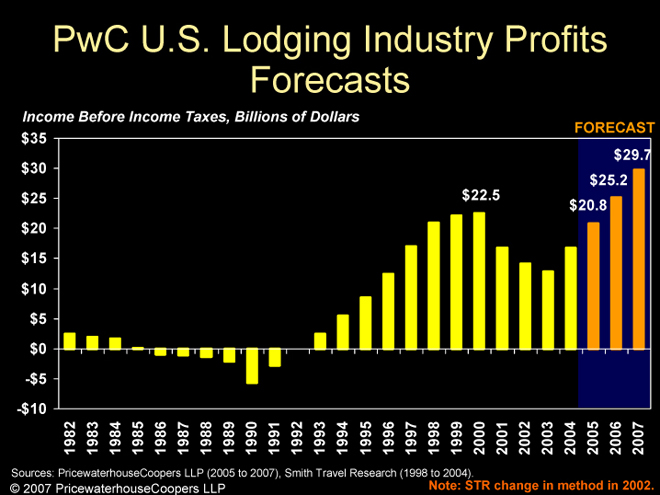 RevPAR growth parallels profit growth
And according to Smith Travel Research, Revenue Per Available Room (RevPAR) also set records in 2004, 2005 and 2006 as shown in the slide below. To understand the significance of this RevPAR growth, anything over 5% is extraordinary, but numbers like 7.8%, 8,5% and 7.4% over the past 3 years are spectacular!
And while the projected RevPAR growth for 2007 of 5.8% is down a little from the past 3 years, it is still an extraordinary number. The growth is likely to continue at that pace for 2008 as well.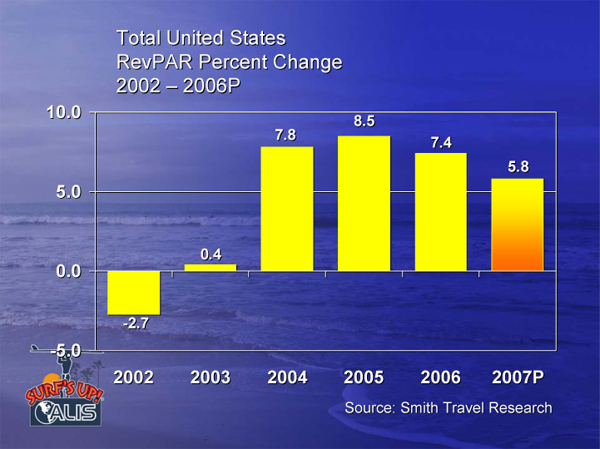 Not all U.S. Markets enjoy the same prosperity — a look at Key 15 markets
But as these slides from Smith Travel Research show, all U.S. markets have not enjoyed the same increase in Average Daily Rate (ADR) nor RevPAR.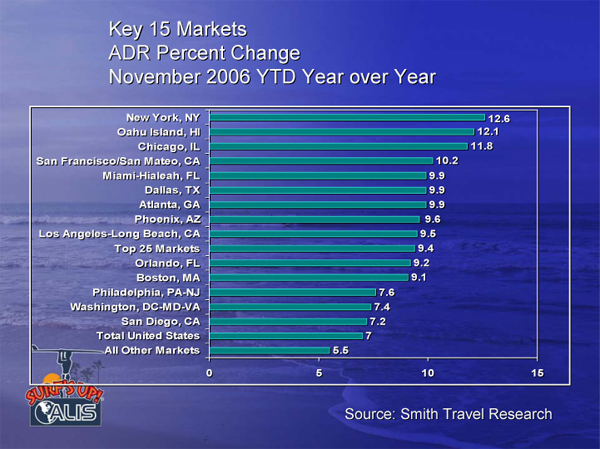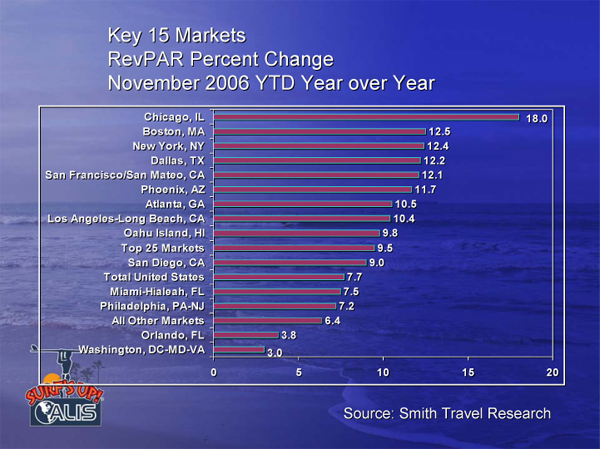 Nor European and Middle East markets . . .
And it is also interesting to see the leading European and Middle Eastern market leaders in terms of RevPAR.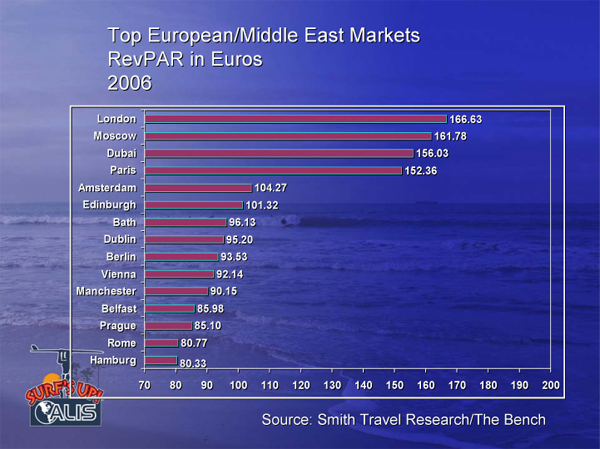 Not all Food Groups are equal
It seems that in the U.S., the luxury segment is particularly well-positioned, and second to that is midscale without food and beverage. As the following charts suggest, these segments seem to enjoy the greatest increases in demand, smallest relative increases in supply, and greatest ability to maintain occupancy and build rate.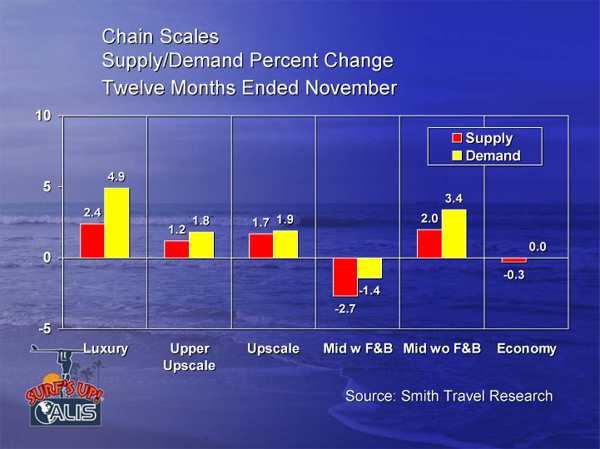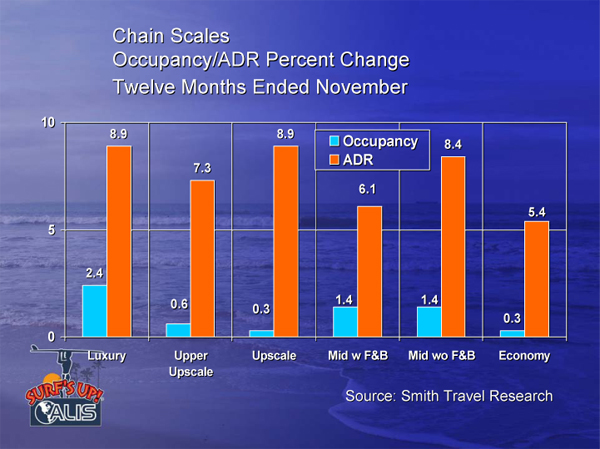 Transaction pace and price per key
Another sign of the robust times is the record number of major hotel transactions and the record prices per key being realized. For years, HVS has tracked all hotel transactions in the U.S. which have had a purchase price of $10 million or more (so called "major hotel transactions"). In the slide below, prepared from data provided by Suzanne Mellen of HVS International, we see how the number of major hotel transactions is now approaching the all time record established in 1997, and the prices per key have soared to set new records over the past two years.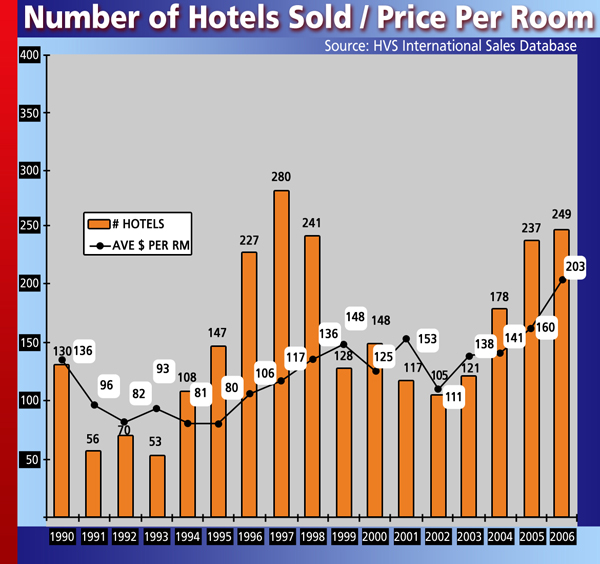 What's it all mean?
As I have said before, all the fundamentals are in place for continued prosperity in the industry (See "Hotel Industry Snapshot" from ALIS, and Why are Bill Gates and a Saudi Prince buying Four Seasons Hotels now?).
And I think it is quite likely that the current projections for the U.S. economy — which is the basis for all industry projections — will understate the U.S. economy's strength and therefore the strength of demand for hotel rooms (see As goes the economy, so goes the hospitality industry — the ineluctable elasticity of demand!).
Although demand growth for hotel room nights is trending down, it is still growing, and if the economy does develop a second wind, it is almost certain to boost projected demand . . . and consequently occupancies, ADR, RevPAR and profits. This will be particularly true in the luxury segments, in urban markets where there are greater barriers to entry, and in the segment of midscale without food and beverage.
Sit back and enjoy the good times. And if you can find a decent deal in a strong market — particularly in the upper upscale or luxury end of the market, go for it!
________________________

Our Perspective. We represent developers, owners and lenders. We have helped our clients as business and legal advisors on more than $87 billion of hotel transactions, involving more than 3,900 properties all over the world. For more information, please contact Jim Butler at jbutler@jmbm.com or 310.201.3526.
Jim Butler is one of the top hotel lawyers in the world. GOOGLE "hotel lawyer" or "hotel mixed-use" or "condo hotel lawyer" and you will see why.
Jim devotes 100% of his practice to hospitality, representing hotel owners, developers and lenders. Jim leads JMBM's Global Hospitality Group® — a team of 50 seasoned professionals with more than $87 billion of hotel transactional experience, involving more than 3,900 properties located around the globe.
Jim and his team are more than "just" great hotel lawyers. They are also hospitality consultants and business advisors. They are deal makers. They can help find the right operator or capital provider. They know who to call and how to reach them. They are a major gateway of hotel finance, facilitating the flow of capital with their legal skill, hospitality industry knowledge and ability to find the right "fit" for all parts of the capital stack. Because they are part of the very fabric of the hotel industry, they are able to help clients identify key business goals, assemble the right team, strategize the approach to optimize value and then get the deal done.
Jim is frequently quoted as an expert on hotel issues by national and industry publications such as The New York Times, The Wall Street Journal, Los Angeles Times, Forbes, BusinessWeek, and Hotel Business. A frequent author and speaker, Jim's books, articles and many expert panel presentations cover topics reflecting his practice, including hotel and hotel-mixed use investment and development, negotiating, re-negotiating or terminating hotel management agreements, acquisition and sale of hospitality properties, hotel finance, complex joint venture and entity structure matters, workouts, as well as many operating and strategic issues.
Jim Butler is a Founding Partner of Jeffer, Mangels, Butler & Marmaro LLP and he is Chairman of the firm's Global Hospitality Group®. If you would like to discuss any hospitality or condo hotel matters, Jim would like to hear from you. Contact him at jbutler@jmbm.com or 310.201.3526. For his views on current industry issues, visit www.HotelLawBlog.com.