27 September 2011
Hotel Lawyers with some (very) good news.
Of course there are plenty of macro economic issues and industry challenges to worry about. (See It's not just me. The market has changed.)
But there are also some things to feel good about. If you want to be gloomy, go read your newspaper. If you want to cheer up, keep reading.
Here are a few nuggets of information to brighten your day.
[The slides in this article are taken from presentations at The Lodging Conference in Phoenix by Mark Woodworth of PKF, and Vail Brown of Smith Travel research. We appreciate their permission to use their slides.]

Supply is down.
Supply is down — finally less than 50,000 new rooms per year being added.
Demand is back.
Demand is back! We are now selling more room nights (on an annualized basis) than ever – more than 1 billion room nights a year.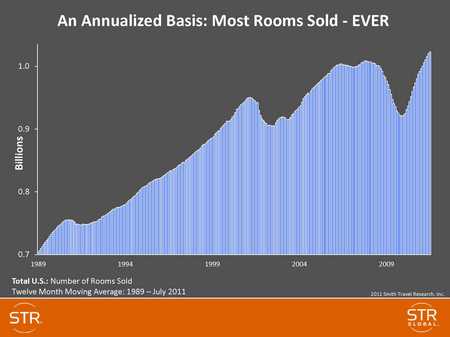 ADR is finally responding to increased demand
ADR is finally moving upward, and higher rates will bring more profit straight to the bottom line. Although recovering, ADR has a way to go and the groundwork has been laid for continued improvement.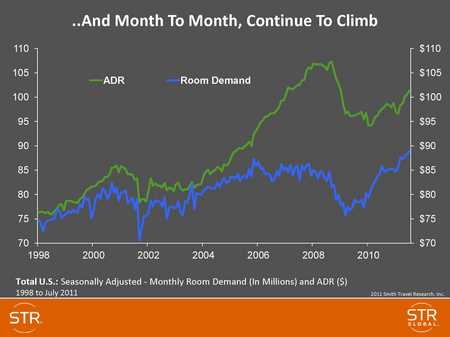 Hotel industry revenues and profits are recovering
On hotel industry revenues of $127.7 billion in 2010, industry profits are moving up dramatically but are still $10 billion short of peak levels. They were $18 billion for 2010.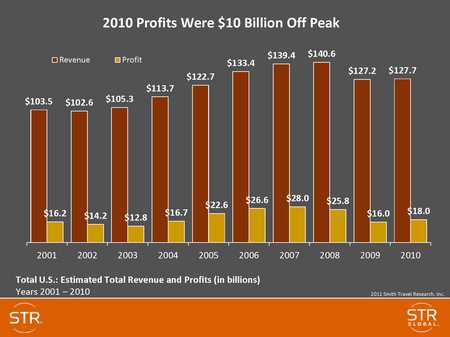 Industry NOI is growing too
And PKF projects that NOI, which grew at more than 10% in 2010 will grow at more than 15% in 2011 and 2012.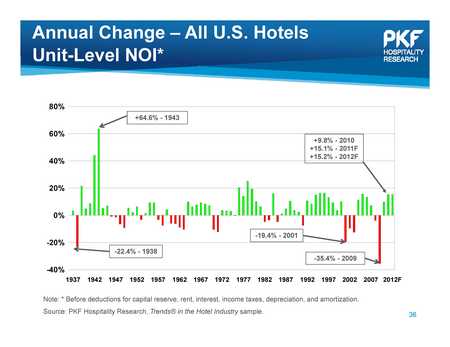 Property level profits are increasing
And unit level profits are headed in the same direction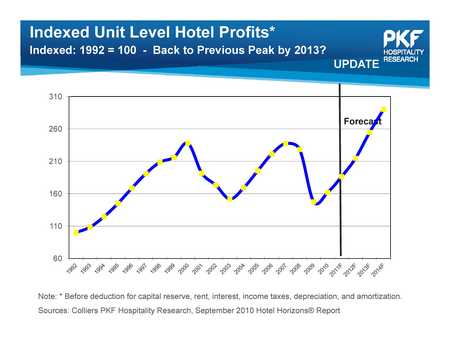 Prospects are brightest at the upper end properties
The recovery is being led by the RevPAR growth and profitability at the upper end of the scale in Upscale, Upper Upscale, and Luxury. Smith Travel projects that this trend will continue into 2012 as shown below.
Final optimistic note
I asked Mark Woodworth if he had any particular message that he and PKF would like to send to the hotel industry, and by email reply he said the following.
U.S. RevPAR growth for the hotel industry was 8.6% for the 12 months ended June 30. And many wonder what will happen in the next year.

Our review of the Moody's Analytics "Most Probable" scenario for 2012 supports our estimate of a 7.3% increase in RevPAR next year. If we adopt the Moody's "Mild Recession" view for 2012 (to which they assign a 25% probability), the resulting RevPAR forecast is 2.4%. While much lower than the Base Case outlook, this 2.4% lift is right in line with the STR long run average increase in RevPAR of 2.5%. Thus, if the downside scenario plays out next year, 2012 could be just average.
RevPAR growth over 5% a year is normally regarded as exceptional. So projected growth for 2012 of 7.3% is terrific, even if it shows a moderation from last year's pace. And with all the worries about a possible recession, a dip to long-term average growth is a pretty modest downside. It still represents growth, not a decrease.
This is Jim Butler, author of www.HotelLawBlog.com and hotel lawyer, signing off. We've done more than $87 billion of hotel transactions and have developed innovative solutions to unlock value from hotels. Who's your hotel lawyer?
________________________
Our Perspective. We represent hotel lenders, owners and investors. We have helped our clients find business and legal solutions for more than $87 billion of hotel transactions, involving more than 3,900 properties all over the world. For more information, please contact Jim Butler at jbutler@jmbm.com or +1 (310) 201-3526.
Jim Butler is a founding partner of JMBM, and Chairman of its Global Hospitality Group® and Chinese Investment Group®. Jim is one of the top hospitality attorneys in the world. GOOGLE "hotel lawyer" and you will see why.
Jim and his team are more than "just" great hotel lawyers. They are also hospitality consultants and business advisors. They are deal makers. They can help find the right operator or capital provider. They know who to call and how to reach them.