25 April 2009
Hotel Lawyers with success stories on GREEN hotels. The hotel lawyers in JMBM's Global Hospitality Group® are big believers in "green" hotels. Many industry friends continue asking for the DVDs and great presentation materials from last year's Hotel Developers Conference on green hotel development. Most of these resources are available on www.HotelLawBlog.com under the "TOPIC" of Green Hotels. The events I am reporting on today build on the base of that knowledge and experience, and thus lead us to "Green Hotel economics 202."
As many of you know, we believe that green building is the ECONOMICALLY prudent way to go. That is the entire thesis of my Cornell Hospitality Quarterly article entitled "The Compelling Hard Case for Green Hotel Development."
Still, I was pleasantly surprised when two new items ended up on my desk this week. They are both further demonstration confirming the hard economic value of green development. The first item was the LEED Gold certification awarded to one of my favorite luxury hotels, Montage Beverly Hills under the direction of my friend, Ali Kasikci. The second was a new study published by two professors documenting a very strong economic premium in both rental and value (sales price) for green buildings based upon data from 553 green projects. The numbers may even amaze you (more than a 31% value premium). But that is a story for the next blog . . .

Montage Beverly Hills awarded LEED Gold certification
Awarding of LEED Gold to Montage Beverly Hill and residences should forever silence the skeptics who argued that green hotel development and sustainable operations are incompatible with luxury — much less ultra-luxury — hotels and hotel mixed-use.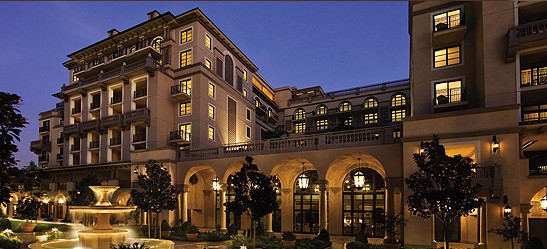 Montage Beverly Hills became the first ultra-luxury LEED Gold hotel, and one of only four LEED Gold hotels (of any standard) in the world. Montage Beverly Hills is also the first newly constructed mixed-use hotel and residential project to be LEED certified as a single development, denoting it as a high performance building that is a responsible, efficient and healthy place to live and work.
"We're gratified to have created and be operating Southern California's first hotel and residential project to obtain Gold level certification," said Alan J. Fuerstman, Founder and CEO of Montage Hotels & Resorts.
"It's a fitting tribute to our development team, our construction team, the City of Beverly Hills and the ongoing efforts of the entire Montage Beverly Hills staff that luxury and sustainability can be synonymous," he said.
Ali Kasikci is a dear friend, and one of the greatest hoteliers in the world. Click here to read more about here Ali Kasikci and Montage Beverly Hill's success story. And it was really personally satisfying to see the press release this week that Montage Beverly Hills was officially awarded LEED Gold certification!

The 201-room ultra-luxury Beverly Hills Montage and residences opened November 2008 to international acclaim as one of the most beautiful luxury hotel mixed-use projects in the world. What else would you expect from a team led by Alan J. Fuerstman, Founder and CEO, and his hand-picked Managing Director for this property, Ali Kasikci? As the first luxury hotel built in Beverly Hills in more than 16 years, it has created quite a stir and become a new "home" for many travelers, locals and residents.
There are a lot of feathers in a lot of caps that are well deserved from this accomplishment:
Alan J. Fuerstman, CEO of Montage Hotels & Resorts
Kim Richards, President of The Athens Group, together with Jay Newman who was project manager for the hotel developer
The mayor and City of Beverly Hills in this landmark success story of a public-private partnership
HKS Hill Glazier, architects for the project
"All future projects are being designed and constructed with the sustainable commitment that Montage has towards the environment and surrounding communities. We will continue to lean on the USGBC and the LEED rating system in order to benchmark our success," said Mark Slymen, Director of Sustainability for Montage Hotels & Resorts and a LEED Accredited Professional who oversaw adoption of required LEED elements in conjunction with Green Dinosaur, a green building consulting firm.
This is Jim Butler, author of www.HotelLawBlog.com and hotel lawyer, signing off. We've done more than $87 billion of hotel transactions and more than 100 hotel mixed-used deals in the last 5 years alone. Who's your hotel lawyer?
________________________
Our Perspective. We represent developers, owners and lenders. We have helped our clients as business and legal advisors on more than $125 billion of hotel transactions, involving more than 4,700 properties all over the world. For more information, please contact Jim Butler at jbutler@jmbm.com or 310.201.3526.
Jim Butler is one of the top hospitality attorneys in the world. GOOGLE "hotel lawyer" or "hotel mixed-use" or "condo hotel lawyer" and you will see why.
Jim devotes 100% of his practice to hospitality, representing hotel owners, developers and lenders. Jim leads JMBM's Global Hospitality Group® — a team of 50 seasoned professionals with more than $87 billion of hotel transactional experience, involving more than 3,900 properties located around the globe. In the last 5 years alone, Jim and his team have assisted clients with more than 100 hotel mixed-use projects — frequently integrated with energizing lifestyle elements.
Jim and his team are more than "just" great hotel lawyers. They are also hospitality consultants and business advisors. They are deal makers. They can help find the right operator or capital provider. They know who to call and how to reach them.
Contact him at jbutler@jmbm.com or 310.201.3526. For his views on current industry issues, visit www.HotelLawBlog.com.