Author of www.HotelLawBlog.com
10 June 2008
Hospitality lawyer with pearls from the New York hospitality conference. The mood in New York was more somber in June 2008 than it has been for a long time at hotel conferences. Final attendance was about 2400 (about the same as last year) and for the first time, NYU had fewer conference delegates than the Los Angeles conference in January (3,200 at ALIS in January 2008). Many believe that attendance at these conferences is a good barometer of sentiment in the industry — send more people when times are good, and send fewer when you batten down the hatches for a storm.
I had the opportunity to listen to Randy Smith and Mark Lomanno of Smith Travel Research in two sessions this past week — one private session at the Lodging Industry's think tank (the Lodging Industry Investment Council or LIIC) and in the general opening session at NYU. My commentary includes selected slides from STR, and a link to the full STR presentation can be found at the end of the article. Here is a Hospitality Attorney's executive summary.

PEARLS OF WISDOM
There were just too many pearls of wisdom gathered in New York for one blog. So to make them more digestible, we have broken them into segments as follows:
All these segments will be posted shortly, so check back if you don't see the one you want.
It was only a few months ago that hotel industry pundits speculated that we were only in the 3rd or 4th inning of the good times for the hotel industry's surge in growth and profits. Now, at least a few revel in predicting looming bankruptcies, receiverships and workouts.
Hotel Lawyer summary of the Smith Travel Research data presented at NYU Hotel Conference
• The real rate and RevPAR growth excitement today is "international"
• The hospitality industry is going to be "fine" in the near term, slowing down to overall RevPAR growth of 3% for 2008 and 2.8% for 2009, and going up from there (the 2008 and 2009 numbers are not far under the 20-year average of 3.4% growth)

• The results will be better than these averages for the "Growth Scales" (luxury, upper upscale, upscale and midscale without F&B), and worse for the "Mature Scales" (midscale with F&B and economy)

• There is still a very high correlation between changes in U.S. GDP and demand for hotel rooms (as measured by room nights sold)

• New supply is diminishing, and there is less cause for concern today about new supply than there was a year ago. This bodes well for profits as a recovery picks up in late 2009 or 2010
• The damaging practice of "discounting" to maintain market share (and its downward spiral) has NOT emerged. There is no indication that discounting is a successful strategy to maintain or improve profits
• Airline capacity and lift will have an impact on the industry, but Lomanno notes that airline prices were much higher in the 1970s and 1980s and Smith says that if airline prices go up, people will still drive or take the train
Please note that I have inserted selected slides from the STR presentation below, and the full STR slideshow is available with the link at the very end of this article.
WEEKDAY vs. WEEKEND
A few years ago, Smith Travel Research began keeping records to distinguish weekday (Sunday – Thursday) data from weekend data (Friday-Saturday), because for many properties the weekday business is a good indicator of business travel, and the weekend traffic is more related to the leisure traveler. This data shows some interesting trends.
As seen in the slides below, the weekend business grew in 2001-2002 and took an increasing share of rooms over those purchased on weekends, but weekdays have gotten stronger since 2004.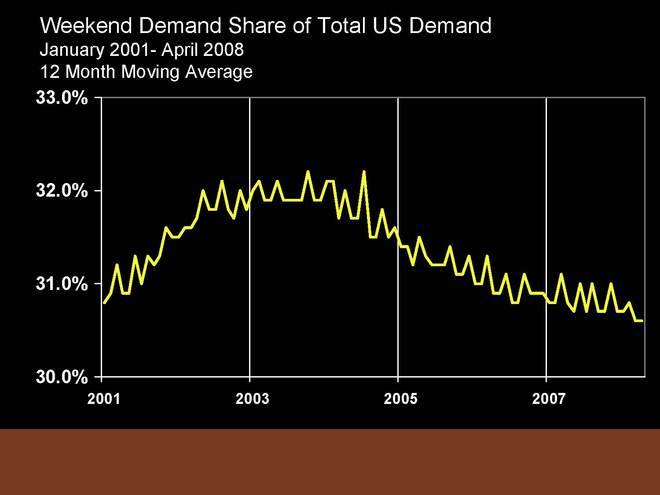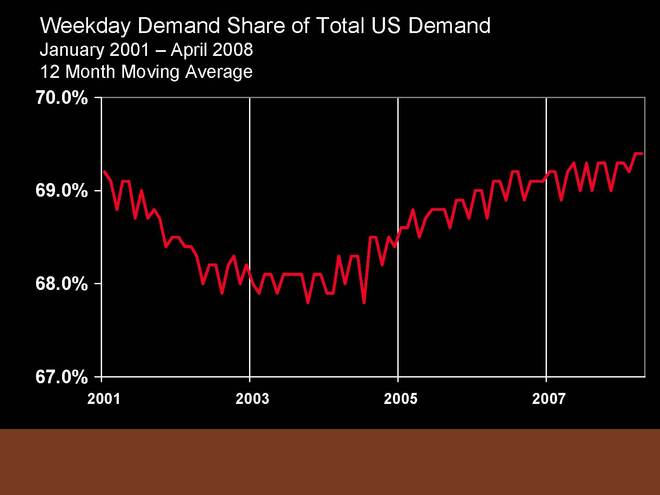 Not only did weekend nights lose share to weekdays, but the absolute number of weekend room nights declined as well.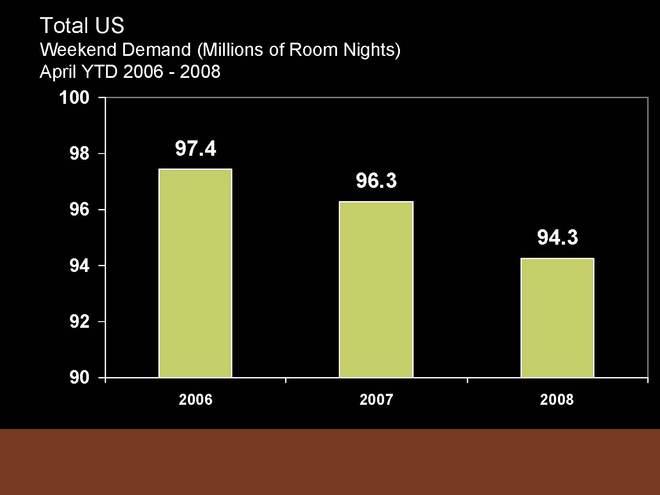 However, while the number of weekend rooms has declined, the revenues from weekends are still slightly up because of rate increases. In other words, the higher prices charged for weekend room nights still offset the loss of rooms sold.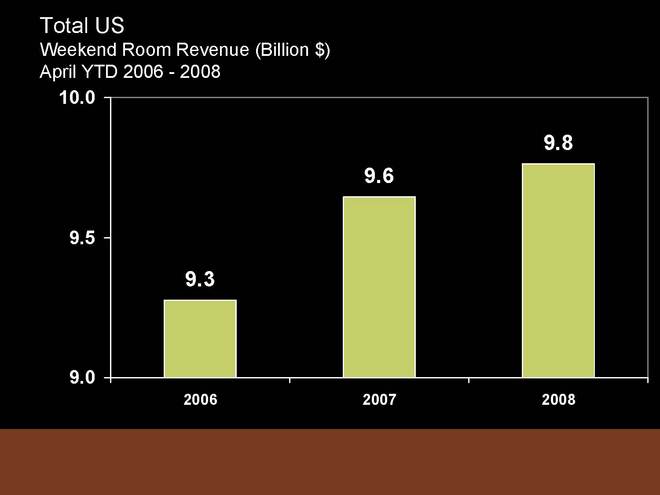 But weekdays are growing and, with rate increases, significantly more revenue is coming from business travelers during the week.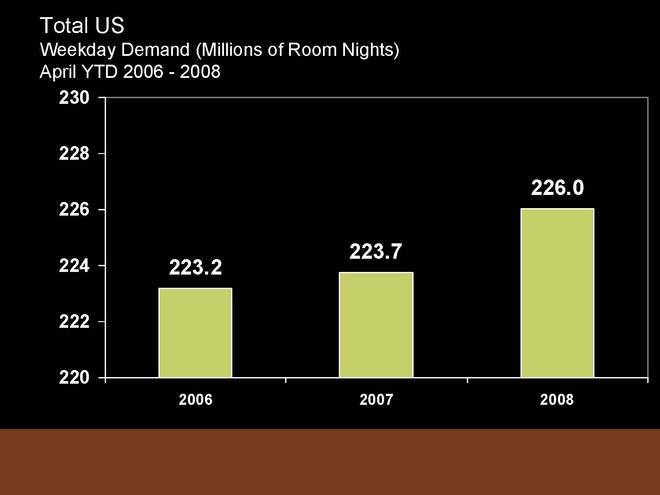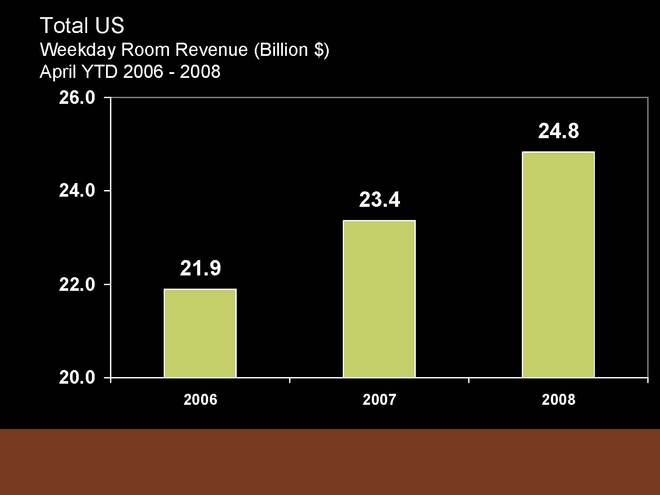 What does this mean? Some think that this may reflect a decrease in leisure travel in general. Mark Lomanno points out however, that in some markets, like Hawaii, the number of passenger arrivals have been fairly constant for many years. That suggests, says Lomanno, that at least in some markets, leisure travel is NOT down, but that the leisure traveler is staying in alternate non-hotel facilities such as resort condominiums, time share and fractional units, or cruise ships.
There are fascinating implications for this observation. If you are competing with more than just hotels, how do you effectively compete against these alternatives? How do you market? How do you position? What do you need to offer?

Link to STR's full slide show at NYU Hotel Investment Conference 2008.
My take on the data is above. Here is the link to the full unadorned slide show as presented by Randy Smith of Smith Travel Research on June 2, 2008. STR 2008 Data.
This is Jim Butler, author of www.HotelLawBlog.com and hotel lawyer, signing off. We've done more than $87 billion of hotel transactions and more than 100 hotel mixed-used deals in the last 5 years alone. Who's your hotel lawyer?
________________________
Our Perspective. We represent developers, owners and lenders. We have helped our clients as business and legal advisors on more than $87 billion of hotel transactions, involving more than 3,900 properties all over the world. For more information, please contact Jim Butler at jbutler@jmbm.com or 310.201.3526.
Jim Butler is one of the top hospitality attorneys in the world. GOOGLE "hotel lawyer" or "hotel mixed-use" or "condo hotel lawyer" and you will see why.
Jim devotes 100% of his practice to hospitality, representing hotel owners, developers and lenders. Jim leads JMBM's Global Hospitality Group® — a team of 50 seasoned professionals with more than $87 billion of hotel transactional experience, involving more than 3,900 properties located around the globe. In the last 5 years alone, Jim and his team have assisted clients with more than 100 hotel mixed-use projects — frequently integrated with energizing lifestyle elements.
Jim and his team are more than "just" great hotel lawyers. They are also hospitality consultants and business advisors. They are deal makers. They can help find the right operator or capital provider. They know who to call and how to reach them.
Jim is frequently quoted as an expert on hotel issues by national and industry publications such as The New York Times, The Wall Street Journal, Los Angeles Times, Forbes, BusinessWeek, and Hotel Business. He is the Conference Chairman of The Hotel Developers Conference™ and Meet the Money®.
Contact him at jbutler@jmbm.com or 310.201.3526. For his views on current industry issues, visit www.HotelLawBlog.com.