Author of www.HotelLawBlog.com
20 October 2006
Is it too good to be true? PricewaterhouseCoopers forecasts a 25.9 percent growth in lodging RevPAR for the three-year period ending in 2006. The forecast is based on Smith Travel Research's reported 7.8 percent RevPAR increase in 2004 and 8.4 percent increase in 2005 combined with PricewaterhouseCoopers' forecast of 7.7 percent RevPAR increase in 2006. This marks the largest three-year increase since 1982. But are there speed bumps ahead?

The industry has rarely seen things this good.
The fundamentals have never looked better. The numbers released by Smith Travel Research (STR) show record growth in Revenues Per Available Room (RevPAR). To appreciate the significance of these numbers, you have to realize that prior to 2004, RevPAR growth never exceeded 7% per annum, and it now looks like we are poised for 3 years over that historic level and one more very near it.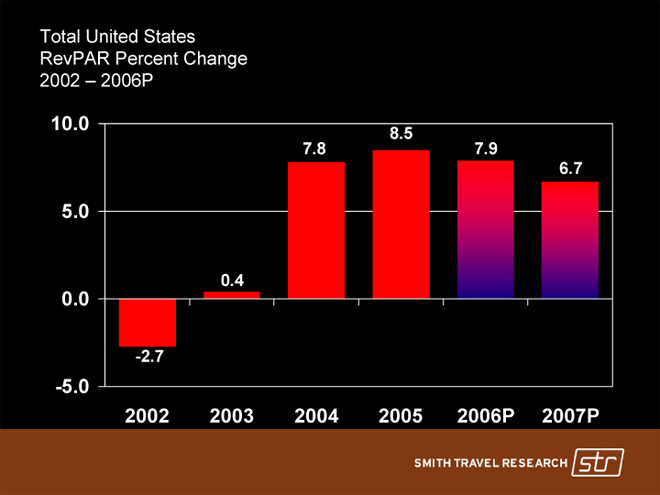 In huge part, this is attributable to the robust growth in demand, far outpacing growth in supply as reflected in the following chart.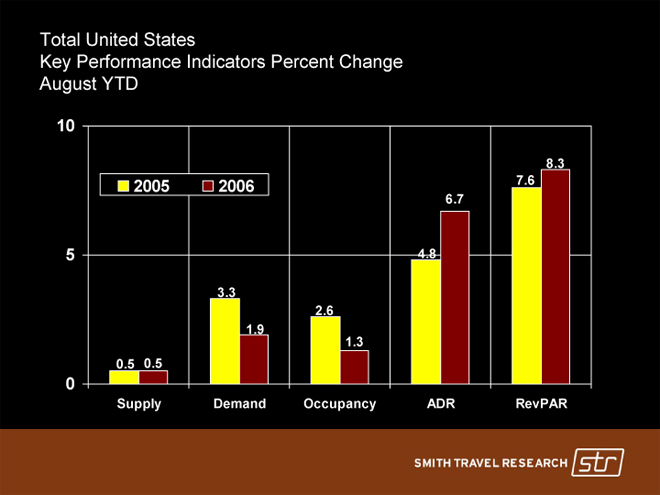 As Bjorn Hanson, Ph.D. and partner in PricewaterhouseCoopers Hospitality and Leisure practice said, "We have not seen this level of growth in 25 years." In fact, Hanson says "The positive combination of robust demand growth of 2.9 percent in 2006 and below average supply growth of 1.1 percent compared with long term supply growth average of 2.2 percent are creating an historic sustained level of rate and RevPAR growth."
Why are we having these good times?
PwC says it well. They attribute robust 2005 and 2006 RevPAR growth to a number of factors, including:
Continuing business travel growth reflective of 3.5 percent gross domestic product (GDP) growth forecast for 2006 and the relaxation of the 2001 through 2004 period of the strictest business travel policies since the 1930's and early 1940's;
Continued strength of leisure travel reflecting the high propensity of baby boomers and Gen X'ers to travel; this trend is being supported by price promotions and low rates available on the internet, including through branded websites, offering confidence to consumers that the easily found rates are among the lowest available;
The over four percent increase in business meetings due to business investments in training, strategy and knowledge sharing / knowledge management;
Average supply growth of only 0.4 percent in 2005, well below the historical average of 2.2 percent;
A peak of approximately 125,000 occupied rooms per night (of incremental occupied rooms) reflecting Katrina-related demand for emergency housing of displaced individuals and families, temporary housing for relief and construction, engineering, safety, insurance and similar workers and for homeowners with insurance coverage to provide temporary housing;
Occupancy of 63.1 percent in 2005 (according to Smith Travel Research), the highest since 2000 and 64.3 percent in 2006 (according to PricewaterhouseCoopers), the highest since 1996;
Robust 2005 average daily rate (ADR) growth of 5.3 percent (according to Smith Travel Research), supported by a higher business-to-leisure travel ratio (business travelers pay higher room rates) and increased concentration of ownership (resulting in more influence on management companies to raise rates); room rate growth's contribution to RevPAR growth in 2006 is expected to be 75 percent, the highest since 2000.
The huge "X-Factor"
Another critical factor that many fail to mention is the state of the U.S. economy — the GDP. With the exception of a few years, there has typically been a 1 to 1 correlation between the GDP and the profitability of the hospitality industry.
Street English? If the U.S. Economy goes up, the profitability of the hospitality industry is also going up in roughly the same proportions. And if the U.S. Economy is going down, the profitability of the hospitality industry is also going down.
So the prospects of the hospitality industry are at least affected by BOTH the hospitality industry fundamentals (supply-demand and other related factors) AND the U.S. Economy. Either one can give the industry a huge shove in one direction or the other. But trust me, if the fundamentals are great and the U.S. Economy is going into the toilet, then so is the hospitality industry.
If the U.S. Economy is doing great but the fundamentals of the hospitality industry are bad, we will still do poorly.
But hotel room supply is increasing and where is the U.S. Economy going?
At the Phoenix Lodging Conference a few weeks ago, Mark Lomanno, President of STR expressed some concern at the recent trends in U.S. lodging supply and demand as reflected in the following chart: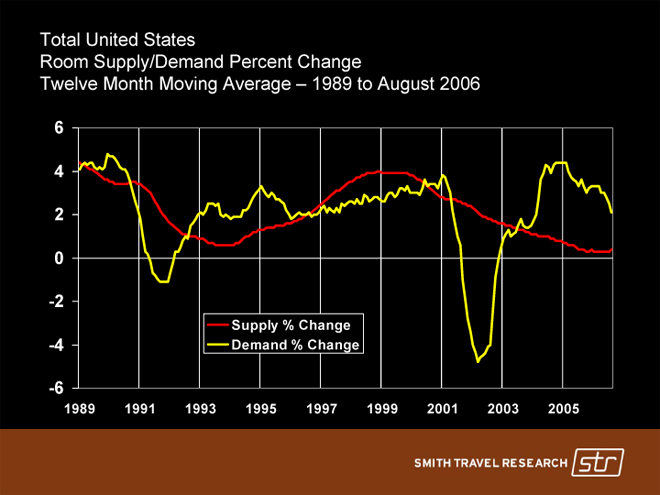 And PricewaterhouseCoopers reports that this new construction in 2006 represents an increase of 45 percent over 2005. The largest percentage increase will be in upscale hotels and mid-price hotels without food and beverage. This compares with the 10 and 25 year average new hotel room construction starts of 108,652 and 82,625, respectively. This is the highest level of new hotel room construction since 2000.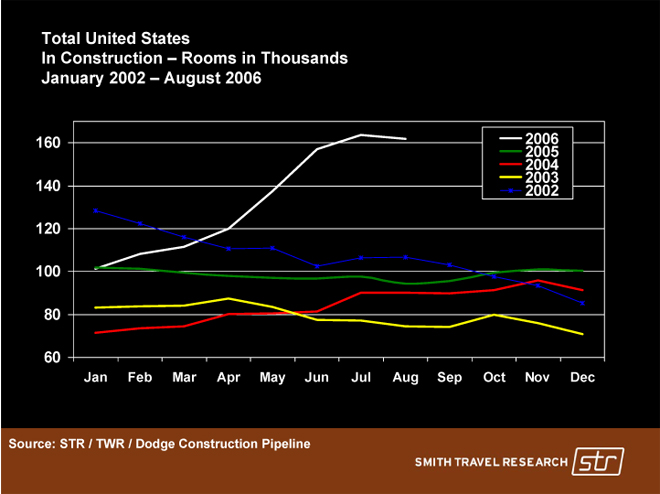 According to F.W. Dodge, last year's new hotel room construction was 82,625, only 3.2 percent over the 80,038 room starts in 2004, representing a 4.4 percent increase over 2003. The slowing growth in construction starts in 2004 and 2005 reflected a number of factors, including a higher ratio of full service hotels being built (full service hotels require longer planning before construction begins), increased costs for construction materials and cancellation or delays for projects in the Southeast and Gulf regions because of hurricane damage.
And you tell me whither the U.S. Economy is heading . . .
Cause for concern? Or well-supported growth?
PwC thinks that the room supply growth is supported by the largest three-year U.S. lodging industry revenue per available room (RevPAR) increase since 1981.
"The increase in construction activity in 2006 reflects the positive outlook in the industry for occupancy to increase by a full occupancy point to 64.3 percent and the average room rate to increase by 6.4 percent for an impressive RevPAR increase of 8.4 percent," said Bjorn Hanson, Ph.D.
But Bjorn notes that "Even with this large increase, supply will continue to increase at less than demand for 2006 and 2007."
If the economy keeps steaming ahead, the current sound fundamentals bode well for at least a few years. If there is a sudden stop in the economy, then we could be in for some painful speed bumps.
________________________
Our Perspective. We represent developers, owners and lenders. We have helped our clients as business and legal advisors on more than $87 billion of hotel transactions, involving more than 3,900 properties all over the world. For more information, please contact Jim Butler at jbutler@jmbm.com or 310.201.3526.
Jim Butler is one of the top hotel lawyers in the world. GOOGLE "hotel lawyer" or "hotel mixed-use" or "condo hotel lawyer" and you will see why.
Jim devotes 100% of his practice to hospitality, representing hotel owners, developers and lenders. Jim leads JMBM's Global Hospitality Group® — a team of 50 seasoned professionals with more than $87 billion of hotel transactional experience, involving more than 3,900 properties located around the globe.
Jim and his team are more than "just" great hotel lawyers. They are also hospitality consultants and business advisors. They are deal makers. They can help find the right operator or capital provider. They know who to call and how to reach them. They are a major gateway of hotel finance, facilitating the flow of capital with their legal skill, hospitality industry knowledge and ability to find the right "fit" for all parts of the capital stack. Because they are part of the very fabric of the hotel industry, they are able to help clients identify key business goals, assemble the right team, strategize the approach to optimize value and then get the deal done.
Jim is frequently quoted as an expert on hotel issues by national and industry publications such as The New York Times, The Wall Street Journal, Los Angeles Times, Forbes, BusinessWeek, and Hotel Business. A frequent author and speaker, Jim's books, articles and many expert panel presentations cover topics reflecting his practice, including hotel and hotel-mixed use investment and development, negotiating, re-negotiating or terminating hotel management agreements, acquisition and sale of hospitality properties, hotel finance, complex joint venture and entity structure matters, workouts, as well as many operating and strategic issues.
Jim Butler is a Founding Partner of Jeffer, Mangels, Butler & Marmaro LLP and he is Chairman of the firm's Global Hospitality Group®. If you would like to discuss any hospitality or condo hotel matters, Jim would like to hear from you. Contact him at jbutler@jmbm.com or 310.201.3526. For his views on current industry issues, visit www.HotelLawBlog.com.