Author of www.HotelLawBlog.com
8 January 2007
Hospitality Lawyer on international hotel investments. In a number of recent postings on www.HotelLawBlog.com, I have focused on the attractiveness of international hotel investments and some of the big names pouring investment overseas. Some of the hot markets include Mexico, Costa Rica, the Caribbean, Spain, Italy, London, Saudi Arabia, Dubai, China and India. In Why we're building hotels in India like crazy, I focused entirely on India, an explosive market that has often been overshadowed by opportunities in China. In announcing plans for Starwood Capital to invest a half billion in India alone, Barry Sternlicht says that there is so much demand that he is targeting an average annual return of 20% on investments in India!
With all the exciting potential for hotel development in these booming markets, it is tempting for developers and investors to rush in to "scoop up the profits". But before they do, it would be wise to remember that risk is usually commensurate with reward. At the very least, they should ask: "What is the best way to make successful foreign hotel investments?" Here are a few thoughts from www.HotelLawBlog.com . . .

The tempting prize of international hotel investment
In case you have missed some of the details on hot international markets, you can go to www.HotelLawBlog.com and scroll down the right hand side until you see the BROWSE section. In the BROWSE section you can sort articles by topic, date or search for keywords. But to give you a quick recap, the hotel markets are sizzling — along with foreign hotel investments in places such as: Mexico in general, Baja and La Paz in particular, including mixed-use projects there such as Trump's Baja project .
In fact, in my career as a hotel lawyer, the international markets have never commanded so much attention — as I noted in my comments from the Phoenix Lodging Conference, Hotels in China, India and Mexico are capturing the imagination and resources of the hotel industry and as a number of industry experts expressed in Hotel mixed-use development projects in China, India, Mexico, the Caribbean, Guam — what the experts say now. Further, condo hotels are just beginning to proliferate in foreign markets, borrowing from the US "technology" that we have been perfecting the last 5 years. This is a trend that offers plenty of opportunities for developers and investors (see What is fanning the condo hotel wild fire in Latin America, the Caribbean, Europe, China, India and the Middle East).
What will separate the successful deals from the failures, aside from luck?
Not surprisingly, great opportunities are usually accompanied by great challenges. That is certainly true for international hotel investment, whether in China, India, Latin America or any of the other hot markets we have been discussing.
Perhaps the best summary of this is a chart our team researched and put together from the World Bank's assessment of difficulties in doing business in various countries. Take a look at this!
World Bank's statistics suggest some "issues" to watch for
What are some of the hottest foreign markets? China, India, Mexico . . . The World Bank ranks India as number 134 in the world in terms of the ease of doing business there and an even lower 173 in enforcing business contracts. It ranks China 93 in the ease of doing business and 63 in enforcing contracts, while Mexico gets the highest relative rank of 43 and 87. The U.S. is ranked third and sixth in these categories (for more rankings, see the chart below).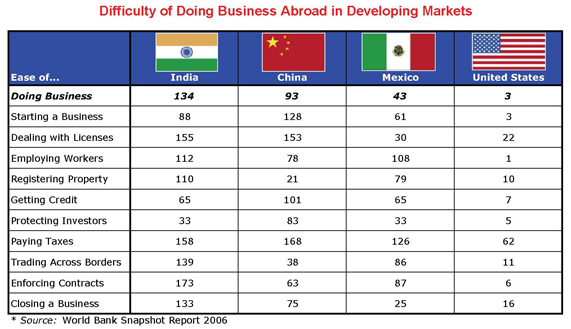 With opportunity comes risk
So as the hotel industry embraces emerging markets — as it should — hotel developers should keep their eyes wide open. Both opportunities and risks abound, and the winners will assess each carefully as they proceed with their ambitious plans. More on the international hotel opportunities and risks soon.
In India, where the hospitality industry grew 23.7 per cent in 2005-06, a major shortage of hotel rooms in commercial centers like Delhi, Mumbai, Bangalore, Jaipur and Hyderabad still exists. Hotel developers are interested in entering these markets, but experts say that the skyrocketing price of land in Indian cities is keeping more projects from getting under way. Although I work and reside near some of the most expensive real estate in Southern California, it's still hard to imagine that a 2.5-acre plot for building a new hotel in Delhi was sold recently for $43.4 million (as reported by R. K. Singh, the Delhi Development Authority's land commissioner). By some estimates, those kinds of prices mean that land costs would account for the bulk of building a new hotel in India, a country where materials and labor remain cheap by most standards. (By the way, an industry "rule of thumb" is for land to account for 15 percent of the cost of a new hotel.)
Skyrocketing land and construction prices are just the tip of the iceberg. U.S. investors can be frustrated by the difficulty of doing business in many foreign markets, running into obstacles such as bureaucratic rules, infrastructure limitations, arcane business practices and corruption — even with a local partner. And local partners will find the hesitations and concerns of foreign investors equally challenging to deal with. But the rewards can be so great, that investors and developers will continue to attempt harvesting the riches promised by these exciting markets. Some will succeed and other will not.
THE PLAYS
Play #1: build new hotels and get them up and running
In hot international markets, there are great opportunities if new facilities can be built. There are a multitude of challenges to new development in any country, and they vary in complexity depending on the country's legal system, its restrictions on foreign investment, it's culture norms, economy, government regulation, labor issues, availability of materials, and a host of other factors. Getting the right guidance and forming productive alliances is key.
Play #2: Form alliances between local developers and foreign capital
Foreign capital providers should consider forming special alliances with local developers. Local developers, familiar with the politics and business practices of the area, are often willing to align their interests with reliable capital providers, accelerating development that is otherwise impossible. This is a case where two heads can be better than one, and two pocketbooks and sets of connections are even better.
Play #3: Stake out the market segment or segments that work
Luxury hotel deals get the press, but mid-market properties can provide excellent ROI. On behalf of local investors in countries outside the U.S., my team of hotel lawyers and I have structured successful mid-market deals with U.S. capital sources and brands. (Often, this representation is initiated by a contact in the U.S.) Our experience has shown that first and foremost, the capital and the brand to have a successful first-class lodging property. The need for good, clean, reliable, affordable hotel rooms is universal, and development opportunities for this kind of product are abundant, and often overlooked.
Play #4 Form alliances with foreign brands or management companies
Local contacts and connections are one key. Capital is another. But brand power is still huge, as I discussed in How far will the pendulum swing? What's in a name? Just ask Starwood, Hilton . . . Coca-Cola or Procter & Gamble and Hospitality Lawyer Baja Mexico — So what's a brand? How did Trump get into this conversation? Take a page from branding in Europe where many hotels had been around for decades, if not centuries. When the brands tried to expand, there was tremendous initial resistance as the European hoteliers wondered what foreign brands could add to the success they had enjoyed for generations. But just ask them now! The brands have brought capital, consistency, truly international service standards, and even higher rates to the hotels they have branded.
Alliances: if the early bird gets the worm, will Starwood get the whole enchilada?
Will brands that form successful alliances in hot international markets early on, be able to leverage their success? We have already talked about Barry Sternlicht's $500 million investment in India for his 3 brands. And, of course, Sternlicht and Starwood's China initiative too — Starwood Capital's strategic relationship with Shanghai Jin Jiang International Hotels, one of China's largest hotel operators. According to Barry Sternlicht, "By combining Jin Jiang's portfolio, which features irreplaceable hotels in Shanghai and other major Chinese cities, with our track record of creating global brands and enhancing asset value in both the luxury and budget categories, the partnership has the potential to create significant value for both companies going forward."
Also consider what Starwood Hotels is doing in India: On January 5, 2007, it was announced that Starwood Hotels and Resorts International entered into an agreement with Hindustan Construction Company Ltd (HCC) to manage its two hotel properties at Lavasa township near Pune.
And Starwood Hotels (Sternlicht's former hotel company) in Latin America: On January 4, 2007, Starwood Vacation Ownership, a division of Starwood Hotels & Resorts Worldwide, Inc. announced plans for its third property in Latin America, The Westin Los Cabos Ocean Villas. (The Los Cabos project is reportedly the first vacation ownership resort in Los Cabos developed by a major U.S. company. Is this the beginning of a trend to watch?)
And more Starwood Hotels alliances in the Middle East: On January 3, 2007, Starwood announced it will operate two planned five-star luxury resorts in Jordan: the beachfront 300-room Westin Aqaba Resort and the beachfront 200-room Al-Manara Hotel. "Partnering with premium brands such as Westin and the Luxury Collection will only add to the splendor of Saraya Aqaba, a premium tourist destination characterized by dazzling traditional architecture and natural splendor," said Mr. Ali Kolaghassi, Vice Chairman & CEO of Saraya. The exclusive build contractor for the Saraya Aqaba project is Saudi Oger Ltd.
Alliances, indeed!
Play #5 Negotiate special arrangements unique to your deal
In one case study involving China, we helped local developers in executing a plan to build affordable hotel rooms all over China. (This was 10 years ago, before this kind of thing was popular.) We advised them to use a basic U.S. brand on a management/franchise arrangement, where certain markets were carved out as exclusives for our client as long as they maintained a schedule of development. This was good for both the developer and the brand. The local developer got the exclusive rights to the brand as long as it developed a minimum number of hotels per the schedule. The brand was happy because it was not "tied up" if the developer could not deliver hotels. But most important to the local developer, it had the option to terminate the management and/or branding after 10 years. Because their goal was to build their own management company — and ultimately their own brand — the developer had time to build and train a staff and then take over a minimum critical mass of hotels for their own brand. This model worked quite well for them. However, many local developers find that the value of international branding outweighs the seeming advantages of having their own brands.
Capital providers seeking good international projects
On May 3, 2007 in Los Angeles, our Meet the Money® conference will feature more than 100 providers of debt or equity financing for hotel-related projects, including those in international markets. If you are an active provider of capital, or a consumer of capital, mark the date in your calendar and sign up now. This conference is custom-tailored to help providers and consumers of capital find the right match. Many delegates are signing up already to take advantage of the early bird registration and to secure a seat.
Can't wait for the 2007 Meet the Money®? Purchase the 2006 Meet the Money® conference materials. Another topic of interest to many of our industry friends is condo hotels, and for that you should look at the 2006 The Hotel Developers Conference materials, including DVD of the Condo Hotel Boot Camp. Consider signing up for our with a focus on hotel-mixed use.
One of the most interesting challenges I have as a hotel lawyer is helping clients get their deals done — at every stage of the "hotel cycle." It means providing a gateway of hotel finance — the bridge between providers and consumers of capital. We facilitate the flow of capital with our legal skill, hospitality industry knowledge and ability to find the right "fit" for all parts of the capital stack. I look forward to continuing to work with you all in 2007 and beyond!
________________________
Our Perspective. We represent developers, owners and lenders. We have helped our clients as business and legal advisors on more than $87 billion of hotel transactions, involving more than 3,900 properties all over the world. For more information, please contact Jim Butler at jbutler@jmbm.com or 310.201.3526.
Jim Butler is one of the top hotel lawyers in the world. GOOGLE "hotel lawyer" or "hotel mixed-use" or "condo hotel lawyer" and you will see why.
Jim devotes 100% of his practice to hospitality, representing hotel owners, developers and lenders. Jim leads JMBM's Global Hospitality Group® — a team of 50 seasoned professionals with more than $87 billion of hotel transactional experience, involving more than 3,900 properties located around the globe.
Jim and his team are more than "just" great hotel lawyers. They are also hospitality consultants and business advisors. They are deal makers. They can help find the right operator or capital provider. They know who to call and how to reach them. They are a major gateway of hotel finance, facilitating the flow of capital with their legal skill, hospitality industry knowledge and ability to find the right "fit" for all parts of the capital stack. Because they are part of the very fabric of the hotel industry, they are able to help clients identify key business goals, assemble the right team, strategize the approach to optimize value and then get the deal done.
Jim is frequently quoted as an expert on hotel issues by national and industry publications such as The New York Times, The Wall Street Journal, Los Angeles Times, Forbes, BusinessWeek, and Hotel Business. A frequent author and speaker, Jim's books, articles and many expert panel presentations cover topics reflecting his practice, including hotel and hotel-mixed use investment and development, negotiating, re-negotiating or terminating hotel management agreements, acquisition and sale of hospitality properties, hotel finance, complex joint venture and entity structure matters, workouts, as well as many operating and strategic issues.
Jim Butler is a Founding Partner of Jeffer, Mangels, Butler & Marmaro LLP and he is Chairman of the firm's Global Hospitality Group®. If you would like to discuss any hospitality or condo hotel matters, Jim would like to hear from you. Contact him at jbutler@jmbm.com or 310.201.3526. For his views on current industry issues, visit www.HotelLawBlog.com.