14 June 2009
Hospitality Lawyer in New York at the NYU hotel investment conference with some interesting projections from Steve Rushmore of HVS.
One of my favorite presentations at the NYU hotel investment conference earlier this month was by Steve Rushmore, president and founder of HVS. His entire slides show is worth studying and you can view it in its entirety by clicking on the link at the end of this article.
But a few of the slides particularly caught my attention — the ones on hotel values — when they bottom, when they recover, best and worst markets for the next few years, and along with some good advice for buyers, lenders and owners.

When do values bottom and how long to recover?
We have all seen the statistics from Smith Travel Research and PKF Consulting. The numbers are nasty — we are looking at an 18% RevPAR decline for 2009 year to date in the U.S. lodging industry, and even higher declines in certain geographic markets like New York, Las Vegas, and Hawaii, and in certain segments like luxury, resorts and hotels relying on group business. These RevPAR declines translate into even higher multiples of decline in revenue (roughly 1.5 to 2.0 times), meaning that operating revenues may no longer cover debt service coverage or even operating expenses like payroll and utilities.
But when do we hit bottom? And how long does it take to get back to hotel values we had in 2007 or 2008 before "the Crash"? This slide (#11 in the HVS presentation) shows that Steve thinks we bottom out on hotel values sometime in 2010 or 2011, and he predicts a full recovery to pre-Crash values by 2014. You may have noted that some experts think it could be a long slow recovery, with pre-Crash values not being recovered until the end of the next cycle after this one (with a typical real estate or hotel industry cycle of 7 or 8 years, that could be about 15 years)! So this is good news that Steve sees it this way.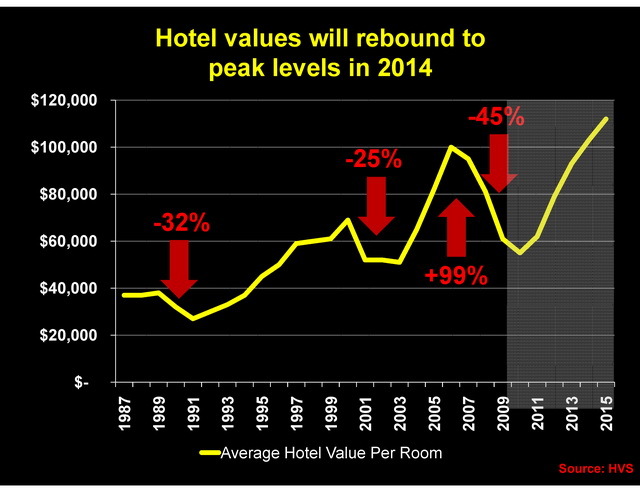 Which markets will suffer most and recover first?
Steve also gave us his thoughts on where the pain will be greatest in the 2008-2010 period, which he calls the "worst period." As you can see from the slide below, he predicts that New York, Las Vegas, Oahu, Miami and Phoenix will be the worst markets during this period.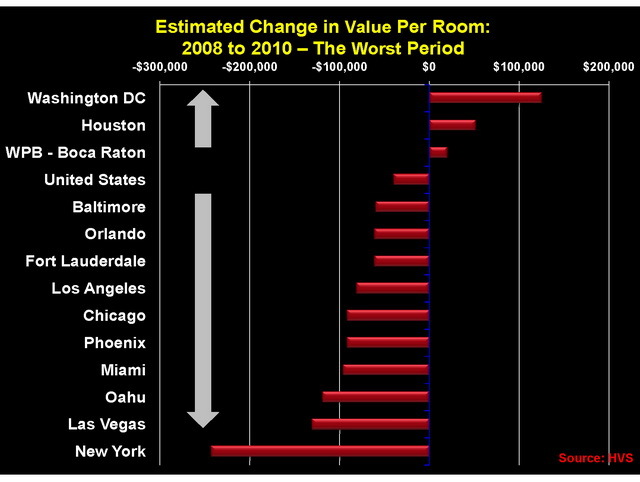 And while New York, Miami and Oahu will be amongst the fastest markets to recover in 2010-2013, they will not be joined by Las Vegas and Phoenix. Washington, DC is a unique market that is doing well now, and will also do even better when the industry improves.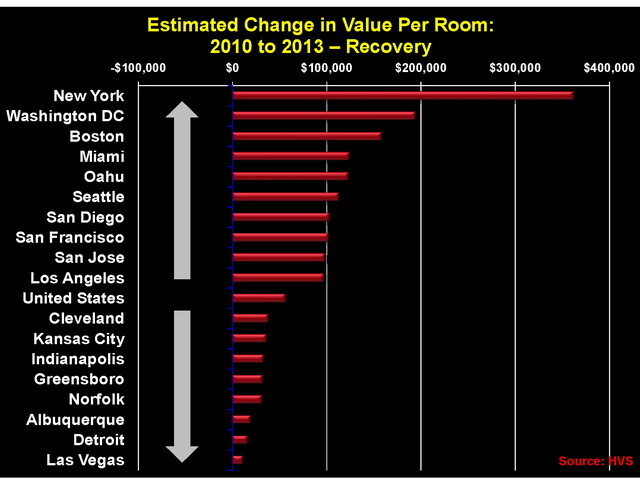 What does this all mean for buyers, lenders, and investors?
The next two slides show Steve's recommendations, which largely correspond with our SAVE® program's focus on unlocking value through a combined legal and operational approach.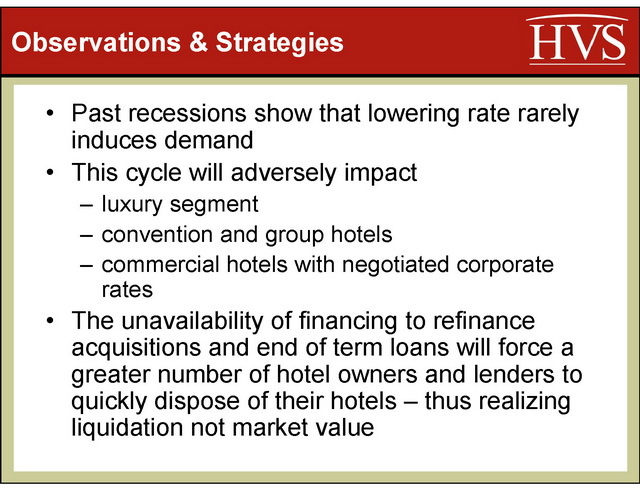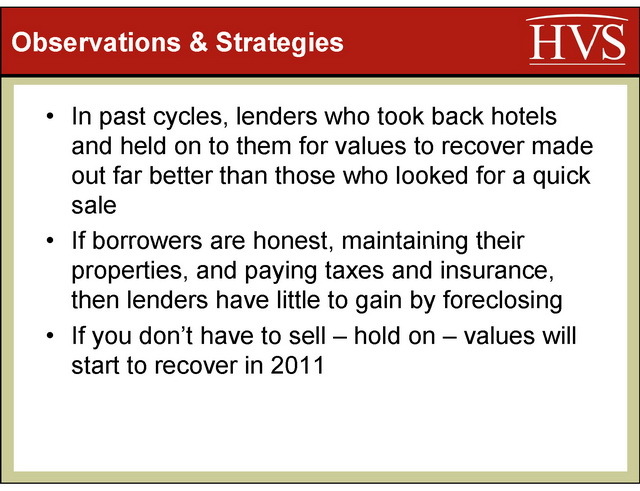 To sum it up: This is time for serious strategic analysis, the SAVE® program, and getting ready for opportunities of our lifetime.
For more information on how to unlock hotel value with troubled hotel loans or assets, see JMBM SAVE® program.
For the entire slide show presented by Steve Rushmore at NYU, please click here.
Other related articles on state of the industry and unlocking hotel values
For other insights from the 31st Annual NYU International Hospitality Industry Investment Conference, please see
Hospitality Lawyer at the 2009 NYU hotel conference — Sound bites

Hospitality Lawyer from the NYU Hotel Investment Conference

Hospitality Lawyer: What lies ahead for the hotel industry? When do values bottom? When do they recover. Which markets are worst and which will be the best?
For presentations from Hotel Industry thought leaders at JMBM's 19th annual Meet the Money® see
The PowerPoint presentations from a number of industry leaders at Meet the Money® 2009 are listed with hyperlinks at JEWELS from Meet the Money® 2009 — the "best ever" hotel conference.

Commentary and observations from the hospitality lawyers of JMBM and other industry experts on some of the critical industry issues are available at Hospitality Lawyer Insights.
Other articles on State of the Hotel Industry
Other recent articles that relate to the state of the industry paint a pretty consistent picture of data and trends. Here are a few links to articles for your convenience:
This is Jim Butler, author of www.HotelLawBlog.com and hotel lawyer, signing off. We've done more than $87 billion of hotel transactions and have developed innovative solutions to unlock value from troubled hotel transactions. Who's your hotel lawyer?
________________________
Our Perspective. We represent hotel lenders, owners and investors. We have helped our clients find business and legal solutions for more than $125 billion of hotel transactions, involving more than 4,700 properties all over the world. For more information, please contact Jim Butler at jbutler@jmbm.com or 310.201.3526.
Jim Butler is a founding partner of JMBM and Chairman of its Global Hospitality Group®. Jim is one of the top hospitality attorneys in the world. GOOGLE "hotel lawyer" and you will see why.
JMBM's troubled asset team has handled more than 1,000 receiverships and many complex insolvency issues. But Jim and his team are more than "just" great hotel lawyers. They are also hospitality consultants and business advisors. For example, they have developed some unique proprietary approaches to unlock value in underwater hotels that can benefit lenders, borrowers and investors. (GOOGLE "JMBM SAVE program".)
Whether it is a troubled investment or new transaction, JMBM's Global Hospitality Group® creates legal and business solutions for hotel owners and lenders. They are deal makers. They can help find the right operator or capital provider. They know who to call and how to reach them.