Author of www.HotelLawBlog.com
18 October 2006
At the Arizona Hotel Conference in Phoenix a few weeks ago, I was struck by how it seemed that talk of hotel development in China, India, Mexico and Europe dominated so many conversations and conference presentations. Is this the beginning of new era of hotel development outside the U.S.?

Unprecedented focus on China … and now India!
A review of recent news reports confirms my anecdotal observations in Phoenix. Take a look at the headlines these days and you will realize that overseas expansion for the hotel industry is hot, particularly in developing markets. In the last month alone, Starwood Hotels & Resorts Worldwide, UK-based InterContinental Hotel Group, Hong Kong's Shangri-La hotels and Marriott International announced major expansion plans in China. Starwood has plans to grow from 57 hotels in China, Hong Kong and Taiwan to 100 Greater China hotels by 2010.
InterContinental has 51 hotels now in China and intends to develop 74 more by the 2008 Summer Olympics. Shangri-La has 20 hotels and plans for 17 more by 2008. Marriott plans to expand its 26 hotels in China to 35 by 2008 and 100 by 2010.
India represents another rapidly developing market for the industry. InterContinental and Wyndham Hotel Group officials both announced at The Lodging Conference last month that they are focusing on China and India as target growth regions. Some speakers likened India to the U.S. in the 1950's before the Interstate Highway System was built, predicting that the many highways being built there will eventually make a huge difference in terms of the ability to travel.
Mexico is "white hot" — particularly in Baja and La Paz
On this continent, Mexico represents another big developing market for the mixed use hotel and residential industry. Donald Trump has begun selling units in a 195-unit luxury condo hotel he is building in Baja, Mexico, 30 minutes south of San Diego. The $200 million Trump Ocean Resort Baja Mexico will eventually encompass several towers of more than 500 units. If they sell well, Trump plans to build more. Units in the first tower are priced from the low $200,000s to more than $1 million, the Los Angeles Times' Roger Vincent wrote on Oct. 4. Other developers, too, have begun digging in Mexico's other leisure spots, such as the Estrella del Mar in Mazatlan and the Del Mar Development projects in Cabo San Lucas.
World Bank's statistics suggest some "issues" to watch for
With these plans, of course, comes unpredictable legal and financial risks. Even major hotel chains with considerable international experience may find it difficult to navigate these countries' bureaucratic environments. The World Bank ranks India as number 134 in the world in terms of the ease of doing business there and an even lower 173 in enforcing business contracts. It ranks China 93 in the ease of doing business and 63 in enforcing contracts, while Mexico gets the highest relative rank of 43 and 87. The U.S. is ranked third and sixth in these categories (for more rankings, see the chart below).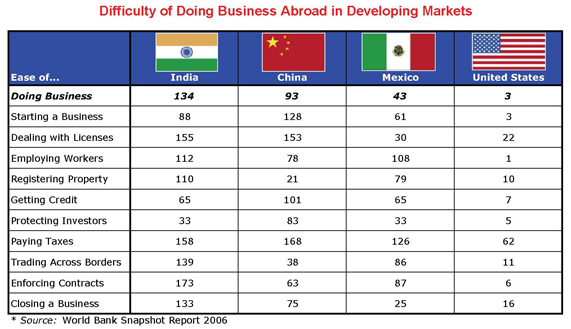 With opportunity comes risk
So as the hotel industry embraces emerging markets — as it should — hotel developers should keep their eyes wide open. Both opportunities and risks abound, and the winners will assess each carefully as they proceed with their ambitious plans. More on the international hotel opportunities and risks soon.
________________________
Our Perspective. We represent developers, owners and lenders. We have helped our clients as business and legal advisors on more than $87 billion of hotel transactions, involving more than 3,900 properties all over the world. For more information, please contact Jim Butler at jbutler@jmbm.com or 310.201.3526.
Jim Butler is one of the top hotel lawyers in the world. GOOGLE "hotel lawyer" or "hotel mixed-use" or "condo hotel lawyer" and you will see why.
Jim devotes 100% of his practice to hospitality, representing hotel owners, developers and lenders. Jim leads JMBM's Global Hospitality Group® — a team of 50 seasoned professionals with more than $87 billion of hotel transactional experience, involving more than 3,900 properties located around the globe.
Jim and his team are more than "just" great hotel lawyers. They are also hospitality consultants and business advisors. They are deal makers. They can help find the right operator or capital provider. They know who to call and how to reach them. They are a major gateway of hotel finance, facilitating the flow of capital with their legal skill, hospitality industry knowledge and ability to find the right "fit" for all parts of the capital stack. Because they are part of the very fabric of the hotel industry, they are able to help clients identify key business goals, assemble the right team, strategize the approach to optimize value and then get the deal done.
Jim is frequently quoted as an expert on hotel issues by national and industry publications such as The New York Times, The Wall Street Journal, Los Angeles Times, Forbes, BusinessWeek, and Hotel Business. A frequent author and speaker, Jim's books, articles and many expert panel presentations cover topics reflecting his practice, including hotel and hotel-mixed use investment and development, negotiating, re-negotiating or terminating hotel management agreements, acquisition and sale of hospitality properties, hotel finance, complex joint venture and entity structure matters, workouts, as well as many operating and strategic issues.
Jim Butler is a Founding Partner of Jeffer, Mangels, Butler & Marmaro LLP and he is Chairman of the firm's Global Hospitality Group®. If you would like to discuss any hospitality or condo hotel matters, Jim would like to hear from you. Contact him at jbutler@jmbm.com or 310.201.3526. For his views on current industry issues, visit www.HotelLawBlog.com.