Author of www.HotelLawBlog.com
8 May 2008
Hotel Attorney at JMBM's Hotel Finance Conference: mood of the industry and where we go from here. It is May 8, 2008. JMBM's 18th annual hotel conference, Meet the Money® 2008 wrapped up this afternoon, and more than 100 of the industry leaders have just shared their latest experiences and outlooks for the remainder of 2008 and beyond.
There is a consensus to the mood of these hotel financing sources and industry leaders. While we have spent two information-packed days getting the details, and nuances of this, here is the overview.

Partly Sunny with thunderstorms in isolated areas.
Things have definitely continued to slow down in the hotel industry. Industry fundamentals remain very good and RevPAR is expected to continue to grow (i.e. positive RevPAR growth, maybe barely positive overall), with occupancies continuing to soften and ADRs losing a little steam in their growth, except in certain markets. Increased room supply (133,000 rooms added this year and 165,000 rooms added next year) is raising some concerns, and demand is also softening.
Here's how Smith Travel Research sees the changes in Supply and Demand.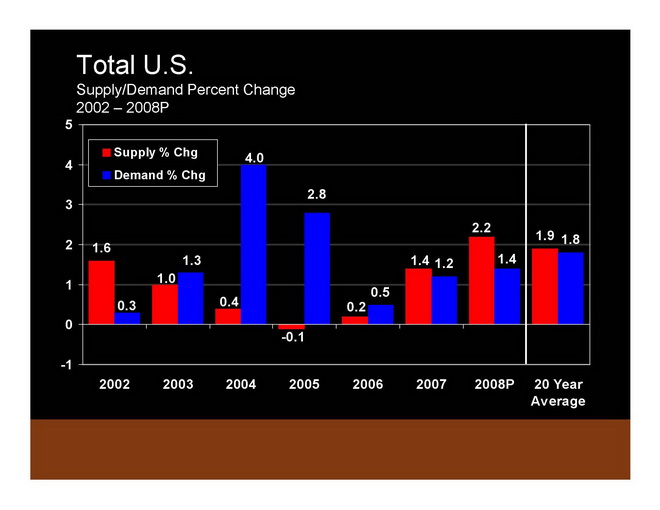 And although things may be fine "on average," using "averages" to evaluate a complex situation is always problematic. My scientist friends tell me that in space, a black body's temperature averages about 70 degrees Fahrenheit (and is determined buy the formula: T = 277 K (1 AU/R)½ ). Unfortunately, the side facing the sun is 5760 K (degrees above absolute zero) and the other side is absolute zero — but "on average" an astronaut would be fine!
It is the same with the hospitality industry. It looks like the top 25 markets will fare much better than the rest, and it still won't be much cheaper or easier to get a room in New York City. It may be different in Pocatello, Idaho.
So the forecast is for a generally "flat" scenario (generally sunny), but some spotty areas of thunderstorms with real pain (and possible fatalities). Words like "lighter than any prior downturn in recent times" were often used.
Here is a summary of the situation from Smith Travel Research, as presented by Bobby Bowers.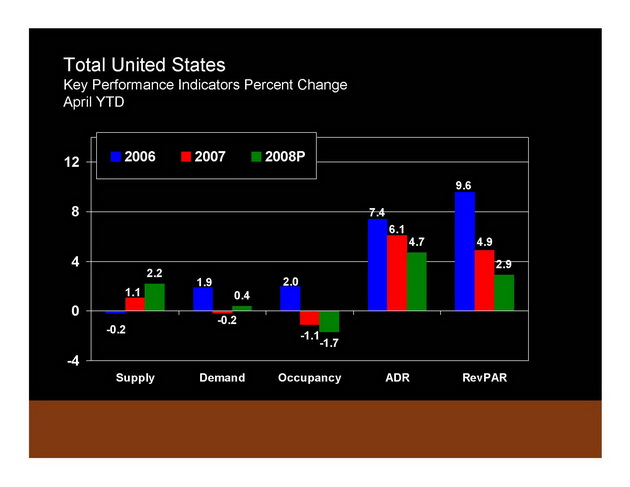 CMBS Meltdown and prognostication for liquidity.
The CMBS meltdown has removed more than $200 billion a year of capital from the commercial real estate markets, and with all the synthetics based on CMBS instruments, many believe that "constipation" of the markets affects the value and liquidity of trillions of dollars of U.S. real estate investments.
This has all made capital for the hotel industry – and for other real estate asset classes – harder to find and more expensive. Traditional capital sources will not make up the gap in the short term. No one knows when the system will be "fixed." Some look for a return to normalcy by the end of this year, and some think that it won't happen until residential real estate recovers in a year or two. (I think it has nothing to do with the residential markets, but is tied to big capital's sense of "pricing" risk, and once someone blinks and values are established – either way – things come back to normal). Many see the sobering financial markets as a very positive development that will restrain room supply growth and build a much stronger and sustainable base for future recovery.
Sentiment of Hotel Industry leaders — what they expect. . .
In line with a 5-year tradition, the Lodging Industry Investment Council ("LIIC") — the hotel industry think tank comprised of about 50 top leaders from every facet of the hospitality industry — announced its "LIIC Top 10" at Meet the Money® and released their issues. LIIC Co-Chairman Mike Cahill of HREC, who compiled and announced The LIIC Top 10 at Meet the Money® today, noted that the survey showed a significant change of sentiment from last year. It now appears that for the first time in 4 years, 88% of LIIC members believe that we are either in the first inning of a new cycle (34%) or at the "very end of the current cycle" (50%).
Here is a link to my discussion of The LIIC Top 10.
That was fast. Is it over already?
There was refreshing data from Smith Travel Research, PKF and many of the speakers at Meet the Money® suggesting that the recession, if there is one, will be over in the next few months – certainly by the end of 2008 – and that things only get better from here. In the meantime, everyone seems to regard this as a time of great opportunity if one is careful, has good partners. Some look to profit in note purchases and sales because of better pricing, yields and liquidity. Others look for selective deals where fast action and determination will win the day. If you can find the capital, this is a great time to be developing, because you should be opening into some great markets in 2010 and 2011.
This is Jim Butler, author of www.HotelLawBlog.com and hotel lawyer, signing off. We've done more than $87 billion of hotel transactions and more than 100 hotel mixed-used deals in the last 5 years alone. Who's your hotel lawyer?
________________________
Our Perspective. We represent developers, owners and lenders. We have helped our clients as business and legal advisors on more than $87 billion of hotel transactions, involving more than 3,900 properties all over the world. For more information, please contact Jim Butler at jbutler@jmbm.com or 310.201.3526.
Jim Butler is one of the top hotel lawyers in the world. GOOGLE "hotel lawyer" or "hotel mixed-use" or "condo hotel lawyer" and you will see why.
Jim devotes 100% of his practice to hospitality, representing hotel owners, developers and lenders. Jim leads JMBM's Global Hospitality Group® — a team of 50 seasoned professionals with more than $87 billion of hotel transactional experience, involving more than 3,900 properties located around the globe. In the last 5 years alone, Jim and his team have assisted clients with more than 100 hotel mixed-use projects, all of which have involved at least some residential, and many have also involved significant spa, restaurant, retail, office, sports, and entertainment components — frequently integrated with energizing lifestyle elements.
Jim and his team are more than "just" great hotel lawyers. They are also hospitality consultants and business advisors. They are deal makers. They can help find the right operator or capital provider. They know who to call and how to reach them. They are a major gateway of hotel finance, facilitating the flow of capital with their legal skill, hospitality industry knowledge and ability to find the right "fit" for all parts of the capital stack. Because they are part of the very fabric of the hotel industry, they are able to help clients identify key business goals, assemble the right team, strategize the approach to optimize value and then get the deal done.
Jim is frequently quoted as an expert on hotel issues by national and industry publications such as The New York Times, The Wall Street Journal, Los Angeles Times, Forbes, BusinessWeek, and Hotel Business. A frequent author and speaker, Jim's books, articles and many expert panel presentations cover topics reflecting his practice, including hotel and hotel-mixed-use investment and development, negotiating, re-negotiating or terminating hotel management agreements, acquisition and sale of hospitality properties, hotel finance, complex joint venture and entity structure matters, workouts, as well as many operating and strategic issues.
Jim Butler is a Founding Partner of Jeffer, Mangels, Butler & Marmaro LLP and he is Chairman of the firm's Global Hospitality Group®. If you would like to discuss any hospitality or condo hotel matters, Jim would like to hear from you. Contact him at jbutler@jmbm.com or 310.201.3526. For his views on current industry issues, visit www.HotelLawBlog.com.