Author of www.HotelLawBlog.com
8 May 2007
Hotel Lawyer on debt and equity financing for hotels — hotel financing update. The party's not over, but it may be time we sobered up. How do you find debt and equity financing for hotel development, hotel mixed-use, repositioning and purchase or sale?

Meet the Money® — Gateway to hotel finance
On May 3, 2008, 450 hotel industry leaders – owners, developers, capital providers, brands and advisors – gathered in Los Angeles for JMBM's 17th annual Meet the Money® conference for an intense day of networking, deal making, and technology sharing. From the early morning kick off when Smith Travel Research's Bobby Bowers gave us the current industry stats (continue profit and RevPAR growth, at least through 2008) to the final handshake at the Dealmakers Reception, the mood among participants was optimistic, but decidedly more cautious than a year ago.
An industry flooded with capital. The market is still awash in capital and it seems everyone is still doing deals. But how long will it last? This was one of the questions posed by moderator Dan Abrams of iStar Financial, to his panel of experts.
Hotel mixed-use and inner city development. Jonathan Roth of Canyon Capital Realty Advisors believes that there will continue to be capital available for stabilized Class A assets in primary markets. He is also keen on mixed-used properties where exit strategies make the price-per-key costs reasonable for the hotel component. Properties supported by demographics can also be justified, he believes, pointing out that minority communities are growing 7 times faster than other segments and that most of the growth is in major metro areas. (Canyon Capital and Magic Johnson have created a real estate investment fund, Canyon Johnson Urban Fund, that focuses on projects in these urban areas.) "But, we have seen hedge funds experience some spectacular disasters in real estate," he said, noting the events have not been highly publicized. He predicts that we will see failures in the next 12 – 24 months on projects that attracted "uninformed capital".
Demographics and continuing opportunities in Latin America and South America. Robert Stern of Perry Real Estate Partners said that it is likely the cost of capital is going to go up in the next 12 months, and that the folks at his hedge fund debate this all the time. "Sooner or later an event will be triggered and we will wonder why we didn't see it coming." Perry is also is a believer in demographically-driven projects, pointing to Perry's partnership with Steve Case's Exclusive Resorts. Perry thinks that opportunities in Latin America and South America are still emerging and early in the cycle as compared to many domestic markets where we seem to be much further along in the cycle. So Rob is spending a lot of time looking south of the border.
More discipline in CMBS markets for sustained growth. Patrick O'Neal of PNC Realty Finance said that "everything has changed as of last Monday" when rating agencies like Fitch and Moody's imposed more discipline on the CMBS markets in response to demands from investment grade investors. He believes the result will be an overall tightening of underwriting criteria and that terms like "interest only" will go away. "80% LTV will stay with us," he said. He predicts that spreads will widen — perhaps by 75 basis points. This is not the end of the world, just a little correction that may be healthy for the long term.
Special long-term relationships of capital and developers. "So what?" is the response of Marty Collins of Gatehouse Capital Corp. "I'm a developer, and as long as there is capital available, we will develop. That's what developers do." He notes that he has long-term relationships with lenders that know him like co-panelists Frank Anderson of HSH Nordbank and Jonathan Roth of Canyon Capital. When capital gets tight, he will continue to work with those familiar with his track record. "I work with people I know," he said, "Not with some hedge fund in Luxembourg."
But everyone agreed the good deals are harder and harder to find. It was noted that some funds just want an asset in a specific geographic market and the fundamentals appear to be secondary. Unless you are the seller of the asset (and some of our panelists were) it makes it hard to compete.
How to make deals work — Valencia's stunning performance with lifestyle hotel mixed-use. "Our biggest challenge is finding projects where the fundamentals work," said Doyle Graham, founder and president of Valencia Group. Valencia's competitive advantage is bringing accretive value to a project, specifically in a lifestyle mixed-use environment, as is aptly demonstrated by the widely acclaimed Santana Row project in San Jose, California. (See prior postings on Lifestyle hotel mixed-use development. Are Valencia and Miraval the new paradigms for "lifestyle" hotel mixed-use?)
"We do better than those in our competitive set," he said referring to the stunning 185% RevPAR yield penetration Santa Row has accomplished. "But you have to run a lot of numbers to find those deals." (For Valencia's stunning performance, see, "Hotel Mixed-Use" . . . pass key to unlocking new development and bigger profits?")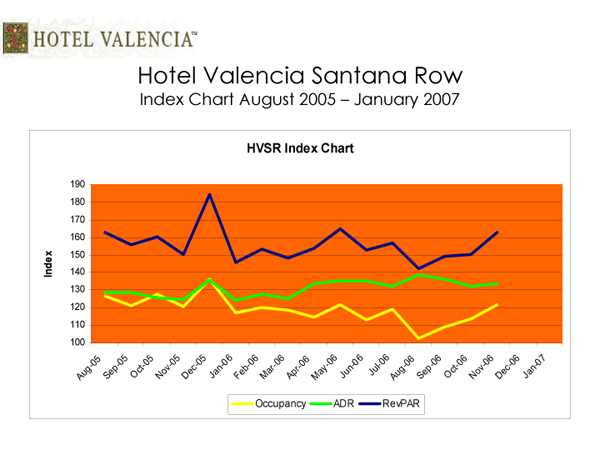 And for more on the compelling impact of "lifestyle" hotels and hotel mixed-use, see "The new "LIFESTYLE" hotel brands are changing the hotel industry and hotel mixed-use. Miraval: The health and wellness lifestyle brand."
What will escalating costs do to the good times? Doyle Graham is more concerned about construction costs, property taxes, labor and utilities than he is about the cost of money. And he thinks it is fine that only better projects will be underwritten, if tighter lending criteria are imposed.
Marty Collins concurred. He is concerned about the scarcity of labor in all areas. "We also have a fragile global relationship with the international community," he noted and incidents could still take place. "That concerns me more than interest rates going up a few basis points."
Where are we in the cycle? Everyone was talking about where we are in the hotel cycle. This was one of 10 issues addressed in annual survey prepared for exclusive release at JMBM's Meet the Money® hotel finance conference. The Lodging Industry Investment Council (LIIC) is the hotel industry think tank whose members may represent up to half of the (midscale and up) hospitality assets in the United States, and accordingly, the survey reflects a significant portion of the industry's sentiment regarding trends for the next 12 months. More than 90% of the LIIC members believed that we are "in the 6th inning or later" of the hotel investment cycle. None thought we were in overtime yet!
For more details, see The Lodging Industry Think Tank "TOP 10" Investment Trends and Challenges.
We will have more pretty charts and helpful information that was presented at Meet the Money® in future postings (very soon), but for now it is interesting to note that many of those who are selling are also buying.
Others have used the current market conditions to reposition their portfolios and plan to "hold" for the moment. But it's clear from all the activity in the hospitality arena that the party is not over. The beat goes on, but it seems that everyone is a bit more picky about who they're dancing with – and who is paying for the party.
________________________
Our Perspective. We represent developers, owners and lenders. We have helped our clients as business and legal advisors on more than $87 billion of hotel transactions, involving more than 3,900 properties all over the world. For more information, please contact Jim Butler at jbutler@jmbm.com or 310.201.3526.
Jim Butler is one of the top hotel lawyers in the world. GOOGLE "hotel lawyer" or "hotel mixed-use" or "condo hotel lawyer" and you will see why.
Jim devotes 100% of his practice to hospitality, representing hotel owners, developers and lenders. Jim leads JMBM's Global Hospitality Group® — a team of 50 seasoned professionals with more than $87 billion of hotel transactional experience, involving more than 3,900 properties located around the globe. In the last 5 years alone, Jim and his team have assisted clients with more than 90 hotel mixed-use projects, all of which have involved at least some residential, and many have also involved significant spa, restaurant, retail, office, sports, and entertainment components — frequently integrated with energizing lifestyle elements.
Jim and his team are more than "just" great hotel lawyers. They are also hospitality consultants and business advisors. They are deal makers. They can help find the right operator or capital provider. They know who to call and how to reach them. They are a major gateway of hotel finance, facilitating the flow of capital with their legal skill, hospitality industry knowledge and ability to find the right "fit" for all parts of the capital stack. Because they are part of the very fabric of the hotel industry, they are able to help clients identify key business goals, assemble the right team, strategize the approach to optimize value and then get the deal done.
Jim is frequently quoted as an expert on hotel issues by national and industry publications such as The New York Times, The Wall Street Journal, Los Angeles Times, Forbes, BusinessWeek, and Hotel Business. A frequent author and speaker, Jim's books, articles and many expert panel presentations cover topics reflecting his practice, including hotel and hotel-mixed-use investment and development, negotiating, re-negotiating or terminating hotel management agreements, acquisition and sale of hospitality properties, hotel finance, complex joint venture and entity structure matters, workouts, as well as many operating and strategic issues.
Jim Butler is a Founding Partner of Jeffer, Mangels, Butler & Marmaro LLP and he is Chairman of the firm's Global Hospitality Group®. If you would like to discuss any hospitality or condo hotel matters, Jim would like to hear from you. Contact him at jbutler@jmbm.com or 310.201.3526. For his views on current industry issues, visit www.HotelLawBlog.com.