31 January 2011
Hotel Lawyer on the state of the hotel industry. At the ALIS conference last week, Smith Travel gave a great overview on the final results for 2010 as well as its outlook for 2011 and 2012. The numbers are very interesting!
Jan Freitag made the presentation at the ALIS conference. According to him, at the end of 2010, there were 52,000 hotels in the United States providing a total room supply of 1.7 billion rooms (a 2% increase in supply over 2009).
Great increase in demand. The demand for room nights grew a staggering 7.8% returning to the pre-bubble peak of 1 billion room nights sold during 2010, but with an increased supply of hotel rooms taking a share of the demand, occupancy only increased 5.7% to 57.6%, below the magic 60% occupancy level. Smith Travel hailed the demand growth, but noted that it does not expect to see this outsized growth again in the foreseeable future. In fact, as noted below, demand growth for the next two years is projected to be below 2% per year.
Disappointing lack of any meaningful rate growth. Unfortunately, the dramatic demand growth was not accompanied by a comparable increase in the average daily rate or ADR. In 2010, ADR was flat (actually down -0.1%) at $98, and still below the important $100 level. RevPAR increased 5.5% to $56.50 and room revenues increased 7.6% to $99.5 billion.

But 2011 and 2012 look to be years with strong ADR and RevPAR growth as shown below.
Coastal markets were hit harder and are recovering faster. While all markets have suffered and recovered on the demand side of the ledger, it is notable that the coastal markets have been hit harder and have recovered faster on ADR. The following charts demonstrate this point, with the red line showing the Boston-New York City-Miami-LA-San Francisco markets.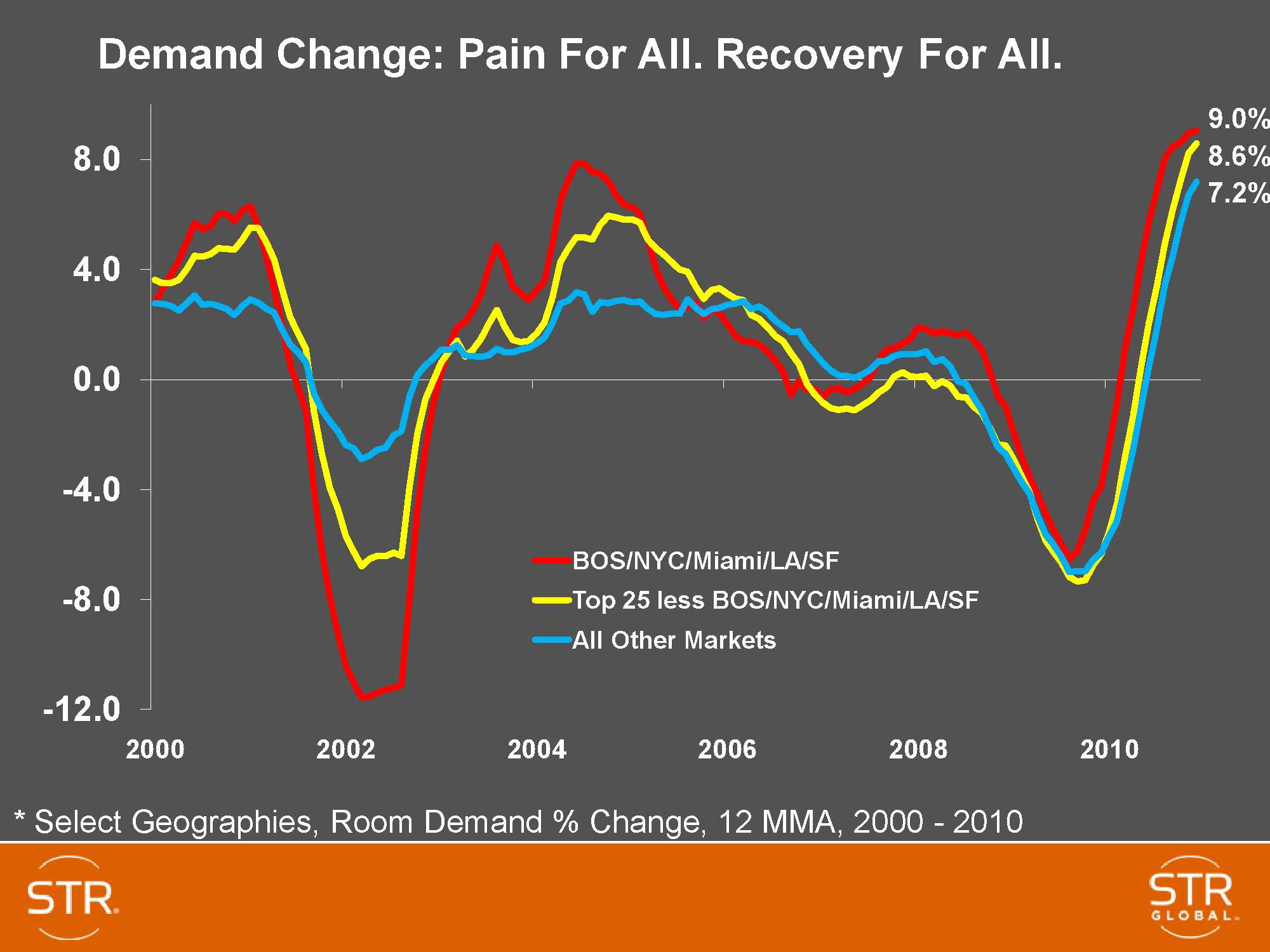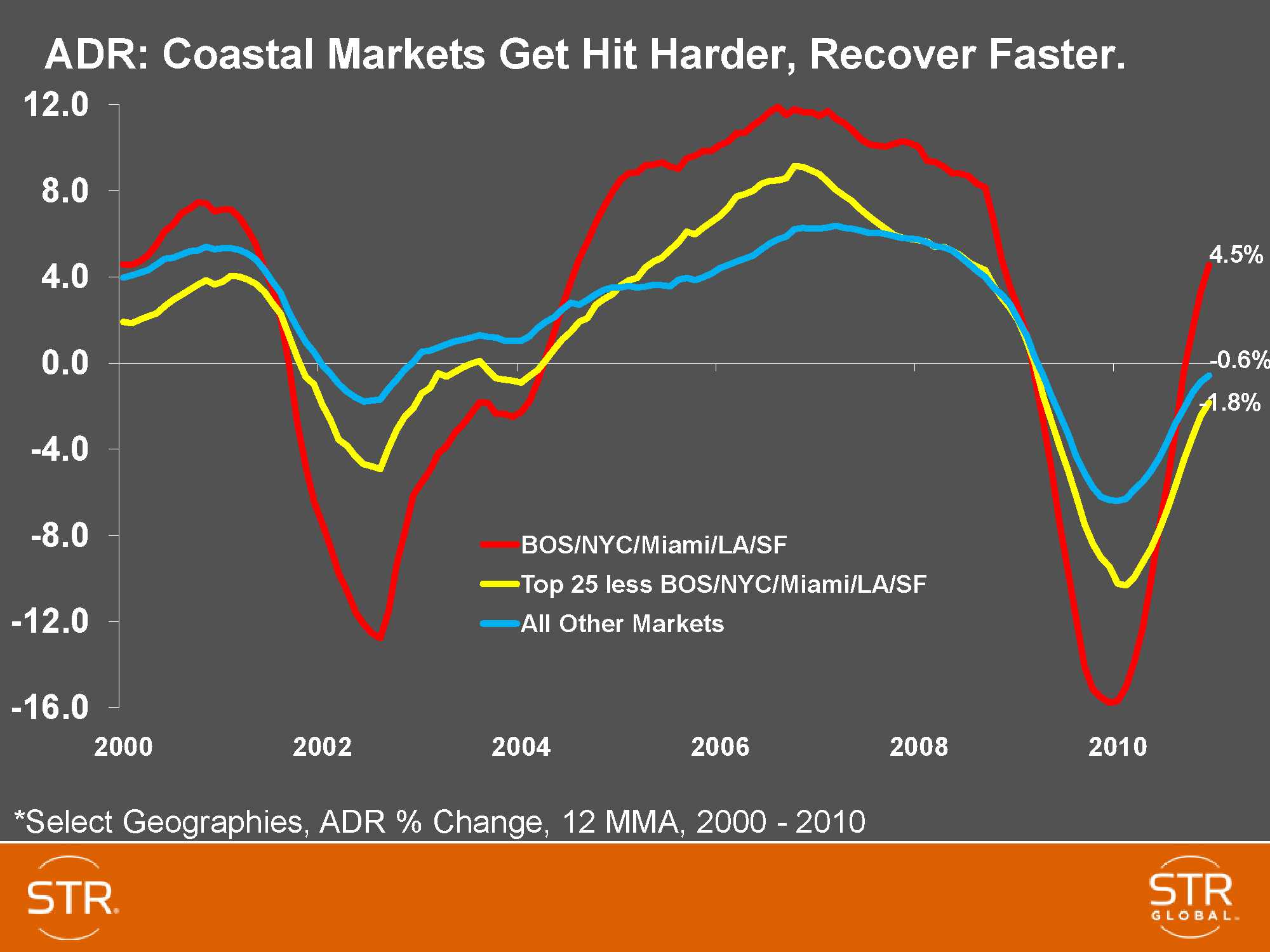 Change in scale segmentation. Smith Travel announced that they are updating their chain scale segmentation. They are dropping "Midscale with F&B" and "midscale without F&B." The new segments will be called "Upper Midscale" and "Midscale."
What lies ahead? The Smith Travel forecast.
For the total US Outlook, Smith Travel projects the following for 2011 and 2012:

And here is how Smith Travel sees the future by chain scale segment.
Forecast by industry segment. As we have discussed many times, all hotels will not benefit or suffer equally. Chain scale segmentation is only one of the factors helpful in evaluating investment prospects, along with many other critical factors such as the specific geographic market the hotel is in, and the size, nature, condition, branding, and management of the property itself.
But here is what Smith Travel projects for the next two years by chain scale.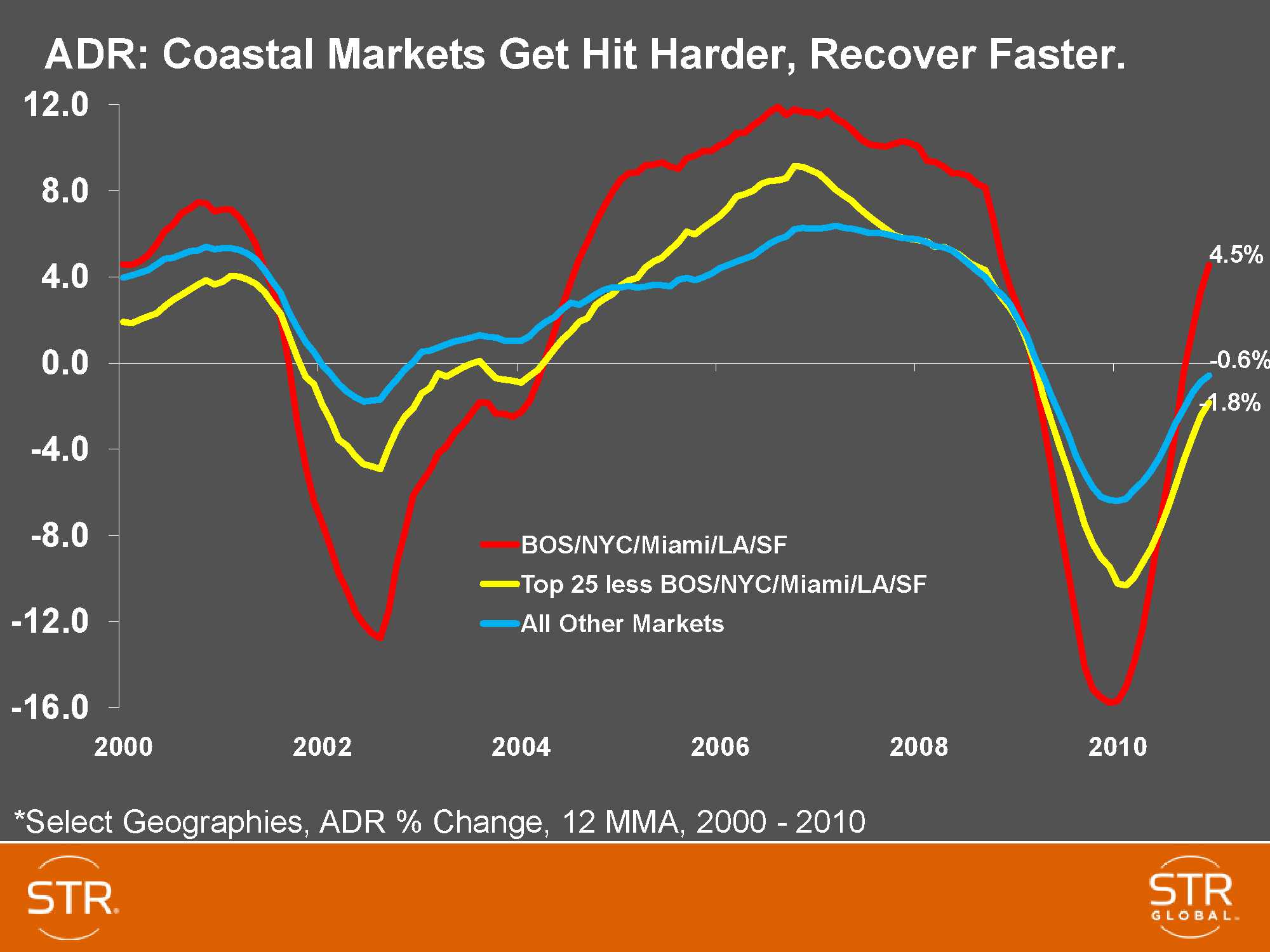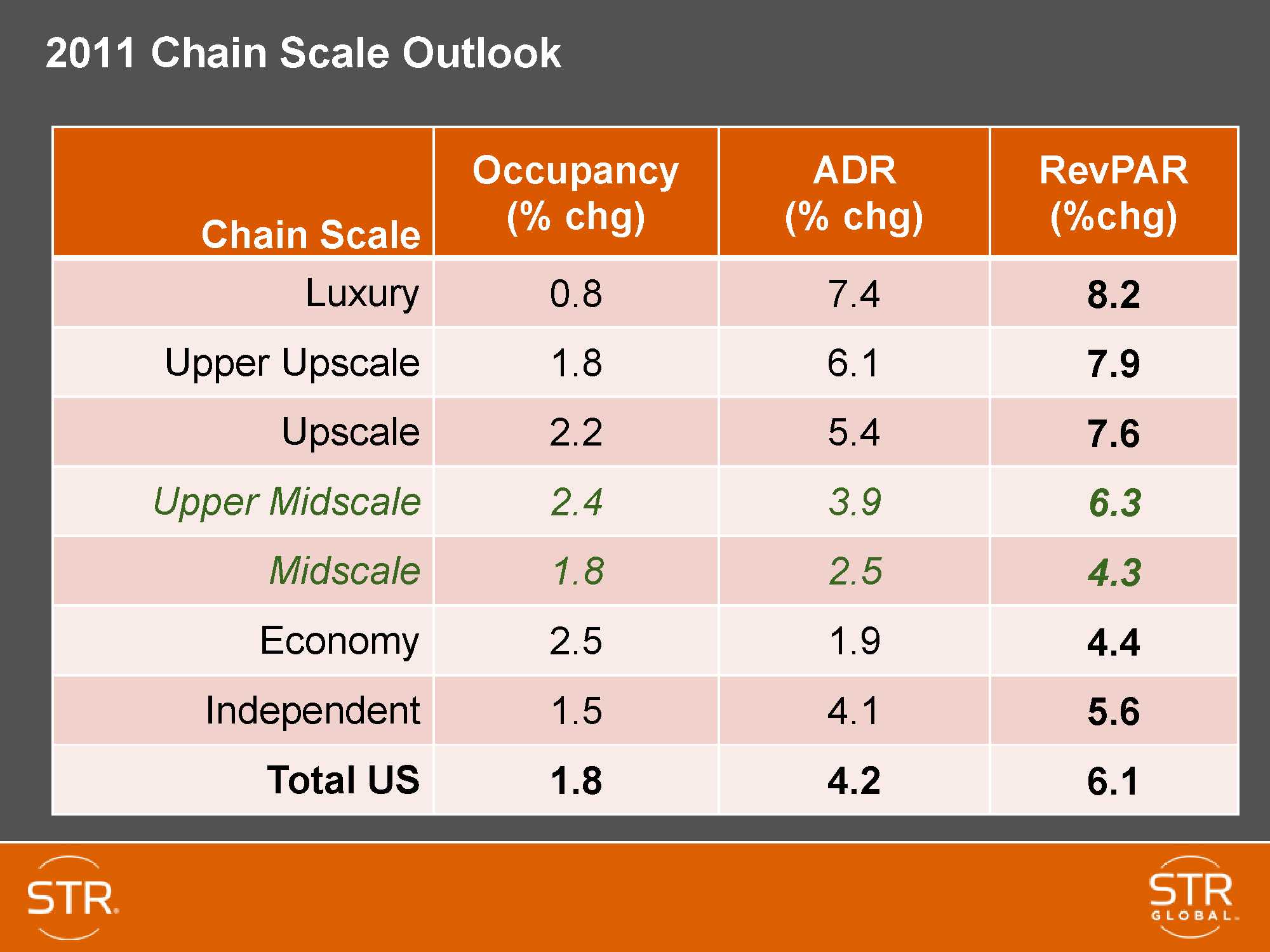 What's it all mean?
We continue to believe that 2011 will be a pivotal point in hotel investment with accelerating workouts, purchases and sales, and financings. The worst is behind us. Fundamentals are improving. Liquidity is returning to the marketplace and capital is poised for investment.
This will be a busy year with strong increases in hotel values and performance.
Other anticipations of Great Expectation!
Many of the currents above have been reflected in prior interviews and articles on the Hotel Law Blog, such as the following:
This is Jim Butler, author of www.HotelLawBlog.com and hotel lawyer, signing off. We've done more than $87 billion of hotel transactions and have developed innovative solutions to help investors be successful in bidding for hotel acquisitions, and helping investors and lenders to unlock value from troubled hotel transactions. Who's your hotel lawyer?
________________________
Our Perspective. We represent hotel lenders, owners and investors. We have helped our clients find business and legal solutions for more than $87 billion of hotel transactions, involving more than 3,900 properties all over the world. For more information, please contact Jim Butler at jbutler@jmbm.com or 310.201.3526.
Jim Butler is a founding partner of JMBM and Chairman of its Global Hospitality Group®. Jim is one of the top hospitality attorneys in the world. GOOGLE "hotel lawyer" and you will see why.
JMBM's troubled asset team has handled more than 1,000 receiverships and many complex insolvency issues. But Jim and his team are more than "just" great hotel lawyers. They are also hospitality consultants and business advisors. For example, they have developed some unique proprietary approaches to unlock value in underwater hotels that can benefit lenders, borrowers and investors. (GOOGLE "JMBM SAVE program".)
Whether it is a troubled investment or new transaction, JMBM's Global Hospitality Group® creates legal and business solutions for hotel owners and lenders. They are deal makers. They can help find the right operator or capital provider. They know who to call and how to reach them.