Author of www.HotelLawBlog.com
6 March 2007
Hotel lawyer on hotel industry trends. What's the price of gasoline have to do with the future of the lodging industry? Some pretty interesting research tells us "More than you might think"!
In a recent posting on www.HotelLawBlog, I talked about the intimate relationship between the U.S. economy and the lodging industry. You may recall that cited studies of the past 30 years show that for more than 24 years there was a remarkable statistical correlation of 1.2 between U.S. Real GDP and the demand for hotel room nights at hotel in the United States. That means that if the U.S. economy grew by 1%, then lodging demand (i.e. demand for hotel room nights) grew by 1.2%. And although the correlation is a little lower now (around .7), there is still a very strong correlation between the Real GDP and the lodging industry.. (For more details see, As goes the economy, so goes the hospitality industry — the ineluctable elasticity of demand!)
I was quite surprised by the number of www.HotelLawBlog.com readers who sent me emails commenting on that recent blog. It is always nice to know that so many of you actually read these postings. But several of you wondered out loud — or commented — that you thought the cost of petroleum or perhaps some other items might also have a strong correlation with the lodging industry. As to the impact of petroleum prices, there is a strong correlation. As to other factors, there appears to be little or no correlation. So the price of gasoline actually does have a lot to do with the future of the lodging industry. How much impact? Let's take a look.

Correlations of economic factors with the hospitality industry
My expert for all these matters is Bjorn Hanson, Ph.D., principal and practice leader with PricewaterhouseCoopers. I regard Bjorn as an industry friend and colleague, and he was kind enough to share his graphics with me.
If you missed it, you really should see the prior posting on the "elasticity" of demand between the U.S. Real GDP and the lodging industry. (As goes the economy, so goes the hospitality industry — the ineluctable elasticity of demand!)
But today we want to go a bit further.
PwC notes that when gas prices were at $.98 per gallon, and other consumer price segments stayed stable, lodging demand decreased. So gas prices did not affect lodging.
However, in recent times, PwC has calculated that when real gasoline prices increase by 10 percent, lodging demand declines by 0.41 percent.
Translating this into real terms . . . If real gasoline prices had stayed at December 2005 levels through September 2006, U.S. lodging demand would have been higher by 12,000 occupied rooms, or 0.3 occupancy points
The following charts illustrate the significance of gasoline prices on lodging demand and the fact that virtually no other consumer segment had any seeming correlation with the lodging segment. In other words, other than changes in the supply of hotel rooms, or changes in the real GDP, gasoline prices may be the next most significant indicator of changes in the lodging industry's fortunes.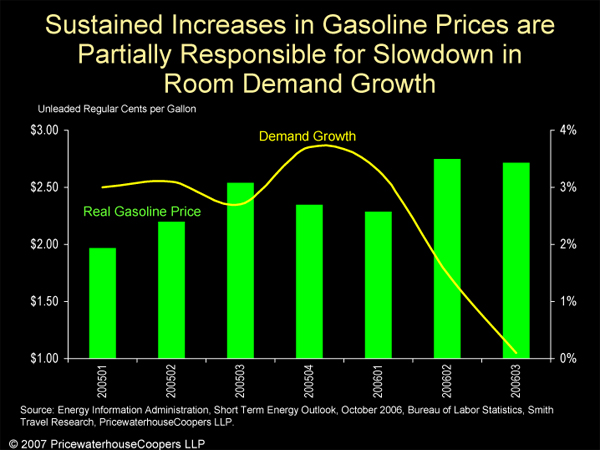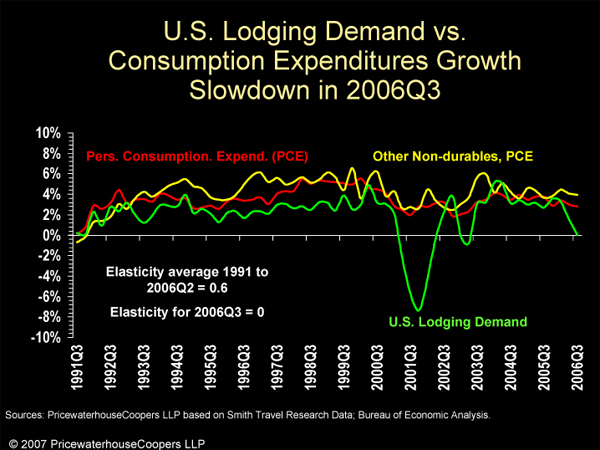 So, it would seem that the practical answer to the original question posed, is that — at least today — gasoline prices have a significant impact on lodging industry demand, and have to be seriously considered in evaluating the future of the industry.
In the next few days, I will be reporting on the developments at the industry's leading hotel development conference — The Hotel Developers Conference™, in Rancho Mirage, California on March 7-8, 2007, where all of the industry leaders will be.
Walk in registration is available if you haven't signed up yet. Stay tuned for the reports!
________________________

Our Perspective. We represent developers, owners and lenders. We have helped our clients as business and legal advisors on more than $87 billion of hotel transactions, involving more than 3,900 properties all over the world. For more information, please contact Jim Butler at jbutler@jmbm.com or 310.201.3526.
Jim Butler is one of the top hotel lawyers in the world. GOOGLE "hotel lawyer" or "hotel mixed-use" or "condo hotel lawyer" and you will see why.
Jim devotes 100% of his practice to hospitality, representing hotel owners, developers and lenders. Jim leads JMBM's Global Hospitality Group® — a team of 50 seasoned professionals with more than $87 billion of hotel transactional experience, involving more than 3,900 properties located around the globe.
Jim and his team are more than "just" great hotel lawyers. They are also hospitality consultants and business advisors. They are deal makers. They can help find the right operator or capital provider. They know who to call and how to reach them. They are a major gateway of hotel finance, facilitating the flow of capital with their legal skill, hospitality industry knowledge and ability to find the right "fit" for all parts of the capital stack. Because they are part of the very fabric of the hotel industry, they are able to help clients identify key business goals, assemble the right team, strategize the approach to optimize value and then get the deal done.
Jim is frequently quoted as an expert on hotel issues by national and industry publications such as The New York Times, The Wall Street Journal, Los Angeles Times, Forbes, BusinessWeek, and Hotel Business. A frequent author and speaker, Jim's books, articles and many expert panel presentations cover topics reflecting his practice, including hotel and hotel-mixed use investment and development, negotiating, re-negotiating or terminating hotel management agreements, acquisition and sale of hospitality properties, hotel finance, complex joint venture and entity structure matters, workouts, as well as many operating and strategic issues.
Jim Butler is a Founding Partner of Jeffer, Mangels, Butler & Marmaro LLP and he is Chairman of the firm's Global Hospitality Group®. If you would like to discuss any hospitality or condo hotel matters, Jim would like to hear from you. Contact him at jbutler@jmbm.com or 310.201.3526. For his views on current industry issues, visit www.HotelLawBlog.com.