11 September 2008
Hospitality Lawyer in Italy. Lessons from History: When will we ever learn?
Lana and I are enjoying a brief Italian vacation in the Umbria region of Italy. Today we took a tour of the ancient city-state of Gubbio. I think there are some lessons here that are worth remembering. Disclaimer: This post isn't about hotel law, so you hard core readers can go ahead and click on whatever is listed next on your RSS feed. The rest of you might be interested in why I am thinking about salt, window and chimney taxes.
This morning, we had a fascinating tour of Gubbio, which still looks much like it might have around 1500 AD. There are no obvious traces of the Etruscans or Umbrians, but you can still see the ancient Roman wall, the medieval campanile bell towers, and extensive limestone structures, many of which date to the 11th through 14th centuries. In the course of our 3 hour "walking tour" of the ancient town, our guide explained some of the local history that provides some interesting insights for our times as well. Listen to this . . .
The Salt Tax
First, the bread in Gubbio was notable to us as the worst (i.e. blandest) bread we have ever encountered in Europe. None of the bread had any salt. Our guide explained that this is a characteristic of central Italy due to the fact that all salt came from Rome. And when Pope Paul III raised the salt tax in 1538, it ultimately incited the Baglioni family of Perugia and the citizens of this region to launch the "Salt War" (Guerra del Sale).
Their insurrection was quickly crushed, the Baglioni family was ousted, and the citizens were forced to continue paying the hated salt taxes, but as a protest,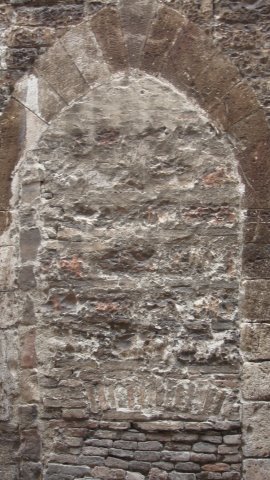 virtually everyone in this region stopped using salt in bread or anything else where it was not absolutely necessary to preserve perishable food. The legacy of high salt taxes in Gubbio (and elsewhere throughout the Umbria region of Italy) to this day is the world's most boring bread.
The Window Tax
Another curiosity apparent everywhere on our walking tour of Gubbio was a dearth of windows in the medieval masonry buildings. In fact, quite a few of the original windows had been permanently "walled up" to seal them off. Our guide explained that in the middle ages, some financial genius invented a "window tax" (based on the number and size of widows). Before the tax, wealthy people tended to have more and bigger windows. Not surprisingly, after the tax was imposed, people started sealing off windows completely or making them much smaller. After several centuries of declining taxes on the increasingly fewer and smaller windows, the window tax was eliminated, and finally there was a flourishing of new and larger windows.
The Chimney Tax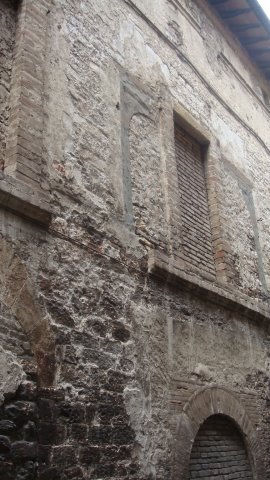 And in the category of "when will they ever learn?" there is apparently talk now of a chimney tax, so naturally our guide and everyone he knows is talking about knocking down their beautiful chimneys and sealing them up to avoid the new chimney tax.
When will "they" ever learn?
A moment ago, I asked, when will they ever learn? But I suppose we might pose this question to ourselves in the U.S. With the new presidential elections upon us, many politicians are talking about solving all of our problems by "taxing the rich." However, history tells us, both from the stories of Gubbio and our own tax histories, that when we impose high taxes on an activity or a group of people, they will act promptly to reduce the taxes. One great danger in doing this is that we will discourage the small businesses and the entrepreneurs that are responsible for 90% of the new job creation and most innovation in our country.
You scoff? Certainly, higher taxes may "nick" some people for a while, but in the fairly short term, we will drive our talented and hard working innovators overseas, or contort our business practices for "tax efficiency" instead of economic or technological advantage. Before we do that, shouldn't we be mindful of our friends in Gubbio where the salt tax, the window tax, and the chimney tax offer us valuable lessons?
Back to normal next time
If you like vacation-inspired musings, this is not a normally a good place to look, and things will return to "normal" with the next posting. On the other hand, if you enjoy this sort of thing, I did indulge myself two years ago about the subject of spas. (See: Hospitality Lawyer — What does "spa" mean? Where does the word "spa" come from?)
This is Jim Butler, author of www.HotelLawBlog.com and hotel lawyer, signing off. We've done more than $87 billion of hotel transactions and more than 100 hotel mixed-used deals in the last 5 years alone. Who's your hotel lawyer?
________________________
Our Perspective. We represent developers, owners and lenders. We have helped our clients as business and legal advisors on more than $87 billion of hotel transactions, involving more than 3,900 properties all over the world. For more information, please contact Jim Butler at jbutler@jmbm.com or 310.201.3526.
Jim Butler is one of the top hospitality attorneys in the world. GOOGLE "hotel lawyer" or "hotel mixed-use" or "condo hotel lawyer" and you will see why.
Jim devotes 100% of his practice to hospitality, representing hotel owners, developers and lenders. Jim leads JMBM's Global Hospitality Group® — a team of 50 seasoned professionals with more than $87 billion of hotel transactional experience, involving more than 3,900 properties located around the globe. In the last 5 years alone, Jim and his team have assisted clients with more than 100 hotel mixed-use projects — frequently integrated with energizing lifestyle elements.
Jim and his team are more than "just" great hotel lawyers. They are also hospitality consultants and business advisors. They are deal makers. They can help find the right operator or capital provider. They know who to call and how to reach them.
Jim is frequently quoted as an expert on hotel issues by national and industry publications such as The New York Times, The Wall Street Journal, Los Angeles Times, Forbes, BusinessWeek, and Hotel Business. He is the Conference Chairman of The Hotel Developers Conference™ and Meet the Money®.
Contact him at jbutler@jmbm.com or 310.201.3526. For his views on current industry issues, visit www.HotelLawBlog.com.