20 May 2009
Hospitality Lawyer Insights from Meet the Money® 2009: The hospitality lawyers of JMBM's Global Hospitality Group® have presented an annual hotel conference for 19 years. On May 5-7, 2009 in Los Angeles, California, nearly 400 industry leaders gathered at the Sheraton LAX for Meet the Money® 2009.

Presentations from Hotel Industry thought leaders by JMBM's hospitality lawyers
The PowerPoint presentations from a number of industry leaders at Meet the Money® 2009 are listed with hyperlinks at JEWELS from Meet the Money® 2009 — the "best ever" hotel conference.
Commentary and observations from the hospitality lawyers of JMBM and other industry experts on some of the critical industry issues are available at Hospitality Lawyer Insights.
Here is the latest in the Hospitality Lawyer Insights series on some of the most critical issues of our day.
#9. What is the future for new construction and development?
Marty Collins:

Marty Collins
President
Gatehouse Capital Corporation
214-922-4310
collinsm@gatehousecapital.com



"You cannot overestimate the gravity of the situation if you are a developer. We're like dinosaurs looking for a warm climate. "
David Schachter:

David Schachter
Managing Director
Reedland Capital Partners/Financial West Group
310-275-8675
dschachter@reedland.com



"It's hard to get construction loans done, but if they are under $20 million, they can get done. We will do construction loans up to $20 million, but with recourse. There are a number of large local banks that are making construction loans. For example, a bank in northwestern Florida provides a $15 million construction loan with full recourse to the borrower."
Neil Freeman:

Neil Freeman
Chairman and CEO
Aries Capital LLC
312-640-7420
nfreeman@ariescapital.com



"We are working with credit unions on a bunch of loans."
Kevin Mahoney:

Kevin Mahoney
CEO
Stonebridge Companies
303-785-3100
kmahoney@stonebridgecompanies.com



"Stonebridge just closed on two construction loans; we are building two hotels."
Mark Lomanno:

Mark Lomanno
President
Smith Travel Research
615-824-8664
mark@smithtravelresearch.com



"In terms of pipeline attrition, we see an increased attrition rate in planning and final planning.
A slowing economy means slower demand growth."
Steve Stoycos:

Steve Stoycos
Consultant, Mezzanine Fund & Principal Investments
Choice Hotels
301-592-5179
steve_stoycos@choicehotels.com



"We are looking at opportunistic land purchases at a substantial discount. We will build the product later. We have an all-cash buyer that is selectively acquiring land parcels this year."
Marty Collins:
"Development? Ground up development is "so over" and over for perhaps half a decade or longer.
Developers need to re-define themselves."
We are no longer doing new projects of our own, but working on others' projects. Maybe we will finish projects with broken construction loans. We're talking about buying existing or distressed assets.
Michael Lovata:

Michael Lovata
President
Grayhawk Capital Funding
480-344-3414
mlovata@cox.net



"Construction lenders have all but disappeared. We have a few relationships that we can still get construction loans from, but the terms are much more conservative. Where we used to get 75% loan to cost, we now see 65% LTV, with full recourse and interest rates at 7%-8%. And this is in the top 25 MSAs."
David Loeb:

David Loeb
Managing Director
RW Baird & Co
414-765-7063
dloeb@rwbaird.com



"There will be a supply holiday for 5 or more years."
Michael Lovata:
Construction capital is a very competitive set of terms in this environment.
Max Reim:

Max Reim
Founding Partner and Principal
LiveWorkLearnPlay LLP
514-788-3333
max@lwlp.net



"Construction will have to take place in a mixed-use environment. We have been contributing to a failed experiment. A single-use hotel in the middle of nowhere doesn't make sense."
Mark Woodworth:

Mark Woodworth
President
PKF Hospitality Research
404-842-1150
mark.woodworth@pkfc.com



"We believe the turning point for supply will occur in the fourth quarter of 2009; the turning point for demand will occur in the first quarter of 2010."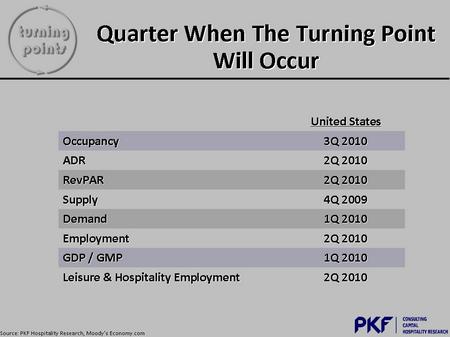 Larry Broughton:

Larry Broughton
President and CEO
Broughton Hospitality Group
714-848-2224
lb@broughtonhospitality.com



"If you can get new construction projects funded, there are some Class A projects that will get built. We have debt and equity interested. Given the lower cost of construction and land values, when the economy turns around, we will do well."
Neil Freeman:
"We bought the old Fairmont Hotel in New Orleans — which was destroyed by hurricane Katrina — and will become a Waldorf=Astoria project managed by Hilton. It was rebuilt with 85% bank debt, paid down by tax credits, which accounted for 20% of the construction cost. The hotel was in a special legislation area, had Louisiana state subsidies for historic purposes, included a 10-year tax freeze, and certain employment credits per employee. If you put all the math together, there were $60 million in subsidies."
Jim Butler :

Jim Butler
Chairman, Global Hospitality Group
Jeffer Mangels Butler & Marmaro, LLP
310-201-3526
jbutler@jmbm.com



"For more discussion on how public-private partnerships are developing new hotels in today's environment, see Hospitality Lawyer Insights from MTM: #7 Public – Private Hotel Development Financing – What Kinds of Public- Private Hotel Projects Are Underway Now and What Kinds of Public Financing Are Available Now to Build Hotels
This is Jim Butler, author of www.HotelLawBlog.com and hotel lawyer, signing off. We've done more than $87 billion of hotel transactions and have developed innovative solutions to unlock value from troubled hotel transactions. Who's your hotel lawyer?
________________________
Our Perspective. We represent hotel lenders, owners and investors. We have helped our clients find business and legal solutions for more than $87 billion of hotel transactions, involving more than 3,900 properties all over the world. For more information, please contact Jim Butler at jbutler@jmbm.com or 310.201.3526.
Jim Butler is a founding partner of JMBM and Chairman of its Global Hospitality Group®. Jim is one of the top hospitality attorneys in the world. GOOGLE "hotel lawyer" and you will see why.
JMBM's troubled asset team has handled more than 1,000 receiverships and many complex insolvency issues. But Jim and his team are more than "just" great hotel lawyers. They are also hospitality consultants and business advisors. For example, they have developed some unique proprietary approaches to unlock value in underwater hotels that can benefit lenders, borrowers and investors. (GOOGLE "JMBM SAVE program".)