22 September 2010
Hotel Lawyer with the latest pulse of the hotel industry from The Lodging Conference at the Arizona Biltmore in Phoenix Arizona.
The title of this blog says it all. This is the time and place to be – The Lodging Conference in Phoenix, Arizona. We called it at Meet the Money® in May, 2010, but the tide that started turning at the end of the first quarter 2010 has continued its flow and it seems to be unmistakable now. I expect to hear some very exciting things at the Conference here in the next few days.
I would describe the mood of the pre-conference gathering that started this evening as very "EXPECTANT." Expecting more and better in both transactions . . . and eventually . . . perhaps more slowly . . . better in the fundamentals of the hotel industry.

Our anecdotal sense of this from our legal and advisory practice is confirmed by more detailed statistics. Alan Reay of Atlas Hospitality reports that hotel transactions in California are up by more than 50% in the first 6 months of 2010. Alan has not told us this, but I have to believe that most of that growth was in the 2nd quarter, so it bodes very well for the second half of the year.
This theme seems to repeated everywhere. More deals are getting done. People are getting more comfortable with values. Lenders are foreclosing on more properties or selling the notes or properties. Buyers are stepping up. No one seems to be finding the big discounted values, but sophisticated buyers of notes and properties are closing deals.
What does it all mean? Well, you have to be here to get it first hand, but we will try to give you a sense of what is going in the coming articles.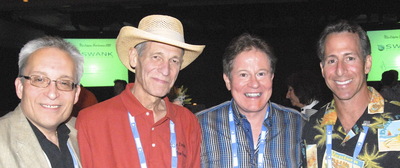 Stay tuned. Morris Lasky and Harry Javer say conference attendance is up at least 20% this year over last year. And conference attendance is usually an indicator of industry trends. The tone of the conference is more upbeat than I have seen in more than 2 years. Nobody is getting rich, but transactions seem to be happening and hotels are continuing their slow recovery.
That means there is money to be made for those who have a jump on leads, insights, capital, and positioning. This could be interesting!
This is Jim Butler, author of www.HotelLawBlog.com and hotel lawyer, signing off. We've done more than $87 billion of hotel transactions and have developed innovative solutions to unlock value from troubled hotel transactions. Who's your hotel lawyer?
________________________
Our Perspective. We represent hotel lenders, owners and investors. We have helped our clients find business and legal solutions for more than $87 billion of hotel transactions, involving more than 3,900 properties all over the world. For more information, please contact Jim Butler at jbutler@jmbm.com or 310.201.3526.
Jim Butler is a founding partner of JMBM and Chairman of its Global Hospitality Group®. Jim is one of the top hospitality attorneys in the world. GOOGLE "hotel lawyer" and you will see why.
JMBM's troubled asset team has handled more than 1,000 receiverships and many complex insolvency issues. But Jim and his team are more than "just" great hotel lawyers. They are also hospitality consultants and business advisors. For example, they have developed some unique proprietary approaches to unlock value in underwater hotels that can benefit lenders, borrowers and investors. (GOOGLE "JMBM SAVE program".)
Whether it is a troubled investment or new transaction, JMBM's Global Hospitality Group® creates legal and business solutions for hotel owners and lenders. They are deal makers. They can help find the right operator or capital provider. They know who to call and how to reach them.