30 October 2008
Please see "troubled hotel loans – workouts, bankruptcies & receiverships" for the latest articles on troubled hotels.
Butler's Matrix: the Hospitality Lawyer's analytical tool for lender decisions on hotel mortgage loan defaults — workouts, receiverships, deeds in lieu or bankruptcy.
OK. You handle troubled real estate loans for a lender. You are in special servicing or special assets. A troubled hotel loan comes on your screen. You know that hotel loans are different, and you have just brushed up on the Dos and Don'ts of troubled hotel loan workouts. You have done your Comprehensive Situation Analysis so that you have all the relevant business and legal information you need to make a decision, and you have even mulled over the Lender Alternatives for a Troubled Hotel Loan. But you think that there must be another way to get your arms around this situation to make a decision on which way to go . . . And there is. It's Butler's Matrix for choosing Lender Alternatives in troubled hotel mortgage loan workouts and defaults. . .

EVALUATING YOUR OPTIONS
The lender's alternatives — issues of possession and control. As a lender with a hotel mortgage loan default, you know that you have several courses of action available. Your options include:
Doing nothing or selling the loan "as is"
Workout
Receiver
Deed-in-lieu of foreclosure
Foreclosure
Bankruptcy
From one important point of view, these lender options all boil down to one of two alternatives electing to either:
Leave the borrower in control (as in the "do nothing," as-is loan sale or workout options), or
Change control to someone other than the borrower (which all the other lender options do — and respectively, they move control and possession of the asset to a receiver, the lender, a buyer of the property, or a bankruptcy trustee).
Remember! No single factor — or group of factors — is necessarily determinative, although a single factor could be.
Key to Evaluating Lender Alternatives: "Butler's Matrix".
A different way of looking at things . The Lenders Alternatives article provides a detailed list of relevant considerations affecting the Lender and the Borrower in a troubled mortgage loan. But that analysis is structured or ordered by scenario — in other words, it first gives all the considerations of the parties for the workout scenario. Then it gives all the parties' considerations for a receiver scenario, and so on for deed-in-lieu of foreclosure, foreclosure and bankruptcy Wouldn't it be nice if there were another way to get the 30,000 foot aerial view perspective before deciding which scenario to pursue?
That where "Butler's Matrix" comes in. Jim Butler, Chairman of the Global Hospitality Group of Jeffer, Mangels, Butler & Marmaro LLP developed this matrix in the early 1990s as an analytical tool for lenders that STARTS with the subjective evaluation of certain borrower or asset characteristics, and then suggests which alternative each such evaluation should indicate to a lender.
How to use Butler's Matrix
Here is Butler's Matrix and to get you started, look down the first column at the relevant borrower or hotel asset characteristic. For example, the first item in this column is the criterion of "collateral." Reading across the matrix from left to right, you see that that "limited or problematic" collateral suggests a lender should choose a workout or loan sale, while "full or satisfactory" collateral may permit or encourage alternatives that remove the borrower from control and possession of the hotel.
Similarly with the second criterion of of loan "documentation." If there are defects in the hotel loan documentation which are problematic, that suggests the lender should consider a workout or loan sale, whereas "full or satisfactory" documentation provides the lender with greater flexibility to seek a receiver, negotiate a deed-in-lieu, or commence foreclosure.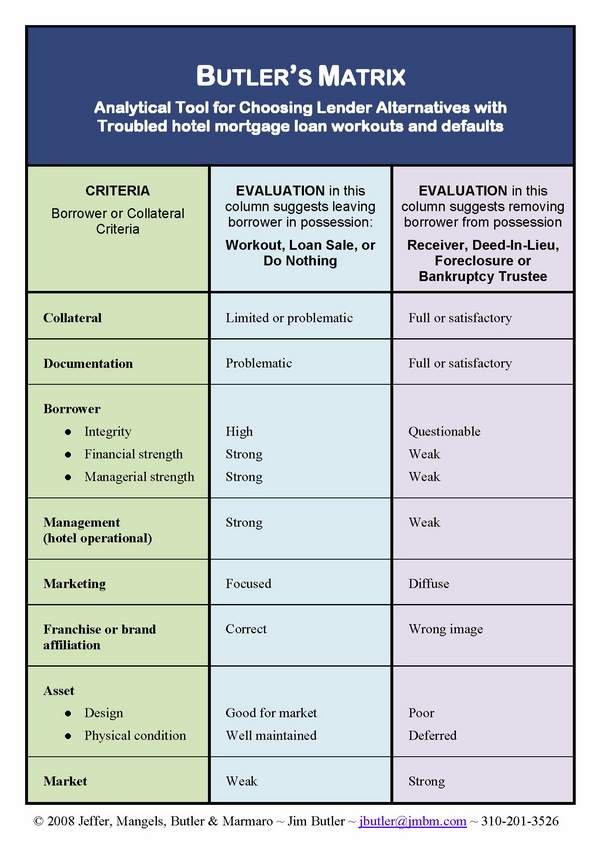 Click here to download a PDF of Butlers Matrix. This PDF file has limited privileges. Please email Jim Butler at jbutler@jmbm.com for a free password available for all clients and friends of the Firm.
No single factor is determinative and some factors may be more important than others!
Remember! No single factor — or group of factors — is necessarily determinative, although a single factor could be. The lack of a critical mass of motivations on one side or the other will normally suggest that the lender will want to take possession by foreclosure or deed-in-lieu of foreclosure or at least displace the borrower from possession through use of a receiver.
For example, in the absence of other controlling considerations, inadequate collateral value for the debt, defective documentation, a good borrower, a strong management company and weak market would all suggest a workout instead of the possessory alternatives. However, if the property is severely damaged by a hurricane or other disaster, that factor alone might outweigh all the others and swing the evaluation in favor of one of the other "possessory" alternatives.
Distressed hotel loans — Resource Library for hotel workouts, hotel bankruptcies, and hotel deeds in lieu of foreclosure
The hospitality lawyers at JMBM's Global Hospitality Group have a great library of free resources on dealing with troubled hotel loans. Go to top of the home page at www.HotelLawBlog.com, click on the "HOTEL LAW TOPICS" tab, and then select "Workouts, Bankruptcies & Receiverships."
Here are a few of the recent articles on troubled hotel loans and assets for your convenience:
How did we get here?
If you are interested in reviewing how the hotel industry can be shocked from boom to bust overnight, you may find these articles interesting:
To see how little it takes to turn a hotel loan upside down, see the discussions and examples in the Section entitled "Benefits and detriments of leverage, and the vicissitudes of changing cap rates and LTVs" in the "Fortunes will be made . . . or lost . . " article.
JMBM's Distressed Assets Expertise
JMBM's Global Hospitality Group® includes an experienced Distressed Assets Team that mobilizes quickly to address the complex issues surrounding distressed hospitality properties and stalled developments. Whether it is a solution to a lender's troubled loan or the response to a buyer's opportunity, we work quickly to preserve value and increase cash flow.
Because hotels are special assets, with operating companies, numerous issues come into play in a workout or bankruptcy scenario. Because we have represented creditors, owners and investors in the hospitality arena for more than two decades, we do not need to "get up to speed" on the special issues.
Regardless of where we are in the market cycle, JMBM's Distressed Assets Team is involved, day in and day out, in restructuring and working out deals that go sideways. Our experience — together with our knowledge of the current capital markets where distressed assets often include complex deal structures and securitized loans — allows us to bring creative and effective strategies to the table. When aggressive litigation is the best strategy, we are effective, rigorous advocates for our clients' interests.
For information about how we can help, contact one of the senior members of the team, below.
This is Jim Butler, author of www.HotelLawBlog.com and hotel lawyer, signing off. We've done more than $87 billion of hotel transactions and more than 100 hotel mixed-used deals in the last 5 years alone. Who's your hotel lawyer?
________________________
Our Perspective. We represent developers, owners and lenders. We have helped our clients as business and legal advisors on more than $87 billion of hotel transactions, involving more than 3,900 properties all over the world. For more information, please contact Jim Butler at jbutler@jmbm.com or 310.201.3526.
Jim Butler is one of the top hospitality attorneys in the world. GOOGLE "hotel lawyer" or "hotel mixed-use" or "condo hotel lawyer" and you will see why.
Jim devotes 100% of his practice to hospitality, representing hotel owners, developers and lenders. Jim leads JMBM's Global Hospitality Group® — a team of 50 seasoned professionals with more than $87 billion of hotel transactional experience, involving more than 3,900 properties located around the globe. In the last 5 years alone, Jim and his team have assisted clients with more than 100 hotel mixed-use projects — frequently integrated with energizing lifestyle elements.
Jim and his team are more than "just" great hotel lawyers. They are also hospitality consultants and business advisors. They are deal makers. They can help find the right operator or capital provider. They know who to call and how to reach them.
Contact him at jbutler@jmbm.com or 310.201.3526. For his views on current industry issues, visit www.HotelLawBlog.com.