Author of www.HotelLawBlog.com
4 October 2006
Please see "troubled hotel loans – workouts, bankruptcies & receiverships" for the latest articles on troubled hotels.
Hotel bankruptcy lawyers' dreams come true?
Hotel loan workouts, hotel bankruptcies, and hotel receiverships have been scarce the past few years — approaching an all-time low. But that may be about to change.

Steve Van, founder of Prism Hotels and REMIC Hotels, holds the premier, by-invitation-only event for CMBS lenders interested in hotels. The Who's Who of CMBS special servicers (the workout guys) show up every year in Dallas for Steve's "Fishing for Solutions" conference.
Hotel loans are performing extremely well and getting better!
With his typical tongue in cheek, Steve opened the conference with the following chart, showing delinquencies in CMBS Conduit deals from May 2000 through September 2005. Note how the delinquencies shot up significantly after 9/11 and continued to increase until early 2004 before reversing course, dropping below 1% last fall.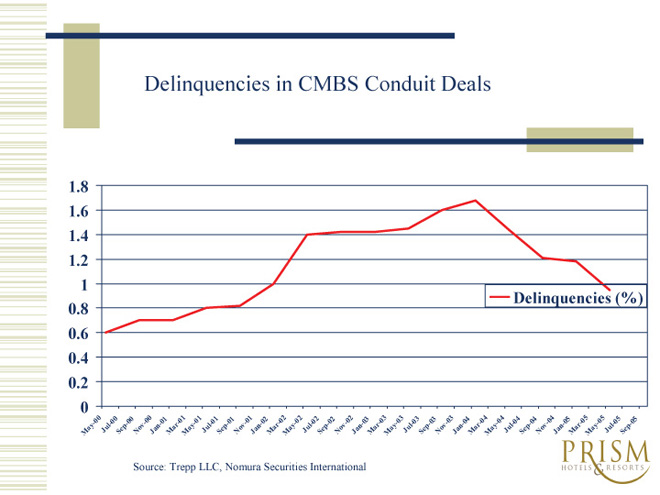 Steve then showed a chart of the attendance at his conference over the same period of time. Perhaps not surprisingly, the patterns were very close. Why would people attend a hotel loan workout program if they didn't have troubled loans needing workouts? By the way, this same pattern would be reflected in the workload of hospitality lawyers working with troubled hotel loans, whether they involve hotel workouts, hotel bankruptcies, or hotel receiverships.
Hotel loan workouts ahead?
What could change this sanguine picture of ever-better performing loans? Well, of course, an economic downturn could change things dramatically. Because in good times, hotels often perform better than the general economy — and in bad times, hotels often perform worse than the general economy. A down cycle holds the potential for great pain to hotel owners and hotel lenders.
Times are great now, but everyone is looking for the storm clouds ahead.
As I noted in my posting from the Phoenix lodging conference, today there is a sense of "ebullient foreboding." People are saying the times are so good that it must be about to turn down. And maybe it will. There is almost a one-to-one correlation between the US GDP and profitability in the hospitality industry. No matter how strong hospitality economic fundamentals are — and they are extremely strong right now — the hospitality industry is going down if the economy goes down.
Steve Van is an optimist. He is not predicting doom and gloom. In fact, he cautioned all of us to quit looking for the downturn or we would create it. He is right — you find what you are looking for, even if it isn't there!
Hotel loans: Pig in the python?
However, Steve's next chart does give one cause to wonder. It shows how, at the very least, a pig is going through the python. In terms of loan maturities alone, $166 million of hotel conduit loans will mature in 2006. In 2007, almost $933 million of hotel conduit loans mature. In 2008,that number increases to almost $2.8 billion of hotel conduit loans. And in 2009, hotel conduit loan maturities subside slightly to just under $2 billion.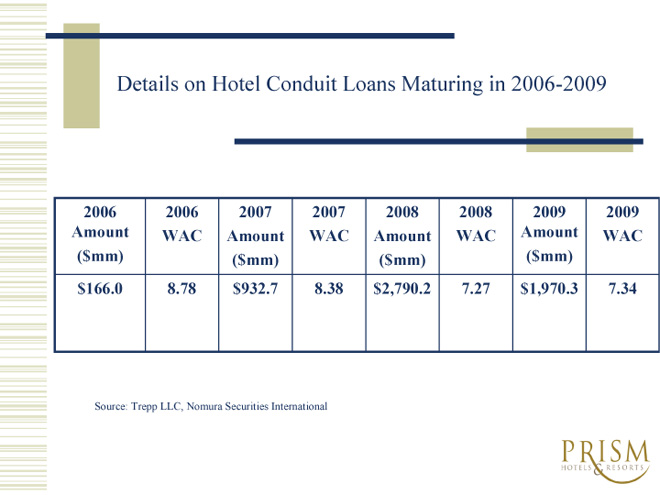 By the way, in the chart above, WAC stands for Weighted Average Coupon or Average Interest Rate. So the larger the number, the easier it will be to refinance when the pools reach maturity. It is interesting to note that as the size of maturing pools grows (moving into 2008-2009), the WAC gets smaller, thus indicating potentially bigger problems for refinancing.
Put in "Street English," two things are happening at the same time: (1) the number of hotel loans coming due in the next few years is increasing to unprecedented numbers, and (2) those loans will be harder to refinance because the WAC is decreasing. These events are appearing on the horizon at the same time that the industry fears an economic downturn and a hotel industry down cycle. If that were to be the case, unprecedented numbers of hotel loans would come due at a time of greatly diminished liquidity. Potentially, this would lower hotel values, making refinancing difficult or impossible for many.
Don't get swamped by the WHALES!
According to Steve, in the early days, many CMBS pools had no hotel loans. After a while, hotel loans began to comprise 5% of the total loan value in the pools. Today, Steve says that hotel loans comprise 14% of CMBS pools. But that number appears to be going up. According to Commercial Mortgage Alert, September 8, 2006, Wachovia and Countrywide are teaming up on a $3.2 billon floater, which carries the "WHALE" brand. Hotel loans make up 75% of the collateral balance!
As real estate investors and lenders alike reach for increasing yield in the current downdraft of cap rates and yields, they are increasing their bet on performance from the hospitality sector. This sector has never looked better. The fundamentals are sound. We are positioned for several years of increased profitability and good times. But an economic downdraft could cause disproportionate pain with the upcoming maturities, increasing dependence on hospitality loans, and other factors.
A "century" of value and progress! Congratulations, Steve.
To top it all off, Steve announced a momentous occasion for Prism Hotels & Resorts' REMIC Division — a "century" of hotel management engagements for special servicers (more than 100 management assignments)!
Congratulations, Steve. You are the best!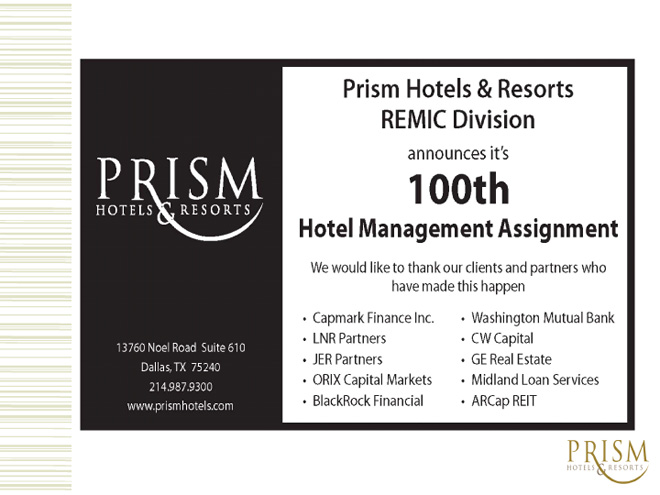 ________________________
Our Perspective. We represent developers, owners and lenders. We have helped our clients as business and legal advisors on more than $87 billion of hotel transactions, involving more than 3,900 properties all over the world. For more information, please contact Jim Butler at jbutler@jmbm.com or 310.201.3526.
Jim Butler is one of the top hotel lawyers in the world. GOOGLE "hotel lawyer" or "hotel mixed-use" or "condo hotel lawyer" and you will see why.
Jim devotes 100% of his practice to hospitality, representing hotel owners, developers and lenders. Jim leads JMBM's Global Hospitality Group® – a team of 50 seasoned professionals with more than $87 billion of hotel transactional experience, involving more than 3,900 properties located around the globe.
Jim and his team are more than "just" great hotel lawyers. They are also hospitality consultants and business advisors. They are deal makers. They can help find the right operator or capital provider. They know who to call and how to reach them. They are a major gateway of hotel finance, facilitating the flow of capital with their legal skill, hospitality industry knowledge and ability to find the right "fit" for all parts of the capital stack. Because they are part of the very fabric of the hotel industry, they are able to help clients identify key business goals, assemble the right team, strategize the approach to optimize value and then get the deal done.
Jim is frequently quoted as an expert on hotel issues by national and industry publications such as The New York Times, The Wall Street Journal, Los Angeles Times, Forbes, BusinessWeek, and Hotel Business. A frequent author and speaker, Jim's books, articles and many expert panel presentations cover topics reflecting his practice, including hotel and hotel-mixed use investment and development, negotiating, re-negotiating or terminating hotel management agreements, acquisition and sale of hospitality properties, hotel finance, complex joint venture and entity structure matters, workouts, as well as many operating and strategic issues.
Jim Butler is a Founding Partner of Jeffer, Mangels, Butler & Marmaro LLP and he is Chairman of the firm's Global Hospitality Group®. If you would like to discuss any hospitality or condo hotel matters, Jim would like to hear from you. Contact him at jbutler@jmbm.com or 310.201.3526. For his views on current industry issues, visit www.HotelLawBlog.com.