19 July 2008
Hospitality Lawyer: What's happened in the hotel industry since the NYU Hotel Investment Conference in June? The NABHOOD Conference in Atlanta was the place to be this week, as I reported in my recent blog entitled "Hospitality Attorney salutes NABHOOD"
On Thursday, July 17, 2008, the inspiration and insights continued to flow, with the latest industry data and predictions since NYU. (See the 5-part series at www.HotelLawBlog.com analyzing the data available at June 1, 2008 at "Quips, Quotes and Insights from the 2008 NYU hotel conference."). Another month and a half are under our belts since the NYU Hotel Investment Conference, and the hospitality lawyers from JMBM have 3 hot July updates for you on the state of the industry:
1. Jan Freitag, Vice President of Smith Travel Research (jan@smithtravelresearch.com)

2. Mark Woodworth, President of PKF Hospitality Research (mark.woodworth@pkfc.com)

3. Tom Baltimore, President of RLJ Development, LLC (www.rljcompanies.com)
Here's Jan Freitag's Smith Travel Research July update . . .

June data from Smith Travel
At NYU, most of the Smith Travel Research data was through April 2008, with some going up to May 2008. (See "Hospitality Attorney with pearls from NYU, Part 2: State of the U.S. Lodging Industry")
At NABHOOD, Jan Freitag pretty much updated everything through at least May, and gave us some data through June 2008. You should note that although room demand was down slightly (-0.4%) and occupancy was also down by 2.6% for the year to date, RevPAR was still up 1/6%.
This evoked some important advice that is becoming a mantra in the industry: "Lowering prices will NOT enhance revenue. It will only inspire a destructive downward spiral." We can only hope that the hotel industry will pay attention this cycle. It seems to be doing so thus far.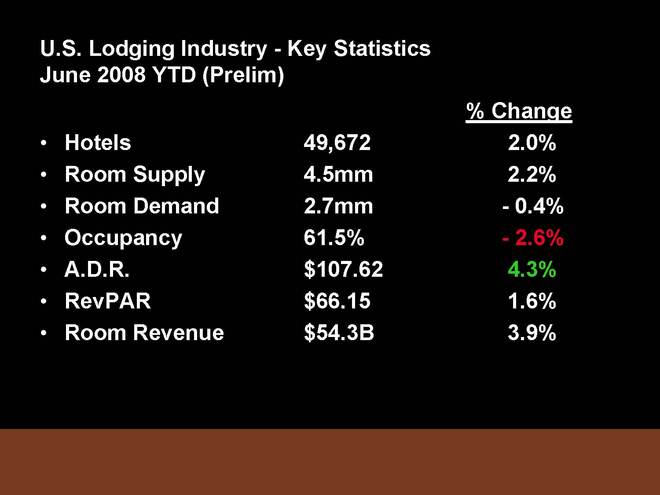 Occupancy and ADR from Key 15 Markets
It is also very intriguing to see what is happening with Occupancy and ADR in the Key 15 Markets.
San Francisco led the nation in occupancy INCREASE, followed by Miami, Boston, Oahu, Orlando and New York. Occupancy drops were led by Phoenix, Philadelphia, Atlanta Dallas and Chicago. In general, the Coastal areas best maintained their occupancy.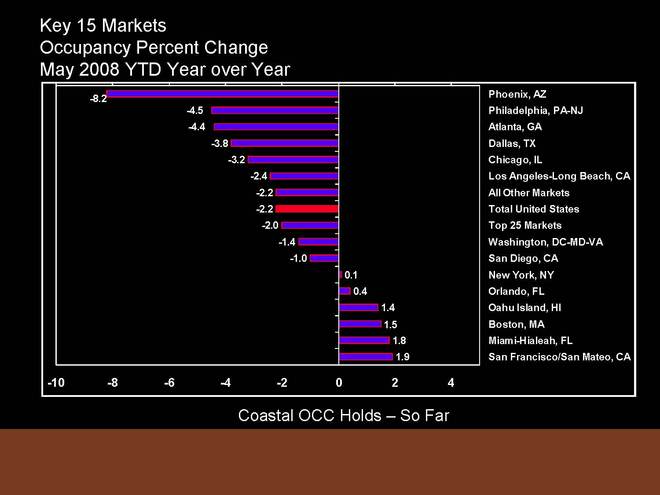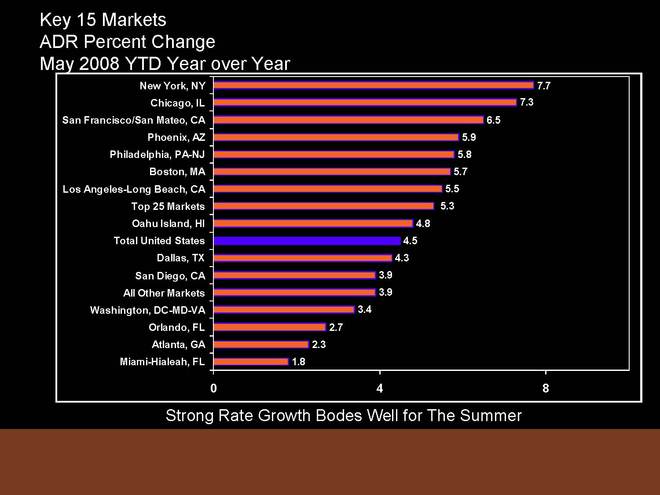 Exchange Rate Impact on ADR
I also find it particularly valuable to see that in the coastal areas — such as Atlanta, New York, Los Angeles, Oahu and San Francisco, the EXCHANGE RATE impact has been so significant in the ADR change (ranging from 4% in LA and 3.4% in Atlanta to a mere 0.8% in San Francisco. But somehow it has had a NEGATIVE impact in Orlando of 8.9%, 4.8% in Washington, and 2.5% in Boston.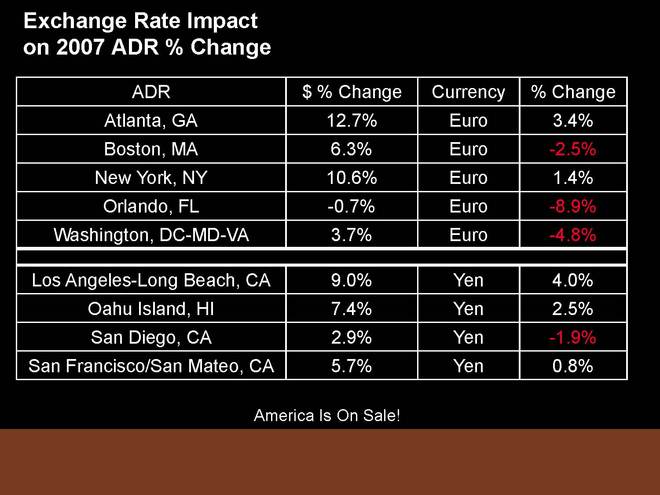 Bottom line projections from Smith Travel Research
Here is what Smith Travel sees on the horizon from the latest data:
STR projects "pipeline attrition" or a fall off in the number of projects now in the supply "pipeline". That is bad if you are developing a new hotel. But it is great if you have one open or you are a developer who makes it through the pipeline. This is the "silver lining" of the current slowdown.

The slowing economy has already brought slower demand and will bring slower supply growth. But the top markets are likely to outperform.

The weak dollar means that the U.S. is "on sale" and will help demand with foreign travel — particularly if we can ease issuance of visas and otherwise facilitate travel and a "friendly environment" for our foreign friends who want to see America.

Leisure travel may feel a greater negative impact in the next few months than business travel, and this is definitely the time for revenue (and expense) management discipline.

Full slideshow from Smith Travel Research July 15, 2008
To download and see the full slide show presented by Jan Freitag, click here Download file .
Hospitality Lawyer take on things.
This current environment continues to provide great opportunity and . . .danger. Fortunes will be made . . . or lost in the coming months.
This is Jim Butler, author of www.HotelLawBlog.com and hotel lawyer, signing off. We've done more than $87 billion of hotel transactions and more than 100 hotel mixed-used deals in the last 5 years alone. Who's your hotel lawyer?
________________________
Our Perspective. We represent developers, owners and lenders. We have helped our clients as business and legal advisors on more than $87 billion of hotel transactions, involving more than 3,900 properties all over the world. For more information, please contact Jim Butler at jbutler@jmbm.com or 310.201.3526.
Jim Butler is one of the top hospitality attorneys in the world. GOOGLE "hotel lawyer" or "hotel mixed-use" or "condo hotel lawyer" and you will see why.
Jim devotes 100% of his practice to hospitality, representing hotel owners, developers and lenders. Jim leads JMBM's Global Hospitality Group® — a team of 50 seasoned professionals with more than $87 billion of hotel transactional experience, involving more than 3,900 properties located around the globe. In the last 5 years alone, Jim and his team have assisted clients with more than 100 hotel mixed-use projects — frequently integrated with energizing lifestyle elements.
Jim and his team are more than "just" great hotel lawyers. They are also hospitality consultants and business advisors. They are deal makers. They can help find the right operator or capital provider. They know who to call and how to reach them.
Contact him at jbutler@jmbm.com or 310.201.3526. For his views on current industry issues, visit www.HotelLawBlog.com.