2 August 2008
HHOA talks with Hospitality Lawyer – A compelling demographic of opportunity for all and the next big wave of hotel investment. I recently sat down with Angela Gonzalez-Rowe, President of the Hispanic Hotel Owners Association or HHOA (see www.hhoa.org) , to talk about our newest hospitality trade organization. The hospitality lawyers at JMBM's Global Hospitality Group® see some truly compelling opportunities for Hispanics or Latinos and all traditional hospitality players here. Check into this ground floor opportunity!
[And for the curious, I have some demographics of the Hispanic and Latino communities in the U.S., as well as a discussion of what "Hispanic" and "Latino" really mean.]


What is the HHOA?
Angela Gonzalez-Rowe is the President and Founder of the Hispanic Hotel Owners Association or "HHOA." She formed this non-profit organization in 2006 with the help of Hilton Hotels Corporation as its Founding Corporate Partner. Headquartered in Washington, D.C., the association's core mission is to: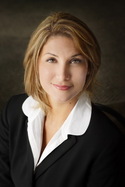 Increase the number of Hispanic-owned, developed and operated hotels

Further the participation of Hispanic-owned suppliers serving the hotel industry
Increase executive-level employment opportunities within the lodging industry

Angela says, "When we announced the founding of HHOA on September 22, 2006, we could identify less than 1 percent of hotels in the U.S. that were Hispanic-owned."

But this is an explosive creation, which is rapidly attracting existing and potential new Hispanic hotel owners. In less than two years, by July 2008, HHOA has grown to more than 300 members, and the Latino community has acquired or started development on 48 hotels in that 2 year period!

The goal? "We are on target with our goal of having at least 500 Latino-owned, U.S. hotels by 2011," according to Angela.

The exciting opportunity for the hotel industry: Hispanic Hotel Investment Conference, October 8-11, 2008, Doral Resort & Spa in Miami, Florida

HHOA is not limited to Hispanics. It is a forum for Hispanics, but it is founded on the belief that to be successful, Hispanics must meet, do business with and know the fullest possible spectrum of resources.
If you are Hispanic or Latino, this Conference was specifically designed to help you get into the hospitality industry!

If you are NOT Hispanic, you should still go to this Conference
because it is a great way to meet a rapidly emerging and increasingly important new force in the hospitality world that has expanding wealth, great loyalty, and often no existing relationships yet. Get in on the ground floor!
Conference Chairman, Carlos Rodriguez said, "We are very excited about all the major brands participating and the quality of the general sessions and breakouts."
For more information on the Conference, go to the HHOA website at www.hhoa.org.
The MAGNITUDE of opportunity presented by this emerging Hispanic force in hospitality
I live and work in Los Angeles County where Hispanics now number 4.7 million people (the largest of any county in the nation), and comprise 47% of the County's 10 million residents. We also have more than 13 million Hispanics in California, making up 35.9% of the State's population. So the general demographic potential of this group of Americans is readily obvious to anyone living here.
But I had to do a little research to get some "hard" facts on just how important the Hispanic demographic is in the United States, to our economy and to the hotel industry. Here's what I found:
In 2007, there were 45.5 million Hispanic and Latino Americans in the U.S., accounting for 15.1% of the U.S. population
The Hispanic growth rate is 3.4% — higher than any other minority group in the United States.
The number of Hispanics in the United States is expected to triple by 2050, to more than 102 million or almost 25% of the total U.S. population.
There is a major concentration of Hispanic population in 10 states, with California (13 million) and Texas (8.3 million) accounting for 49% (21.5 million) of Hispanic Americans. [see chart below]
Don't fall into the trap of stereotyping Hispanics as minimum wage workers. Members of the Hispanic community — particularly first generation immigrants — often provide what Angela Gonzalez-Rowe calls "the backbone for a hotel's behind-the-scenes operations." But the children of the immigrants and their children do progressively better economically. And there are, in fact, a surprising number of extremely wealthy Hispanics living in the U.S. or looking to invest here (or to make outbound investments elsewhere in Latin America).
Angela and the HHOA believe that the growing body of wealthy and moderately wealthy Hispanics is increasingly looking with great interest to the hospitality industry. One of the main goals of the HHOA is to provide this financially capable group with information about the benefits of hotel ownership and investment, and to facilitate building networks of people and resources to help them buy, develop and operate hotels successfully."
How HHOA is executing its mission
When asked how they are carrying out their mission to launch Hispanics into the hospitality business, Angela's response was two-fold: "One of the first major initiatives was the Hotel Investment 101 series of seminars. These were regional road show events. HHOA hosted 4 in Miami, Phoenix, San Diego and Los Angeles. 121 ultra-high net worth Hispanics with significant interest in pursuing hotel ownership attended." Angela cites an example of one Hispanic attending the investment series who has since contracted to develop Cambria Suites. "They are very serious" she said.
"Our next big step is our inaugural Hispanic Hotel Investment Conference which will be held October 8-11, 2008 at the Doral Resort & Spa in Miami, Florida. This conference has a different focus than the Investment 101 series. Our first big conference is geared to owners, operators and developers who are already in the hospitality (as opposed to merely interested in exploring it). All of the major hotel brands have signed on as conference sponsors."
About the HHOA
HHOA membership is open to hotel owners, developers, investors, financiers, real estate executives, investment bankers, professional advisors, analysts, franchisors, management company executives, industry product and service providers, hotel general managers, hotel sales and marketing managers, government agencies for tourism and development, hospitality schools, hospitality students or anyone seeking to do business within the Hispanic market. Additional information about HHOA is available at the association's web site at www.hhoa.org.
A RESEARCH FOOTNOTE ON HISPANICS AND LATINOS
For those interested in some of the fruits of my research on Hispanics and Latinos, here are some research nuggets. If you want even more detail, Wikipedia has a great set of articles on a range of topics relating to Hispanics and Latinos.
Do you know where the terms "Hispanic" and "Latino" came from or what the difference is? For purposes of the article above, and for most purposes when referring to people living in the United States, there is no significant difference. The terms are often used interchangeably to mean a person who is from Spanish or Hispanic Latin American culture or origin.
However, Wikipedia claims that the term Hispanic was first adopted in the United States by the administration of Richard Nixon, and has since been used in local and federal employment, mass media, and business market research. It has been used in the US Census since 1980. Due to its widespread, popular use, the government also adopted the term "Latino" alongside "Hispanic" in 1997, and it was used in the most recent census, in 2000.
Some authorities maintain that the term "Hispanic" (from the Latin word for "Spain") has broader potential reference, including all Spanish speaking-speaking people in both hemispheres, emphasizing the common denominator of language. Latino, thought to be an abbreviation of the Spanish term "latinoamericano," to persons or things of Latin American origin.
Origins for U.S. Hispanics. According to the most recent census data some 64% of the nation's Hispanic population are of Mexican or Mexican American ancestry . Another 9% are of Puerto Rican background, with about 3% each of Cuban, Salvadoran and Dominican origins. The remainder are of other Central American, South American, or of descent directly from Spain. About 7% are of unspecified Hispanic or Latino national origins.
Where Hispanics live in the U.S. Some 64% of Hispanics in the U.S. are Mexican, and the overwhelming majority of Mexican Americans are concentrated in the Southwestern United States, primarily California, Texas, Arizona, Nevada and New Mexico. The majority of the Hispanic population in the Southeastern United States, concentrated in Florida, are of Cuban origin.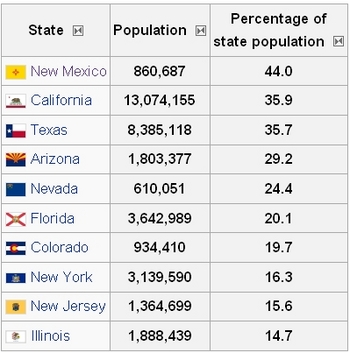 Demographics (2006)
Hispanic or Latino population by state
(U.S. Census Bureau and Wikipedia)
The Hispanic population in the Northeastern United States, concentrated in New York and New Jersey, is composed mostly of Puerto Ricans, however, the Dominican population has risen considerably in the last decade, especially in proportion to that region's total Hispanic population.
The remainder of Hispanics, composed of various Central American and South American origins, may be found throughout the country, though South Americans tend to concentrate on the East Coast of the United States (joining Puerto Ricans, Dominicans, and Cubans) and Central Americans on the West Coast of the United States (joining Mexicans/Mexican Americans).
What does this all mean?
This Hispanic demographics command our attention NOW. There is a great new trade organization called HHOA that we should join and support as it helps Hispanics move into the hospitality industry. There is great opportunity here, and it is the right thing to do.
A great start is signing up now for HHOA's inaugural conference in Miami, October 8-11, 2008 at www.hhoa.org. I will be there, along with two other hospitality attorneys from our Global Hospitality Group. Hope to see you at the opening reception.
This is Jim Butler, author of www.HotelLawBlog.com and hotel lawyer, signing off. We've done more than $87 billion of hotel transactions and more than 100 hotel mixed-used deals in the last 5 years alone. Who's your hotel lawyer?
________________________
Our Perspective. We represent developers, owners and lenders. We have helped our clients as business and legal advisors on more than $87 billion of hotel transactions, involving more than 3,900 properties all over the world. For more information, please contact Jim Butler at jbutler@jmbm.com or 310.201.3526.
Jim Butler is one of the top hospitality lawyers in the world. GOOGLE "hotel lawyer" or "hotel mixed-use" or "condo hotel lawyer" and you will see why.
Jim devotes 100% of his practice to hospitality, representing hotel owners, developers and lenders. Jim leads JMBM's Global Hospitality Group® — a team of 50 seasoned professionals with more than $87 billion of hotel transactional experience, involving more than 3,900 properties located around the globe. In the last 5 years alone, Jim and his team have assisted clients with more than 100 hotel mixed-use projects — frequently integrated with energizing lifestyle elements.
Jim and his team are more than "just" great hotel lawyers. They are also hospitality consultants and business advisors. They are deal makers. They can help find the right operator or capital provider. They know who to call and how to reach them.
Jim is frequently quoted as an expert on hotel issues by national and industry publications such as The New York Times, The Wall Street Journal, Los Angeles Times, Forbes, BusinessWeek, and Hotel Business. He is the Conference Chairman of The Hotel Developers Conference™ and Meet the Money®.
Contact him at jbutler@jmbm.com or 310.201.3526. For his views on current industry issues, visit www.HotelLawBlog.com.