10 August 2008

Industry insights from JMBM's Hospitality Lawyers. Some of the most popular articles here are the industry updates, like the ones posted after NYU and the NABHOOD Conference a few weeks ago, with many of the industry experts' top slides.
One of the most popular slides from Jan Freitag of Smith Travel Research posted on www.HotelLawBlog.com
triggered quite a few questions about the impact of currency exchange rates on our industry, so I thought I would offer a little more detail to those who are intrigued by America being on sale because of the fall of dollar against most of the world's major currencies.

How to find Hospitality Lawyer's latest articles on "Outlook and Trends"
The great data from PKF, Smith Travel Research, HVS, CB Richard Ellis, PricewaterhouseCoopers and others are all easily accessible under the Topic "Outlook and Trends" at the Blog.
To get there, just go to www.HotelLawBlog.com or GOOGLE "hotel lawyer" and click on the top entry. At the top you will see 6 tabs. Click on the one in the middle that says "Hotel Law Topics" and then select "Outlook and Trends" from the drop-down box.
You can also use the Search tab at the top (2nd from the right — right next to the Topics tab). The search function will let you search for any name or key phrase.
Exchange Rate impact on 2007 ADR
The Smith Travel Research slides have some great data (see Presentation for NYU and Update from NABHOOD).
The slide below appeared in the posting from NABHOOD. It was presented by Jan Freitag of STR.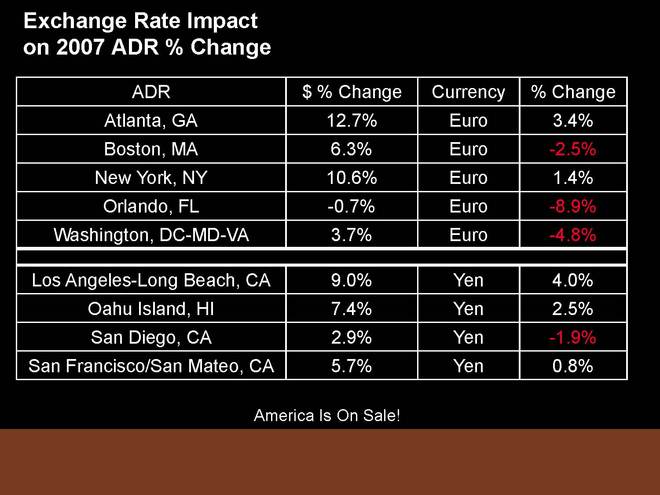 I commented that I also find it particularly valuable to see that in the coastal areas — such as Atlanta, New York, Los Angeles, Oahu and San Francisco, the EXCHANGE RATE impact has been so significant in the ADR change (ranging from 4% in LA and 3.4% in Atlanta to a mere 0.8% in San Francisco. But somehow it has had a NEGATIVE impact in Orlando of 8.9%, 4.8% in Washington, and 2.5% in Boston.
[To be more precise, I should have said, "somehow those markets were not able to raise ADRs enough to maintain a stable or increased ADR in terms of foreign exchange rates for the dollar against the Euro and the Yen."]
Several of you commented to the following effect:
As always, I enjoy and appreciate your articles! I was a bit puzzled by the exchange rate impact. One would assume that the extremely weak U.S. dollar would [at least] allow hotels and resorts to capture a very good ADR from foreign visitors? Why the negative impact in some instances (Boston, Orlando and D.C.)?
What is this all about?
The dollar devaluation against the Euro and other currencies is helping in providing a room rate bargain. ("The U.S. is on sale!")
Over the 2007 period covered by the slide, the U.S. dollar's exchange rate declined 9% against the Euro. Thus if rates went up only 6% in Boston, they went down 3% in terms of the Euro's buying power or they seemed cheaper by that amount to holders of Euros. (+6% – 9% = –3%)
And similarly, Boston's 12.4% actual ADR increase would be perceived as only a 3.4% ADR increase to someone using Euros. (12.4% – 9% = +3.4%)
In other words, the slide goes to the relative impact of U.S. ADRs to those using foreign currency. It does not bespeak actual decreases in ADR in the indicated markets.
Split rates for domestic vs foreign guests?
STR's Jan Freitag observes that the data supporting this phenomenon suggests that hotels should keep their rates flat or raise them slightly when marketing to Europeans. This observation leads to an intriguing idea!
The data suggests that hotels in some markets obviously felt that they would lose domestic travelers if they raised rates sufficiently to stay up with the Euro and the Yen. Why else would Orlando fail to capture 8.9% of ADR relative to the Euro?
But what if hotels could charge split rates — one rate for domestic guests feeling the economic pinch of our current economic cycle and another rate for guests riding high on currencies worth 50% against the dollar than they were only a short while ago?
I encountered something like that a few years ago when the Australian dollar was at historic lows against the U.S. dollar. In fact it was about $0.55 Australian to the $1.00 U.S. Most of Australia seemed to be on sale at half price. If something cost a dollar in the U.S., it typically cost a dollar (Australian) in Sidney. But I could get almost two Australian dollars for every U.S. dollar I spent.
This worked great in the wine districts of the Barossa and the Margaret River. But when we went to arrange a 10-day live-aboard dive vacation of the Great Barrier Reef, we encountered different rates for U.S. travelers and Australian travelers. They made us pay more for the same event than our Australian friends on the same trip, because it was half as expensive for us — or that was their reasoning.
It may be easier to arrange such price differentials on a single website for Australian dive trips than through the multiple channels through which hotel rooms are booked. But it does provide some food for thought.
What do you think? Could we have split rates? Should we have split rates?
This is Jim Butler, author of www.HotelLawBlog.com and hotel lawyer, signing off. We've done more than $87 billion of hotel transactions and more than 100 hotel mixed-used deals in the last 5 years alone. Who's your hotel lawyer?
________________________
Our Perspective. We represent developers, owners and lenders. We have helped our clients as business and legal advisors on more than $87 billion of hotel transactions, involving more than 3,900 properties all over the world. For more information, please contact Jim Butler at jbutler@jmbm.com or 310.201.3526.
Jim Butler is one of the top hospitality attorneys in the world. GOOGLE "hotel lawyer" or "hotel mixed-use" or "condo hotel lawyer" and you will see why.
Jim devotes 100% of his practice to hospitality, representing hotel owners, developers and lenders. Jim leads JMBM's Global Hospitality Group® — a team of 50 seasoned professionals with more than $87 billion of hotel transactional experience, involving more than 3,900 properties located around the globe. In the last 5 years alone, Jim and his team have assisted clients with more than 100 hotel mixed-use projects — frequently integrated with energizing lifestyle elements.
Jim and his team are more than "just" great hotel lawyers. They are also hospitality consultants and business advisors. They are deal makers. They can help find the right operator or capital provider. They know who to call and how to reach them.
Jim is frequently quoted as an expert on hotel issues by national and industry publications such as The New York Times, The Wall Street Journal, Los Angeles Times, Forbes, BusinessWeek, and Hotel Business. He is the Conference Chairman of The Hotel Developers Conference™ and Meet the Money®.
Contact him at jbutler@jmbm.com or 310.201.3526. For his views on current industry issues, visit www.HotelLawBlog.com.