24 June 2009
This is one of many articles on the subject of "troubled hotel loans – workouts, bankruptcies & receiverships" in the rich library at www.HotelLawBlog.com.
Hospitality Lawyer with some grim predictions and observations for hotel lenders and owners.
On June 24, 2009 the Federal Reserve left interest rates and its policies unchanged. Government forecasters predicted that unemployment will continue to rise from its already high level of 9.4% and will not begin a reverse trend until "some time next year." And today in CNBC and Bloomberg interviews, Warren Buffett said he sees unemployment continuing to rise. He does not seem to see "green shoots" of economic recovery in the United States.
Unfortunately this is all consistent with a much delayed recovery for the hotel industry, likely in 2011 or beyond. In today's Bloomberg article, Morgan Stanley analysts are quoted as saying "The hotel loan delinquency rate is currently 4.7 percent and is likely to reach 8.2 percent — the peak rate in the 2001 economic downturn — by the end of the year."
Here is some more information on the continuing crisis in the hospitality industry.

A "realistic" look at hotel industry prospects in the near term
We are not pessimists. But as long as we see continued bad news for the hospitality industry, it does not seem responsible to us to predict unrealistically cheery prospects. We think that owners and lenders need the best information that they can gather to assess investment situations and timelines. How else do you chart viable strategies and approaches. Hospitality Lawyer: Lender and borrower alternatives for troubled hotel mortgage loans.
If hotel values are likely to continue to decline at least through 2011 or 2012, isn't it prudent for a lender or owner to know that in deciding whether to continue to try to hold on or to increase the bet? See Mark Woodworth's 'Night has fallen. Waiting for sunrise'. and Steve Rushmore's What lies ahead for the hotel industry? When do values bottom? When do they recover?.
In this spirit of optimizing information, we will continue our observations on important economic and industry developments. We don't see a recovery until many months AFTER the economy bottoms and begins a substantial and sustained upward trend. See PKF says 2009 worst year in lodging history. Robust recovery likely but years away.
Unfortunately, the predictions for that upward inflection (as opposed to just the bottoming) are not in place yet. Meaningful economic recovery for our country and the hospitality industry will require that financial institutions be healthy again, consumer debt be restored to more normal levels, the housing bust gets cleared up, dealing with the overhanging credit card and commercial real estate problems, and creating employment to replace the 7 million jobs lost since December 2007. THEN maybe we can get credit flowing again and eventually get leisure and business travel growing to fill empty hotel rooms.
Lessons for lenders and sellers to be learned from a deeper look at the California hotel markets?
California is not the worst market in the United States. It is only a little worse than the national average right now. And remember that PKF is predicting that "the typical U.S. hotel will suffer a 37.8% decline in NOI in 2009 and an additional 9.2% in 2010." But take a look at Atlas Hospitality's July 2009 Lender News. (See download link below.)
The following chart from the Atlas Hospitality Lender newsletter shows that 24 out of the 27 California markets have double-digit RevPAR declines on a 2009 year-to-date basis. Led by the San Jose/Campbell area (-36.5% RevPAR decline in May 2009), there are 19 major metropolitan areas in California with more than a 20% RevPAR decline in May 2009!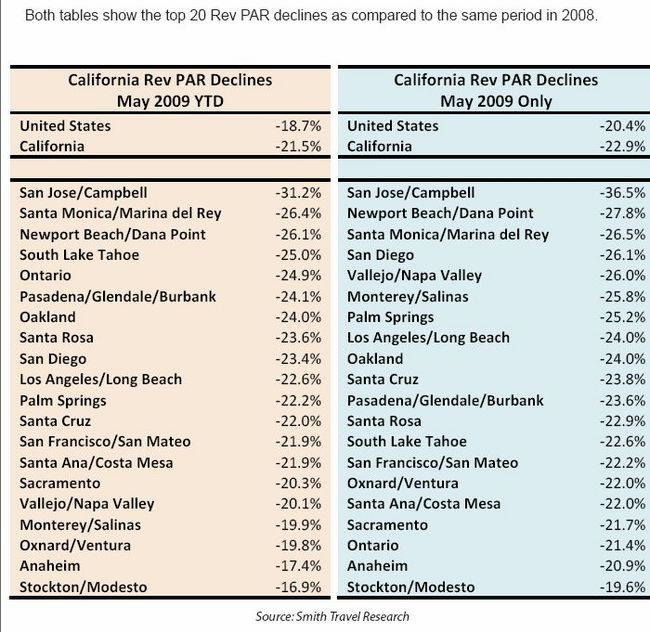 The 2-page newsletter can be downloaded by clicking here: Atlas Lender News.
By the way, Atlas Hospitality Group specializes in the sale of California hotels. It was founded by Alan X. Reay in 1997. Since its inception, Atlas has sold more hotels in the state than any other brokerage firm.
Regarded as "the expert" in the California hotel market, Alan Reay has been quoted in numerous major publications including the Wall Street Journal, Los Angeles Times, and many other financial and hotel industry publications.
Alan Reay can be reached at (949) 622-3409, alan@atlashospitality.com or www.atlashospitality.com.
So what should a lender or borrower do with this information?
Alan's pragmatic advice to lenders and sellers may be applicable to most hotel markets in the United States, depending on the investment time frame. Alan is advising people:
Have realistic price expectations and move quickly.
The market will continue to deteriorate for some time.
You may not like the price for a hotel today, but you will like it less in 6-12 months.
There will certainly be some interesting challenges and opportunities ahead of us in the hospitality industry everywhere. Maybe there are some lessons here for all of us.
Other articles on State of the Hotel Industry
Other recent articles that relate to the state of the industry paint a pretty consistent picture of data and trends. Here are a few links to articles for your convenience:
This is Jim Butler, author of www.HotelLawBlog.com and hotel lawyer, signing off. We've done more than $87 billion of hotel transactions and have developed innovative solutions to unlock value from troubled hotel transactions. Who's your hotel lawyer?
________________________
Our Perspective. We represent hotel lenders, owners and investors. We have helped our clients find business and legal solutions for more than $125 billion of hotel transactions, involving more than 4,700 properties all over the world. For more information, please contact Jim Butler at jbutler@jmbm.com or 310.201.3526.
Jim Butler is a founding partner of JMBM and Chairman of its Global Hospitality Group®. Jim is one of the top hospitality attorneys in the world. GOOGLE "hotel lawyer" and you will see why.
JMBM's troubled asset team has handled more than 1,000 receiverships and many complex insolvency issues. But Jim and his team are more than "just" great hotel lawyers. They are also hospitality consultants and business advisors. For example, they have developed some unique proprietary approaches to unlock value in underwater hotels that can benefit lenders, borrowers and investors. (GOOGLE "JMBM SAVE program".)
Whether it is a troubled investment or new transaction, JMBM's Global Hospitality Group® creates legal and business solutions for hotel owners and lenders. They are deal makers. They can help find the right operator or capital provider. They know who to call and how to reach them.