Author of www.HotelLawBlog.com
20 May 2007
Hotel Lawyer on latest U.S. Hospitality Trends. At the recent Meet the Money® conference on hotel financing, Bobby Bowers, Senior Vice President at Smith Travel Research (STR) provided an overview of the U.S. lodging industry for the 12 months ending March 2007. The results were very interesting and bode well. Straight from www.HotelLawBlog.com, here is what he said. . .

At the recent Meet the Money® conference on Hotel Financing held in Los Angeles, Bobby Bowers, gave us the latest data on the condition of the U.S. lodging industry. Here are his slides and what we think they mean.
This supply-demand chart is a classic. It shows results since the late 1980s and dramatically illustrates how room demand growth accelerated from late 2002 and has then gradually settled back down over the past few years, while the growth in supply has been trending downward since the late 1990s until it bottomed out 2006. Remember, these numbers are not the percentage changes in the absolute amount of demand (measured by room nights) or supply (measured by number of rooms), but reflect the percentage of change. The crossover of supply and demand growth rates in 2007 is a significant event, but does not, by itself, herald any impending doom, particularly given the long period during which demand has been growing faster than supply.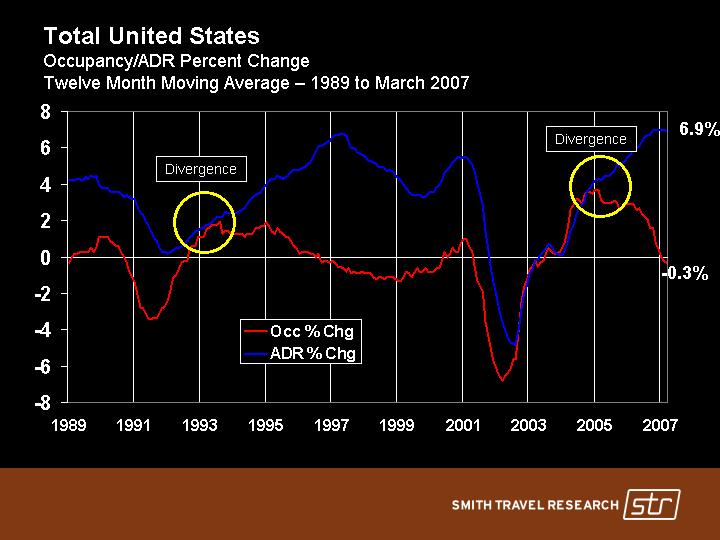 This chart shows two of the most important components for measuring performance in the hospitality industry: changes in occupancy and ADR. In evaluating what the statistics mean, it may be useful to recall that the period from 1989 to 1993 marks one of the darkest periods in the hospitality industry with thousands of hotel bankruptcies, and that the period from 1993 to 2000 marked some of the best years in the industry, the likes of which still have not been equaled on an inflation-adjusted basis. Does the divergence between occupancy and ADR that started in late 2004 have similarities to the divergence that started in late 1993 or early 1994? How important is it that occupancies are projected to actually decrease in 2007 as opposed to merely moderating in 1994 through 1996? This is particularly interesting when compared to RevPAR shown on the chart above.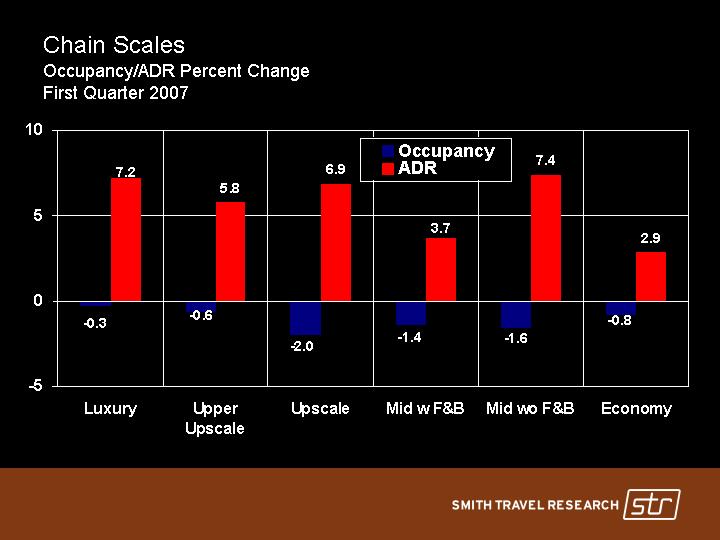 ADR showed growth in all segments — some more than others — and this chart gives a fuller picture as to where the downtick in occupancy has occurred.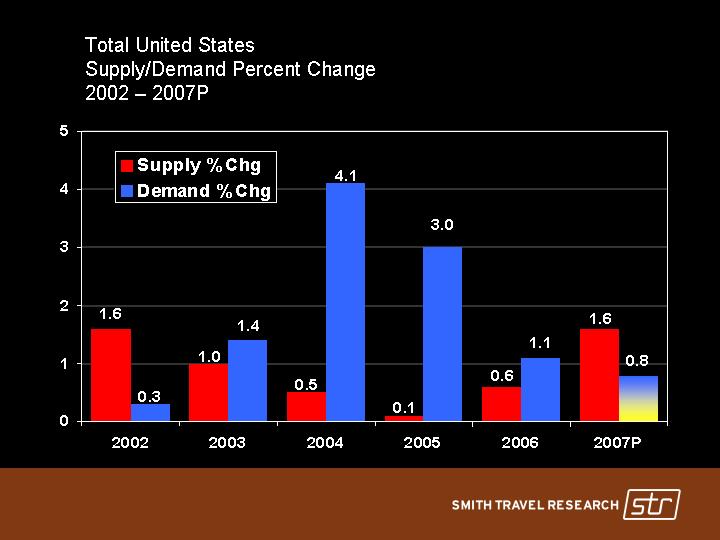 This bar chart shows supply-demand information for the past four years, as well as projections for 2007. It illustrates the pent-up demand that has been accumulating since 2003, and why the small crossover in supply growth — now exceeding demand growth — may be of less concern than it would under other circumstances.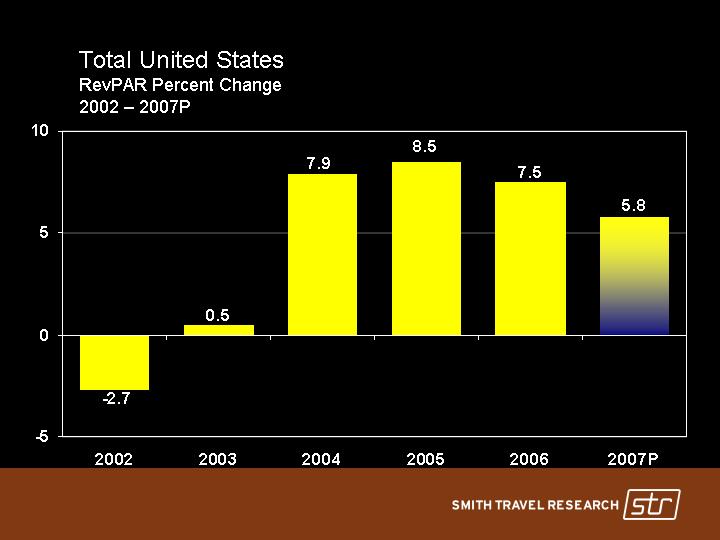 This chart dramatically shows all-time record levels of RevPAR increased for 2004, 2005 and 2006. By any historic standards, a 5% RevPAR increase is great! The question will be how long and how far RevPAR growth decreases continue. There is still no cause for panic. There may be a wake-up call around the corner, but the fundamentals are still so strong that this does not signal an immediate problem.
Predicting what the future holds . . .
The STR predictions were as follows:
* Supply growth is accelerating
* Demand growth is weak, but will accelerate
* Construction costs remain a wild card Higher labor costs continue to be a concern
* Aggressive pricing will continue
* Higher profits are expected
* Continued RevPAR growth in 2007
While these trends did not seem to surprise any of the delegates at Meet the Money®, having the tea leaves and a tea leaf reader provided valuable insights. Thanks again, Bobby!
Coming soon is another statistical industry analysis – this one from PKF Hospitality Research. Stay tuned to www.HotelLawBlog.com!
________________________
Our Perspective. We represent developers, owners and lenders. We have helped our clients as business and legal advisors on more than $87 billion of hotel transactions, involving more than 3,900 properties all over the world. For more information, please contact Jim Butler at jbutler@jmbm.com or 310.201.3526.
Jim Butler is one of the top hotel lawyers in the world. GOOGLE "hotel lawyer" or "hotel mixed-use" or "condo hotel lawyer" and you will see why.
Jim devotes 100% of his practice to hospitality, representing hotel owners, developers and lenders. Jim leads JMBM's Global Hospitality Group® — a team of 50 seasoned professionals with more than $87 billion of hotel transactional experience, involving more than 3,900 properties located around the globe. In the last 5 years alone, Jim and his team have assisted clients with more than 90 hotel mixed-use projects, all of which have involved at least some residential, and many have also involved significant spa, restaurant, retail, office, sports, and entertainment components — frequently integrated with energizing lifestyle elements.
Jim and his team are more than "just" great hotel lawyers. They are also hospitality consultants and business advisors. They are deal makers. They can help find the right operator or capital provider. They know who to call and how to reach them. They are a major gateway of hotel finance, facilitating the flow of capital with their legal skill, hospitality industry knowledge and ability to find the right "fit" for all parts of the capital stack. Because they are part of the very fabric of the hotel industry, they are able to help clients identify key business goals, assemble the right team, strategize the approach to optimize value and then get the deal done.
Jim is frequently quoted as an expert on hotel issues by national and industry publications such as The New York Times, The Wall Street Journal, Los Angeles Times, Forbes, BusinessWeek, and Hotel Business. A frequent author and speaker, Jim's books, articles and many expert panel presentations cover topics reflecting his practice, including hotel and hotel-mixed-use investment and development, negotiating, re-negotiating or terminating hotel management agreements, acquisition and sale of hospitality properties, hotel finance, complex joint venture and entity structure matters, workouts, as well as many operating and strategic issues.
Jim Butler is a Founding Partner of Jeffer, Mangels, Butler & Marmaro LLP and he is Chairman of the firm's Global Hospitality Group®. If you would like to discuss any hospitality or condo hotel matters, Jim would like to hear from you. Contact him at jbutler@jmbm.com or 310.201.3526. For his views on current industry issues, visit www.HotelLawBlog.com.