Author of www.HotelLawBlog.com
1 February 2008
Keywords:
Hotel Operating Agreement, HOA, Hotel Management Agreement, HMA, Hotel Management Contract, Management Contract. Hotel Operator, Hotel Manager, Hotel Owner. RFP for Hotel Manager. RFP for Hotel Operator, How to get a great hotel operator.
Terminology
Contracts between hotel owners and managers (or operators) controlling the management of a hotel go by various names. They are called hotel management agreements, HMAs, hotel management contracts or hotel operating agreements. For convenient reference, this article will generally use the term "Hotel Management Agreement" or "HMA." However all these terms can be used interchangeably and mean the same thing, just as with hotel operator or hotel manager.
Whatever they are called, Hotel Management Agreements allocate risk between the hotel manager and the hotel owner. They are critical in determining the profitability and value of a hotel.
Hotel Lawyer on hotel management agreements and operator breach of duty. It may be an exaggeration to say that "JMBM wrote the book on hotel management agreements," but we certainly know the area and have at least written a few chapters in that book. We have been helping owners, developers and lenders with many hundreds of hotel management agreements over the past 20 years. We have negotiated, re-negotiated, terminated and litigated almost every aspect of them, so the only thing surprising about the latest jury verdict handed down on January 25, 2008 against Marriott International and Ritz-Carlton is that it shows a continuing disconnect of operators who choose to ignore their contractual and fiduciary duties. (Search "Management Agreements" at www.HotelLawBlog.com)
In this case, one of our clients owned the Ritz-Carlton Bali which was managed under a typical long-term, no-cut management contract. A few days ago, after a 3 week trial, a jury sitting less than 10 miles from Ritz-Carlton's home office ruled that the management contract was breached by Marriott International and Ritz-Carlton, giving the owner the right to terminate the contract, awarding $382,304 in compensatory damages, $10 million in punitive damages, plus attorneys fees and costs to the owner. The Wall Street Journal published an article today by Tamara Audi on the case. How does this happen?

Ritz-Carlton Bali — A Resort in Paradise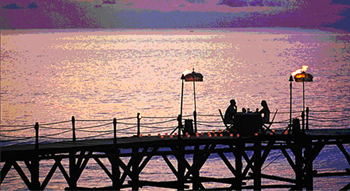 The Ritz-Carlton Bali is one of the most beautiful resort hotels in the world, situated on a bluff overlooking the Indian Ocean, with incredible views, 15 restaurants, including a feet-in-the-sand-casual fresh fish restaurant, world-class Thalasso pool, exotic villas, rose petal baths and so much more. My wife and I fondly remember our trips there, and rate this hotel as one of the finest hotel experiences in the world.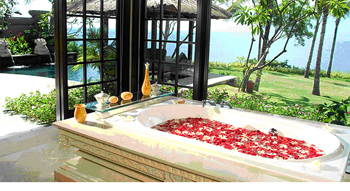 Owned by a wonderful Indonesian named "Rudy" (through his privately held real-estate company, Karang Mas Sejahtera), patriarch of a family steeped in hotels and restaurants, the resort is regularly listed among the top resorts in the world and consistently receives extraordinary reviews from the likes of Condé Nast and Travel & Leisure. It is a very special place with many unique amenities and experiences created by a doting owner who spares no expense to bring the best to his guests.

Rudy always thought that the Ritz-Carlton would bring his unique resort the highest level of guest experience and be the kind of partner he could work with in the ever-expanding development he has in Indonesia. With Rudy's hands-on involvement, the resort operated at world class levels of service and physical amenities. But it would seem that greed got the better part of Marriott and Ritz-Carlton. They were raking in the management fees from the Ritz-Carlton Bali, but they just couldn't be satisfied with only one resort in the area — even if it was one of the best in the world.
Trouble in Paradise
The biggest competitor of Rudy's Ritz-Carlton was the owner of the Four Seasons Resort on Bali. This competitor decided he wanted to build a newer resort positioned at the Ritz-Carlton's target market or above, and he struck a deal with Marriott to make it a Bulgari branded hotel — Ritz-Carlton's newest upscale brand. With a site approximately 7 kilometers from the Ritz-Carlton Bali, and using similar design to the Ritz-Carlton Bali's, Marriott stonewalled Rudy's concerns over the competition of this new product, much less, the use of the hotel's staff, resources and proprietary information to develop the competing Bulgari hotel. And finally, Marriott ignored the demand that it comply with its contractual and fiduciary duties under its management agreement for the Ritz-Carlton Bali. Rudy filed his complaint against Marriott and Ritz-Carlton in December 2004.
The rest was standard hotel management agreement litigation. The operator sought to make the exercise as expensive, slow and painful as possible. But persistence paid off, and Rudy Suliawan was vindicated when the jury came back after only 3 hours of deliberation.
The Verdict
The jury found the following by unanimous verdict:
Ritz-Carlton breached the amended and restated management agreement
Ritz-Carlton's breach of the management agreement had, or could have had, a material adverse effect on the operation of the Ritz-Carlton Bali Resort & Spa
Ritz-Carlton was an agent of the owner and breached its fiduciary duties owed to the owner
Ritz-Carlton must pay the owner $383,304 in compensatory damages, $10 million in punitive damages, plus attorney's fees
Marriott is expected to appeal the verdict.
What does this all mean?
Owners should be able to trust their operators to honor the letter and spirit of their hotel management agreement – and to fulfill the fiduciary duties that the law imposes on every agent. Operators sometimes seem to confuse the POWER they are entrusted with in running hotels with the RIGHT to do anything they wish. That is big mistake.
A lot depends on the precise wording of the particular management agreement involved in each case, and the operator's conduct in that case. Owners must understand the great value that is created or lost in negotiating management agreement terms, and protect themselves from the outset. It is not just a matter of the fees paid, but owner approval rights over CapEx, marketing plans, budgets and management changes, performance standards, termination rights and a host of other issues, The terms of that management agreement have a controlling impact on the value of the hotel for years to come.
Why? The hotel management agreement is intertwined with virtually every legal and business aspect of your hotel. It is the keystone affecting the most crucial components of your hotel's success, including financing, ownership structure, value and profitability, day-to-day operations and guest perception. It is often said that, a management agreement can easily add or subtract 25 percent of the value of the hotel and often much more! And, a long-term management agreement is difficult to "fix" once it is in place.
The legal principles invoked in the Ritz-Carlton Bali case are not new. The fundamental agency rules have been part of the common law for several hundred years. The contract principles are similarly universal. And these concepts have been specifically applied to operators in the hotel management agreement context since 1991 in a line of cases including Woolley v. Embassy Suites, Pacific Landmark v. Marriott, Skopbank v. Hyatt, Woodley Road v. Sheraton.
I guess this case goes to show how hard it can be for some operators to learn a lesson. Marriott got hit hard in the first case, but displayed a similar "lack of communication" with the owner of the Ritz-Carlton Bali. It shows that the immutable legal principles of contract and agency will vindicate well-advised owners who have the stamina to stay the course. Long term, no cut management agreements can be terminated when the operator breaches the contract or commits a breach of the fiduciary duties that the law writes into almost every hotel management agreement.
We will talk about some of the important underlying legal principles on another day. (but for starters, it is helpful to understand some critical underlying principles. See How to terminate a hotel management agreement when an operator really deserves it!.
Other articles on Hotel Law Blog about terminating hotel management agreements
________________________
This is Jim Butler, author of www.HotelLawBlog.com and hotel lawyer, signing off. We've done more than $87 billion of hotel transactions and more than 100 hotel mixed-used deals in the last 5 years alone. Who's your hotel lawyer?
________________________
Our Perspective. We represent developers, owners and lenders. We have helped our clients as business and legal advisors on more than $87 billion of hotel transactions, involving more than 3,900 properties all over the world. For more information, please contact Jim Butler at jbutler@jmbm.com or 310.201.3526.
Jim Butler is one of the top hotel lawyers in the world. GOOGLE "hotel lawyer" or "hotel mixed-use" or "condo hotel lawyer" and you will see why.
Jim devotes 100% of his practice to hospitality, representing hotel owners, developers and lenders. Jim leads JMBM's Global Hospitality Group® — a team of 50 seasoned professionals with more than $87 billion of hotel transactional experience, involving more than 3,900 properties located around the globe. In the last 5 years alone, Jim and his team have assisted clients with more than 100 hotel mixed-use projects, all of which have involved at least some residential, and many have also involved significant spa, restaurant, retail, office, sports, and entertainment components — frequently integrated with energizing lifestyle elements.
Jim and his team are more than "just" great hotel lawyers. They are also hospitality consultants and business advisors. They are deal makers. They can help find the right operator or capital provider. They know who to call and how to reach them. They are a major gateway of hotel finance, facilitating the flow of capital with their legal skill, hospitality industry knowledge and ability to find the right "fit" for all parts of the capital stack. Because they are part of the very fabric of the hotel industry, they are able to help clients identify key business goals, assemble the right team, strategize the approach to optimize value and then get the deal done.
Jim is frequently quoted as an expert on hotel issues by national and industry publications such as The New York Times, The Wall Street Journal, Los Angeles Times, Forbes, BusinessWeek, and Hotel Business. A frequent author and speaker, Jim's books, articles and many expert panel presentations cover topics reflecting his practice, including hotel and hotel-mixed-use investment and development, negotiating, re-negotiating or terminating hotel management agreements, acquisition and sale of hospitality properties, hotel finance, complex joint venture and entity structure matters, workouts, as well as many operating and strategic issues.
Jim Butler is a Founding Partner of Jeffer, Mangels, Butler & Marmaro LLP and he is Chairman of the firm's Global Hospitality Group®. If you would like to discuss any hospitality or condo hotel matters, Jim would like to hear from you. Contact him at jbutler@jmbm.com or 310.201.3526. For his views on current industry issues, visit www.HotelLawBlog.com.