13 May 2009
Hospitality Lawyer Insights from Meet the Money® 2009: The hospitality lawyers of JMBM's Global Hospitality Group® have presented an annual hotel conference for 19 years. On May 5-7, 2009 in Los Angeles, California, nearly 400 industry leaders gathered at the Sheraton LAX for Meet the Money® 2009.

Hotel industry information presented by industry leaders at Meet the Money® 2009
The PowerPoint presentations from a number of industry leaders at Meet the Money® 2009 are listed with hyperlinks at JEWELS from Meet the Money® 2009 — the "best ever" hotel conference.
Commentary and observations from the hospitality lawyers of JMBM and other industry experts on some of the critical industry issues are available at Hospitality Lawyer Insights series from Meet the Money® 2009.
Hotel industry leader insights from JMBM's Hospitality Lawyers at Meet the Money® 2009: #3. When is the time to buy hotels?
Mark Woodworth:

Mark Woodworth
President
PKF Hospitality Research
404-842-1150
mark.woodworth@pkfc.com
This slide shows that 2009 and 2010 will be the maximum opportunity to buy hotel investments.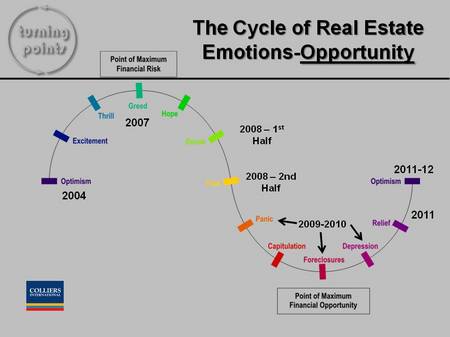 Jonathan Roth:

Jonathan Roth
Principal
Canyon Capital Realty Advisors
310-272-1500
jroth@canyonpartners.com


"Now is the time to buy debt. We have close to $2 billion of capital to put out, but we are challenged because even at historically low interest rates, the assets are not covering debt. Borrowers are saying, "what are we going to do now?" There are also confusing messages from the federal government on down as to what is going to happen.
We are looking to buy debt at a discount. We are seeing a capital stack that has been over-levered and it needs to be de-levered."
Deric Eubanks:

Deric Eubanks
Ashford Hospitality Trust, Inc.
972-490-9600
deubanks@ahtreit.com
"The challenge is finding a mezzanine debt opportunity or acquisition that is a better return than buying back our own stock. We think that buying back our stock is pretty good."
Chad Christensen:

Chad Christensen
Vice President
Washington Real Estate Holdings, LLC
310-234-6731
cchristensen@waholdings.com
"Over all, there is a complete reappraisal of values. We have been an investor across a spectrum of property types. The real issue is cash flow from the investment.
We think this is going away from opportunistic investment. There will be some opportunities, but it is all about cash flow — buying assets at a discount. Buying cash flow."
Michael Depatie:

Michael Depatie
President and CEO
Kimpton Hotel & Restaurant Group, LLC
415-955-5426
michael.depatie@kimptongroup.com
"The next 24-36 months will be the greatest buying opportunity for a generation. But only those with capital will be able to play. We are looking to partner with people to help them out."
Bruce G. Wiles:

Bruce G. Wiles
Managing Director & Principal
Thayer Lodging Group
(301) 581-5910
bruce.wiles@meristar.com
"This is a great opportunity. We think it has started already. We are attracting more capital now. Investors sense the opportunity and want to participate. "
Mike Cahill on LIIC study:

Michael Cahill, CRE, MAI, FRICS, CHA
CEO and Founder
HREC – Hospitality Real Estate Counselors
303-267-0057
mcahill@hrec.com
"The greatest hotel buying opportunity of our lifetime will be the next 12-18 months. The key is having all equity to close without mortgage financing."
Thomas Corcoran:

Thomas Corcoran
Chairman of the Board
Felcor Lodging Trust Incorporated
972-444-4901
tcorcoran@felcor.com
"I have never seen this much negative RevPAR and it keeps going on. We have had double digit negative RevPAR for many months and I don't see what turns it around. Nobody knows when it goes positive.
Once there is some clarity, there will be great opportunity."
Bruce G. Wiles:
"We will turn this around — maybe something like invention of the car — but it will happen."
Russ Urban:

Russ Urban
Senior Vice President, Development
HEI Hotels & Resorts LLC
203-849-2279
rurban@heihotels.com
"We want to see 3-4 months of flattened RevPAR to indicate stabilization before we invest."
Paul Novak:

Paul Novak
President
Bedrock Partners
305-365-7880
pnovak@bedrockpartners.com
"Where are we? Still early, unfortunately. Most of the stuff coming on the market is in tertiary markets or is junk. I am afraid that we are 6-9 months away from our ability to invest money. That gives time to look at opportunities and raise equity.
I think rates will keep falling through the end of the year."
Jack vanHartesvelt

Jack vanHartesvelt
Executive Vice President – Partner
Kennedy Associates Real Estate
206-623-4739
jackv@kennedyusa.com
"This is a good time to buy, if you can. Here is the secret sauce: if you take the economy quarter by quarter, over time, it correlates with lodging demand exactly, with a few notable exceptions, like 9-11. Right now, the economy is down 2 percent, but lodging demand is down 9 percent. I believe that whenever the country believes the recession is over, demand will go right back up to where the economy is. We are in artificial down. We are looking at 20 percent drop in RevPAR when the economy is only down 2 percent! Five star properties have been hurt the worse. When the recession is over, people will relax and take that vacation, companies will send more people to conferences. Buy. Buy now!"
Barry Olson

Barry Olson
Managing Director
Archorn Group, LP
972-368-2573
barry.olson@archon.com
"We are looking to invest. We have raised $3.5 billion in capital and have invested only 5% of equity in the last 12 months, due to the economy. But, we have a patient view. We are waiting for the deleveraging of the industry."
Bernard N. Siegel:

Bernard N. Siegel
Principal
KSL Capital Partners, LLC
(720) 284-6440
bernard.siegel@kslcapital.com
"Many pension funds are clearly experiencing the downdraft in real estate portfolios. The more savvy of funds will want to invest now, as they will underperform in the next few years if they don't."
Michael Depatie:
"This is the best buying opportunity in 20 years, if you have capital. We operate in the boutique space where demand is 3 times that of the average demand. We have capital and we are actively looking."
Scott Brown:

Scott Brown
CEO/Co-Founder
ABA Development, LLC
415-526-0070
scott@abadevelopment.com
"We are not seeing the deal flow, yet. What is being shown to us is off market or plain junk. I wouldn't take the stuff for free because there is no profitability. For the assets worth acquiring, the bid-ask spread is still too wide."
Stephen Krooth:

Stephen Krooth
President
Krooth Advisory Services LLC
917-494-1028
skrooth@kroothadvisory.com
"There are already opportunities for buy positions – but they are going to get cheaper."
Patrick O'Neal

Patrick O'Neal
Vice President
Midland Loan Services, Inc.
913-253-9623
patrick.oneal@midlandls.com
"Lots of properties were listed with receivers this year, and they will select brokers soon. You might see transactions involving smaller assets available this year. The bigger ones still have band aids on them."
When is it time to buy hotels?
When is it time to buy hotels? The time is now — or as soon as prices and values are right.
Billions of dollars are ready to buy debt or properties. But the question is value, pricing and strategy. It requires massive de-levering.
We will give you our hospitality lawyer insights on those questions in the next few articles.
This is Jim Butler, author of www.HotelLawBlog.com and hotel lawyer, signing off. We've done more than $87 billion of hotel transactions and have developed innovative solutions to unlock value from troubled hotel transactions. Who's your hotel lawyer?
________________________
Our Perspective. We represent hotel lenders, owners and investors. We have helped our clients find business and legal solutions for more than $87 billion of hotel transactions, involving more than 3,900 properties all over the world. For more information, please contact Jim Butler at jbutler@jmbm.com or 310.201.3526.
Jim Butler is a founding partner of JMBM and Chairman of its Global Hospitality Group®. Jim is one of the top hospitality attorneys in the world. GOOGLE "hotel lawyer" and you will see why.
JMBM's troubled asset team has handled more than 1,000 receiverships and many complex insolvency issues. But Jim and his team are more than "just" great hotel lawyers. They are also hospitality consultants and business advisors. For example, they have developed some unique proprietary approaches to unlock value in underwater hotels that can benefit lenders, borrowers and investors. (GOOGLE "JMBM SAVE program".)
Whether it is a troubled investment or new transaction, JMBM's Global Hospitality Group® creates legal and business solutions for hotel owners and lenders. They are deal makers. They can help find the right operator or capital provider. They know who to call and how to reach them.