14 May 2009
Hospitality Lawyer Insights from Meet the Money® 2009: The hospitality lawyers of JMBM's Global Hospitality Group® have presented an annual hotel conference for 19 years. On May 5-7, 2009 in Los Angeles, California, nearly 400 industry leaders gathered at the Sheraton LAX for Meet the Money® 2009.

Presentations from Hotel Industry thought leaders by JMBM's hospitality lawyers
The PowerPoint presentations from a number of industry leaders at Meet the Money® 2009 are listed with hyperlinks at JEWELS from Meet the Money® 2009 — the "best ever" hotel conference.
Commentary and observations from the hospitality lawyers of JMBM and other industry experts on some of the critical industry issues are available at Hospitality Lawyer Insights.
Here is the latest in the Hospitality Lawyer Insights series on some of the most critical issues of our day.
#4. What's the Cost of Capital for Hotels?
All of our speakers at Meet the Money® 2009 observed the serious shortage of capital, but also commented on the cost of capital for hotels. Here is what they said.
Mark Woodworth:

Mark Woodworth
President
PKF Hospitality Research
404-842-1150
mark.woodworth@pkfc.com



The cost of capital is shooting up.
PKF projects that the interest rate spread of financing for hotels over 10 year treasuries, and hotel cap rates will approach record levels in 2010 and 2011.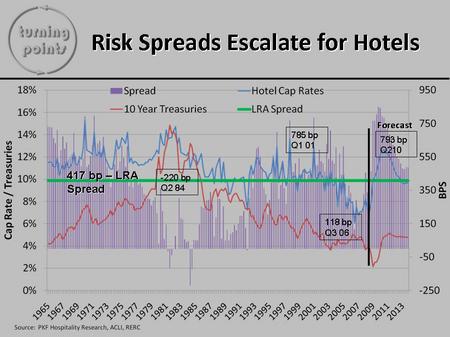 By 2010, PKF forecasts a 490 basis point increase in hotel cap rates. Cap rates should peak in Q2 of 2010 with risk spreads similar to 2001-2002 levels. Capitalization rates for hotels in 2009 will hit 10.5% and will increase in 2010 to 12.5%.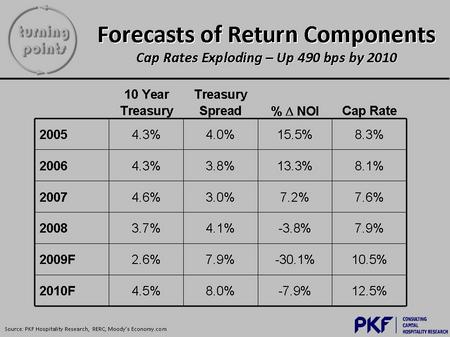 Bruce G. Wiles:

Bruce G. Wiles
Managing Director & Principal
Thayer Lodging Group
(301) 581-5910
bruce.wiles@meristar.com



"Know your true cost of capital. A lot of people don't want to admit what the real cost of capital is. It's very steep — especially if you are bringing it into a partnership."
Jonathan Roth:

Jonathan Roth
Principal
Canyon Capital Realty Advisors
310-272-1500
jroth@canyonpartners.com



"What will capital cost? I think it will have double digit returns even for senior debt. Some smaller assets may be done by local banks, but larger deals from $25 million on up, it will be different structure."
Bruce G. Wiles:
"The debt sizing we see today is 40% for debt, with equity-type yields over that. There is about a 2 to 1 debt coverage. Elements of recourse are creeping into loans, and guarantees by sponsors for certain things are required."
Henry Vickers:

Henry Vickers
Director
AEW Capital Management LP
617-261-9205
hvickers@aew.com



"We looked at full service all-suite hotels originally as equity. Looking at it on about 6 cap. Today, we would not go into anything under 8% cap. Now, we are looking at a 10% pay rate on the note with mid-teens interest and percentage participation. (The size of deal was $30 million-ish.)"
Is 15% the new threshold standard for unlevered returns on capital?
Russ Urban:

Russ Urban
Senior Vice President, Development
HEI Hotels and Resorts LLC
203-849-2279
rurban@heihotels.com



"The fundamentals are ruptured but made worse by the fact that you cannot leverage anything. We have to get unlevered returns at 15%, and that makes it tough. The bid-asked spread is still there."
Jack VanHartesvelt:

Jack VanHartesvelt
Executive Vice President – Partner
Kennedy Associates Real Estate Counsel, Inc.
206-623-4739
jackv@kennedyusa.com



"We are also looking at all equity deals. We would put debt on it if it is available at a reasonable price. Looking for a 15% unlevered return."
Scott Brown:

Scott Brown
CEO/Co-Founder
ABA Development, LLC
415-526-0070
scott@abadevelopment.com



"I agree, we are also looking for a 15% return."
Neil Freeman:

Neil Freeman
Chairman and CEO
Aries Capital LLC
312-640-7420
nfreeman@ariescapital.com



"Mezz is too expensive today. If you could project, the $1 million would be $3 million in 3 years."
Michael Lovata:

Michael Lovata
President
Grayhawk Capital Funding
480-344-3414
mlovata@cox.net



"We are looking for an IRR of 20%-25% for non-distressed assets. For distressed properties we are looking at "price per pound".
Suzanne Mellen:

Suzanne R. Mellen CRE MAI
Managing Director
HVS International
(415) 268-0351
smellen@hvs.com



"On acquisitions, we are using a 15% cap rate, with a 12-13% discount rate on future cash flows."
Steve Stoycos:

Steve Stoycos
Consultant, Mezzanine Fund & Principal Investments
Choice Hotels
301-592-5179
steve_stoycos@choicehotels.com



"For smaller transactions, there is still government money through the SBA. They provide up to 80 percent for existing properties in the 6 and 1/2 percent range."
Russ Urban:
"In this environment of frugality, it will be interesting to watch the value of 5 star hotels and resorts which have historically traded at low cap rates. Given the current oversupply in the market, will they trade at slightly higher cap rates than in the past?"
Neil Freeman
"Government subsidies are available for the right projects. An historic hotel in New Orleans that was devastated by hurricane Katrina was rebuilt with 85% bank debt, paid down by tax credits (20 percent of construction costs). The hotel was in a special legislation area (GO zone), had Louisiana state subsidies for historic purposes, included a 10-year tax freeze, and certain employment credits per employee. If you put all the math together, there were $60 million in subsidies."
This is Jim Butler, author of www.HotelLawBlog.com and hotel lawyer, signing off. We've done more than $87 billion of hotel transactions and have developed innovative solutions to unlock value from troubled hotel transactions. Who's your hotel lawyer?
________________________
Our Perspective. We represent hotel lenders, owners and investors. We have helped our clients find business and legal solutions for more than $87 billion of hotel transactions, involving more than 3,900 properties all over the world. For more information, please contact Jim Butler at jbutler@jmbm.com or 310.201.3526.
Jim Butler is a founding partner of JMBM and Chairman of its Global Hospitality Group®. Jim is one of the top hospitality attorneys in the world. GOOGLE "hotel lawyer" and you will see why.
JMBM's troubled asset team has handled more than 1,000 receiverships and many complex insolvency issues. But Jim and his team are more than "just" great hotel lawyers. They are also hospitality consultants and business advisors. For example, they have developed some unique proprietary approaches to unlock value in underwater hotels that can benefit lenders, borrowers and investors. (GOOGLE "JMBM SAVE program".)