28 September 2008
The Lodging Conference 2008 at the Arizona Biltmore. What impact will the "Panic of 2008" have on the hotel industry? Here's the take by one Hospitality Lawyer.

The latest insights are often helpful to navigate ones course in business. To help us figure out what is happening to our hospitality industry, here is the latest — a very informative presentation to The Lodging Conference in Phoenix, Arizona by Mark Woodworth, President of PKF Hospitality Research, mark.woodworth@PKFC.com or (404) 842-1150 x222).
The "Housing Bubble"
Housing prices peaked in 2006 and are now lower by more than 20% as shown in this slide.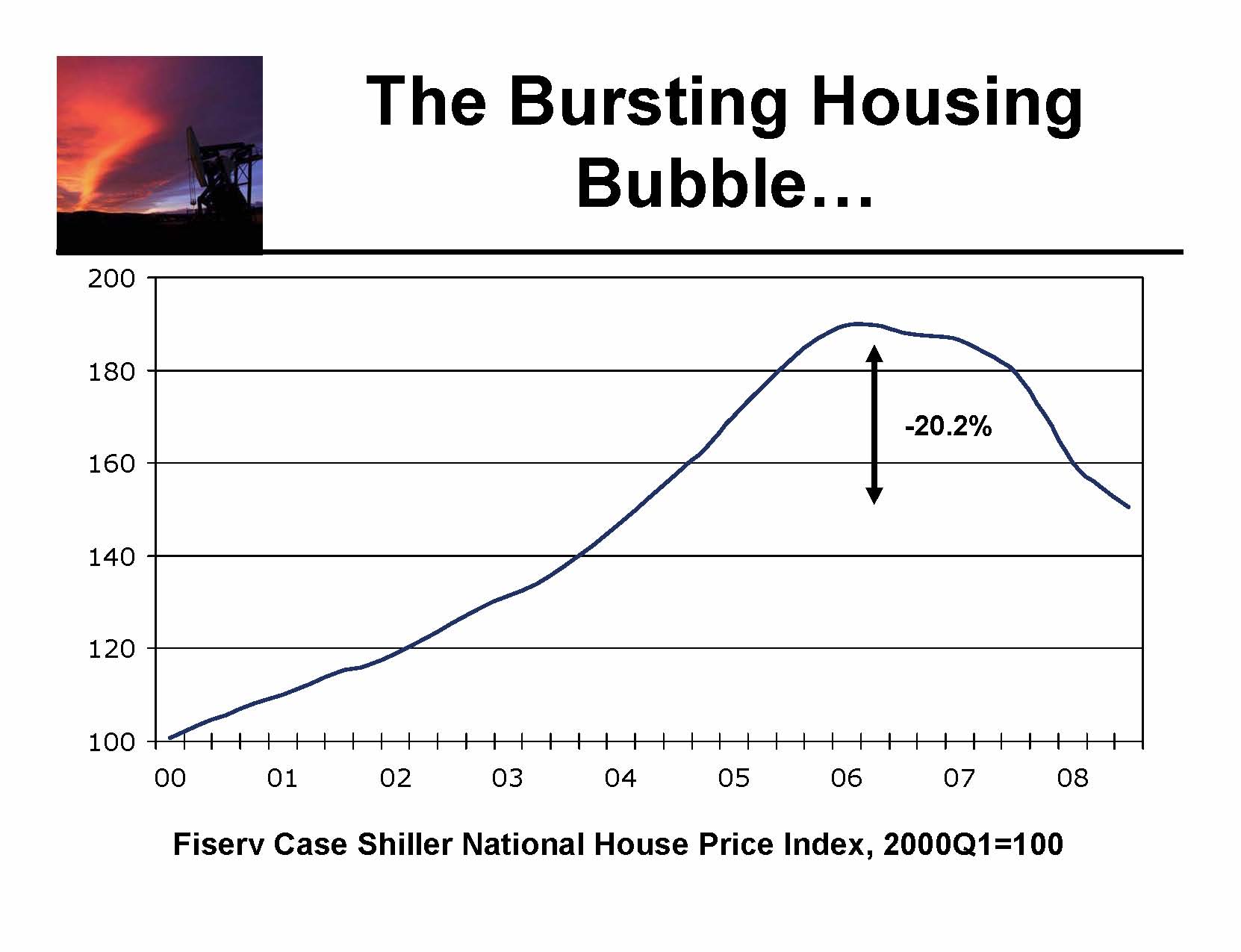 The fall off in housing prices has ignited a mortgage crisis with rapidly escalating mortgage defaults.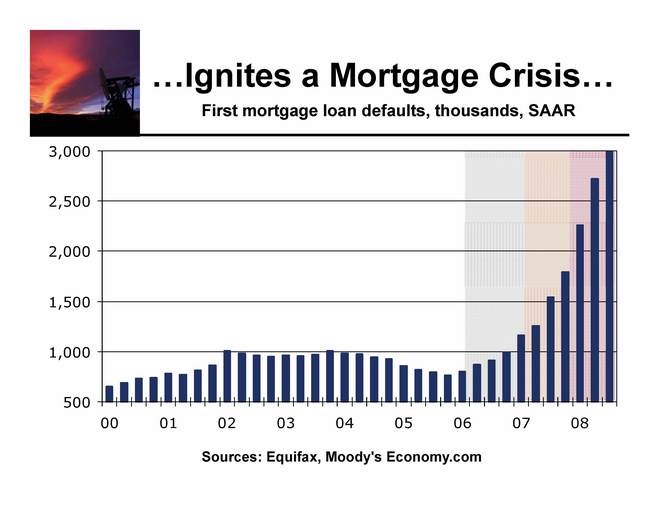 But Mark Woodworth and his colleagues at PKF think that housing prices must fall at least another 10% before we find a bottom to the housing market. Please note that this will represent a cumulative 30% decline from housing price highs in 2006-2007.
In this slide, Mark compares housing prices, home sales and housing starts now, for the projected downturn, and compared to the cycles of the early 1990s and 1980s. Note that at least in housing, the current downturn is something like what we saw in the 1980s or 1990s, but actually a little worse.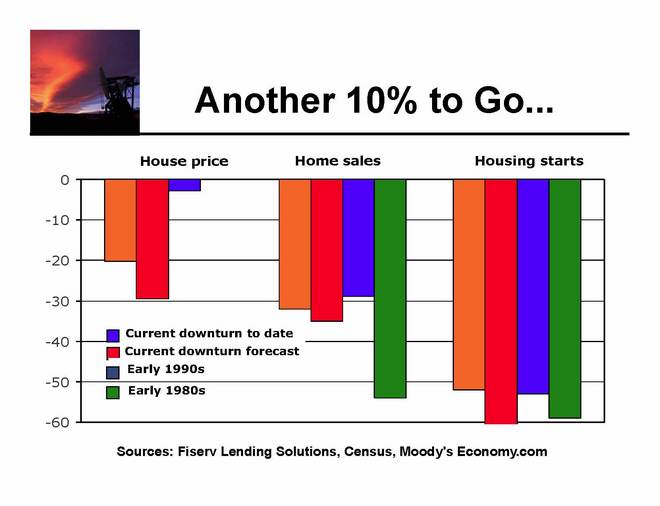 The pain will not be felt equally everywhere. This next slide shows that the worst declines in housing prices will be on the two coasts. The worst areas are in purple (more than 30% housing price declines), followed by the red (20-30% declines) in California, Southern Nevada (Las Vegas), Arizona, and Southern Florida.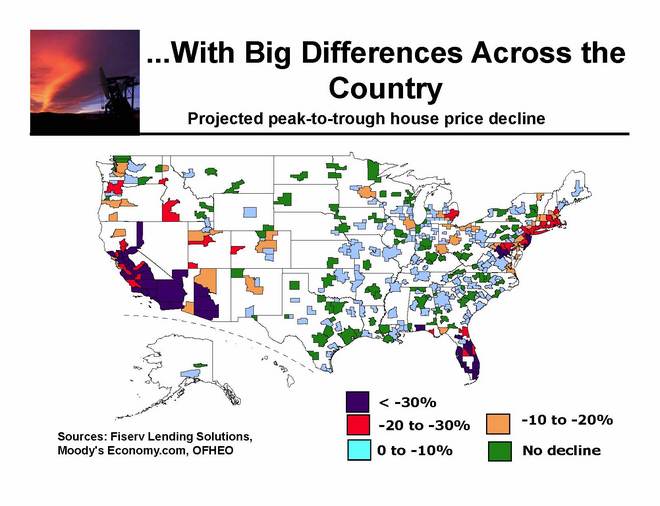 So how bad is it? And how bad will it get?
PKF is projecting that loan delinquencies will continue to rise, but will peak shortly. As shown in the next slide, mortgage delinquencies for prime loans should peak in the Fourth Quarter 2008, followed by credit card debt in the First Quarter 2009, and home equity loans in the Second Quarter 2009.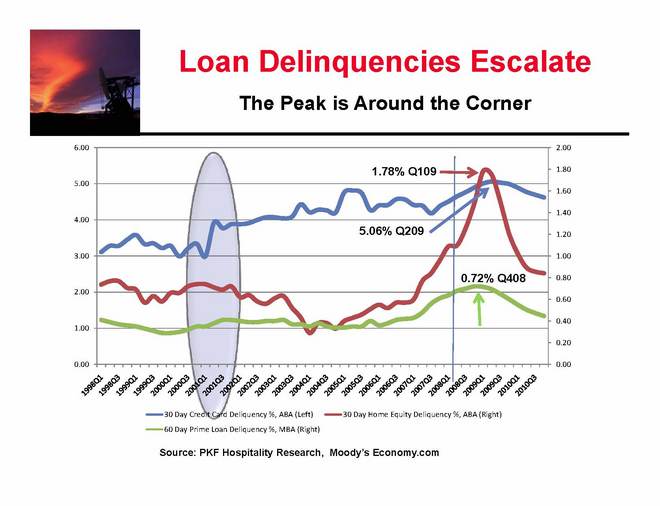 In other words, by the summer of 2009, we should be through the worst of the loan delinquencies now projected.
The downturn will be mild!
Although the landscape will be littered with some of the reckless lenders and we will soon launch a remarkable $700 billion rescue plan, Mark Woodworth says that downturn will be very mild compared to prior recessions.
PKF believes that job losses are one of the best ways to measure the intensity of an economic downturn. It reflects the pain suffered by individuals out of work and are likely to make dramatic cutbacks in all expenditures.
By this measure, when the last 8 downturns are analyzed, the current cycle (shown on top in this slide) is clearly milder than any of the other cycles.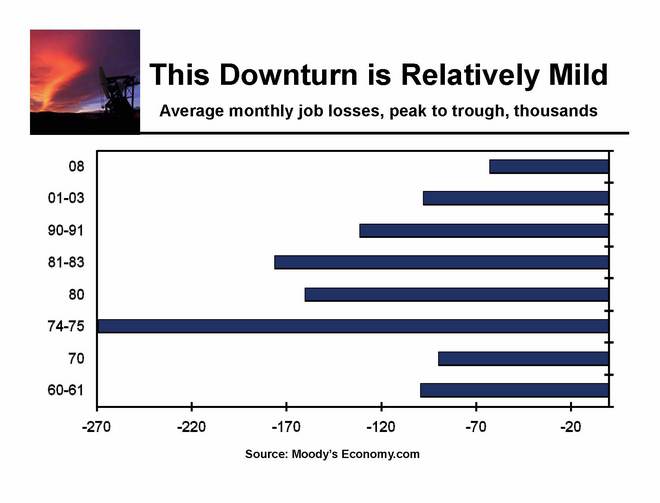 PKF has modeled 3 likely scenarios for the current cycle as shown in the slide below, showing the Change in Total Employment.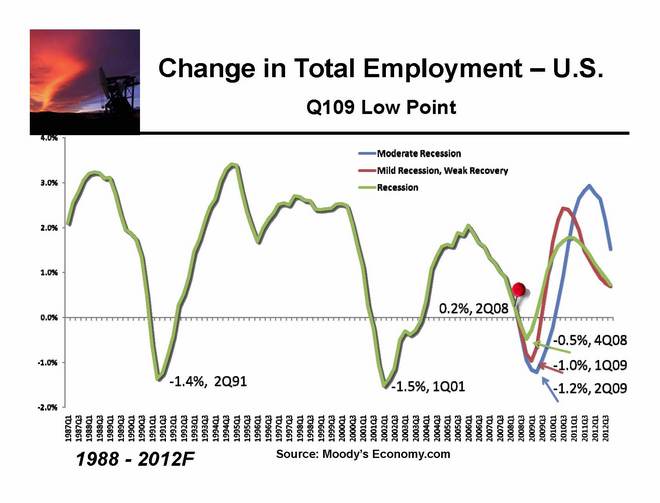 Note that in the recession model (the green line), which PKF still believes to be the most likely scenario, the turnaround will start in the Fourth Quarter of 2008. But a weaker recovery could postpone the turnaround to the First Quarter 2009 or Second Quarter 2009.
The change in employment is important. There is a close correlation between total employment and lodging industry. As more jobs are created, businesses are expanding, people are traveling for business and leisure again, and consumer confidence and spending can again drive the economy.
Please note that all of this is projected without taking into consideration the Bailout Bill (the "Emergency Economic Stabilization Act of 2008"), because nobody knows what impact it will have and when. Hopefully, the Bailout will accelerate the recovery.
This is Jim Butler, author of www.HotelLawBlog.com and hotel lawyer, signing off. We've done more than $87 billion of hotel transactions and more than 100 hotel mixed-use deals in the last 5 years alone. Who's your hotel lawyer?

Related articles that may be of interest


Our Perspective. We represent developers, owners and lenders. We have helped our clients as business and legal advisors on more than $87 billion of hotel transactions, involving more than 3,900 properties all over the world. For more information, please contact Jim Butler at jbutler@jmbm.com or 310.201.3526 or go to www.HotelLawBlog.com.
Jim Butler is one of the top hospitality attorneys in the world. GOOGLE "hotel lawyer" or "hotel mixed-use" or "condo hotel lawyer" and you will see why.
Jim devotes 100% of his practice to hospitality, representing hotel owners, developers and lenders. Jim leads JMBM's Global Hospitality Group® — a team of 50 seasoned professionals with more than $87 billion of hotel transactional experience, involving more than 3,900 properties located around the globe. In the last 5 years alone, Jim and his team have assisted clients with more than 100 hotel mixed-use projects — frequently integrated with energizing lifestyle elements.
Jim and his team are more than "just" great hotel lawyers. They are also hospitality consultants and business advisors. They are deal makers. They can help find the right operator or capital provider. They know who to call and how to reach them.