16 June 2015
Don Li, head of Asia Investment for Interstate Hotels, speaks in the video below about what drives Chinese investment in U.S. assets, why an understanding of language and cultural issues is important, and what types of hotels foreign investors are looking for.
Don sat down with David Sudeck, a senior partner in the JMBM Global Hospitality Group®, as part of our video interview series on hotel finance and investment opportunities in 2015.
A transcript follows the video.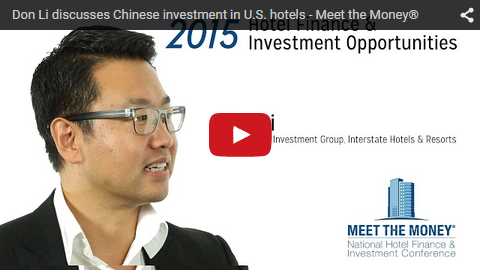 ---
David Sudeck: I'm David Sudeck. I'm a partner with JMBM's Global Hospitality Group®. We're here at the 2015 Meet the Money® Conference which is the 25th Annual Meet the Money® Conference. Thank you for joining us. I'm here with Don Li, the head of Asia Investment for Interstate Hotels.
Don Li: Yes. Thank you.
David Sudeck: Thank you for coming.
Don Li: My pleasure. Thank you for this wonderful conference, and an opportunity to share some insights with you.
David Sudeck: It's our pleasure. Tell me about your position at Interstate. First of all, just to give us a sense of what your role is.
Don Li: Certainly. So I'm the head of Asia Investment Group. We see a large influx of Asian capital partners coming to the U.S. seeking better return and diversification of their asset globally. So we're here to help them from deal source perspective, branding selection, the paper renovation management and daily management of their assets here.
David Sudeck: So you're here to guide foreign investment but Chinese-focus foreign investment here domestically?
Don Li: Correct.
David Sudeck: Are you traveling to China for this purpose?
Don Li: Not as much as I use to be now, because most of them are onshore. We have some offices here. I'm mostly here domestically, but traveling among some key gateway cities looking at different assets and presenting those deals to them.
David Sudeck: And before you were at Interstate you were with Rim.
Don Li: That's right, yeah.
David Sudeck: And there was a focus to bring in again Asia-based owners to domestic hotel ownership.
Don Li: Correct. I was a Chief Operating Officer for the International Division of Rim Hospitality prior to the acquisition by Interstate. My role was a little more operational driven at that time, but now it's majority of my time around the deal side. I do maintain the liaison and the owner relationship role when needed with operations side of things, but my primary focus is on the deal side.
David Sudeck: How has your role changed, or how does your platform changed going from Rim to Interstate?
Don Li: I think it's a perfect match culturally and strategically for both parties. The transition has been really seamless at large and we're very happy to be part of Interstate and bigger platform. We have more capital now. We could do deals that Rim couldn't do in the past.
David Sudeck: Is Interstate investing or they co-investing? What's they're platform?
Don Li: Interstate has a very strong balance sheet. We are managing about 450 hotels, 81,000 rooms under 50 different brands. Some are boutique, independent hotels also, so we're well-versed in old asset types. We are constantly looking for acquisition opportunities for other management company. We can also deploy more capital on joint ventures with the owner if they need the money, either through JV or key money. I think for a large company Interstate is very nimble and agile. We could tailor the investment and solution based on the owner's needs. It's been going quite well for the Asian capital partners because they really need that adaptability and flexibility when working together with us.
David Sudeck: It's great to have the language and cultural insight as well and not many companies that we work with from a management company perspective have some of your skill set.
Don Li: Well, thank you, I applaud my company, my employer, for creating this division, and I think it's been serving us quite well. Not only the language but the in depths and understanding of the business culture. Previously, I was the head of the Development for a large U.S. company hotel group, based in Shanghai. I actually interact with hundreds of Chinese investors over there. With the Chinese investors, even between the region, the cultures are so different. Similar [to] New York and Texas and California investors are different–same there. And the languages are so different too. You got the Cantonese, the Mandarin speaker. The ability to comprehend that and communicate in a way that it's appropriate and understandable to them. It's critical.
David Sudeck: What's driving an investment here domestically from China, specifically?
Don Li: I think US has always been viewed as a safe haven for investors; and when people have money, safety is very important for them. Also, fundamentally speaking, US economy has always been pretty strong. People always value the US creativity and ability to reinvent itself over the times. They feel US is long-term a good market for investment. Most of the investors we come across are all looking for long-term hold for these hotel assets. The dollars are strong. I think the cap rate today in the US is probably the most attractive in mature markets. Certainly better than some of the European markets we know. I think a combination of all that factors are driving them to come to our shore in the US market.
David Sudeck: Are you changing your approach or strategy in any way? Has there been consistency over the last year or two, or are you seeing trends in the marketplace? Give me an idea as to how you're evolving.
Don Li: We are constantly adapting ourselves to different owners' needs. It's a mutual learning process. We take it as an action, learning. If there's any opportunity to learn, we retool ourselves and apply again. At large, the demand is strong but most of the partners we're working with, they're very disciplined. They know what they're looking for. They're looking for mostly for full-service hotels in key gateway cities with a certain cap rate return and valued-added opportunities. We're presenting those deals if it meets their investment criteria and really work hard to achieve the return they wanted.
David Sudeck: How hard was it to find these value-add opportunities?
Don Li: It's gotten a little harder yeah. As you see.
David Sudeck: A lot of competition.
Don Li: Yeah, a lot of competition. And the liquidity is definitely abundant here in the US today. It's gotten challenging, but luckily Interstate is managing almost 400 hotels in the US so we have a good market in intelligence, a very large team. We also invest multi-million dollars in IT in accounting software, procurement software. That really sustains us for the long term gross. One example: where accounting software is totally bilingual, we could offer for clients all the reports on their iPhone or Smartphone. One touch and they can see all the way to yesterday's real time occupancy, ADR, how much money they have in their bank account. It's been a very well-perceived cutting edge feature.
David Sudeck: In terms of millennials, is there a push at Interstate generally, not necessarily Asia, focused to address the lifestyle, boutique trends that we're seeing the acquisition of Kimpton by HG and Moxie Blanche by Marriott?
Don Li: Certainly. We're at the forefront with all these different branding opportunities and really evolved with the general trends in the market. We're engaged with forward-leading brand partners with their new boutique brands. For example, the Curio, the Argo craft, Moxie. We're very on board with that. We know that's a trend and so we embrace it as a management company.
David Sudeck: I know you recently opened the Residence in LAX.
Don Li: Yeah.
David Sudeck: I drove by–it looks beautiful. The grand opening [is] in a week, I can't wait. It looks spectacular. Have you been to that property?
Don Li: I'm actually staying there during this conference and I just met Bob Walter, our owner for the first time yesterday–impressive guy. He's done a great job with the vision and execution skills to get the project done. I think it's really first class.
David Sudeck: I agree. I can't wait to see it. Congratulations on that engagement.
Don Li: Thank you very much.
David Sudeck: You guys have had a long standing relationship with Bob and The Sunstone, as well.
Don Li: Correct. And that's been a great relationship and we have large capital partners like that. My role is to enlarge where Asian capital partner footprints here and capturing more opportunities.
David Sudeck: We hope to work with you. We have a Chinese Investment Group, as you know.
Don Li: That's right!
David Sudeck: We have aligned incentives so we look forward to working with you.
Don Li: Most definitely. We've been enjoying a very good working relationship in the past and I'd love to get more involved.
David Sudeck: We pride ourselves on showing also the inbound Chinese investment, responsible investment and dealing with our cultural….
Don Li: Most definitely. It's a key issue to have a good law firm here advising them on all phases through the transactions so, they're in good hands.
David Sudeck: We appreciate again your coming to the Conference and participating.
Don Li: No, thank you so much for this great opportunity.
---
Our Perspective. We represent hotel owners, developers and investors. We have helped our clients find business and legal solutions for more than $87 billion of hotel transactions, involving more than 3,900 properties all over the world. For more information, please contact Jim Butler at jbutler@jmbm.com or +1 (310) 201-3526.
Jim Butler is a founding partner of JMBM, and Chairman of its Global Hospitality Group® and Chinese Investment Group®. Jim is one of the top hospitality attorneys in the world. GOOGLE "hotel lawyer" and you will see why. Jim and his team are more than "just" great hotel lawyers. They are also hospitality consultants and business advisors. They are deal makers. They can help find the right operator or capital provider. They know who to call and how to reach them.