11 June 2015
Mike Cahill, CEO and Founder of Hospitality Real Estate Counselors and co-chairman of the Lodging Industry Investment Council, speaks in the video below about activity in the 2015 hospitality market, the current cycle and where we may be headed next, distressed hotel sales from lenders, and interest rates and other potential disruptors to the hotel industry.
Mike's conversation with Bob Braun, a senior partner in the JMBM Global Hospitality Group®, is part of our video interview series on hotel finance and investment opportunities in 2015.
A transcript follows the video.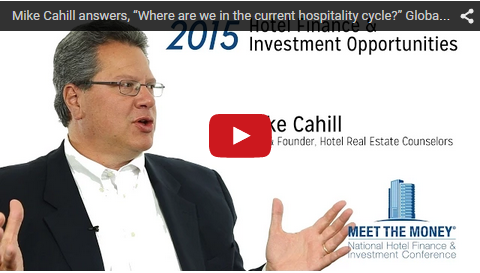 ---
Bob Braun: Hi, I'm Bob Braun. I am a Partner with Jeffer Mangels Butler & Mitchell, and I am here at Meet the Money® 2015, our 25th anniversary, and I am sitting with Mike Cahill, CEO and founder of HREC. Mike, thanks very much for coming and spending a little time with us.
Mike Cahill: Thank you for having us. CONTINUE READING →