2 February 2009
Hotel Lawyers with the pulse of the hotel industry from ALIS. Mark Woodworth of PKF Consulting shared his latest analysis of the hotel industry with us, as well as his slides from the ALIS conference. The picture is not pretty. Mark says, that if you're waiting for the recovery, the key word is "PROTRACTED." Here are the details.

A deteriorating situation getting worse
Mark Woodworth views employment as one of the best measures of the economy's health. Conversely, unemployment shows the economy's weakness. The situation is pretty bad and has been getting worse. The following slide shows actual and projected unemployment and how the forecasts have worsened from August to October and now January 2009.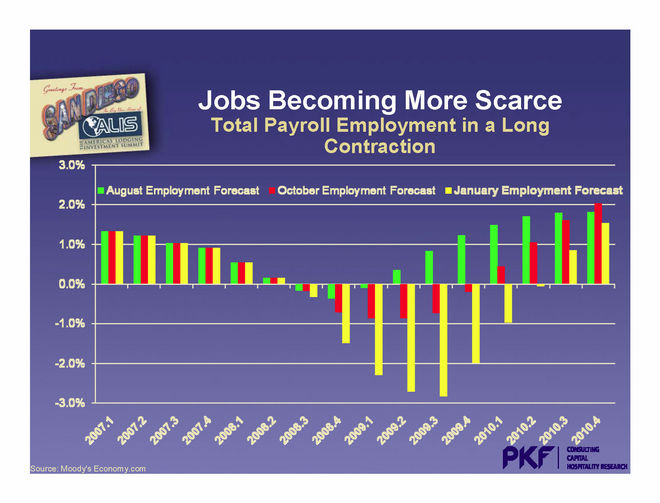 The experts from PKF consulting are projecting that it will take 15 quarters for employment to return to its prior levels. If true, this would be one of the worst unemployment periods since 1979, as shown in the following slide.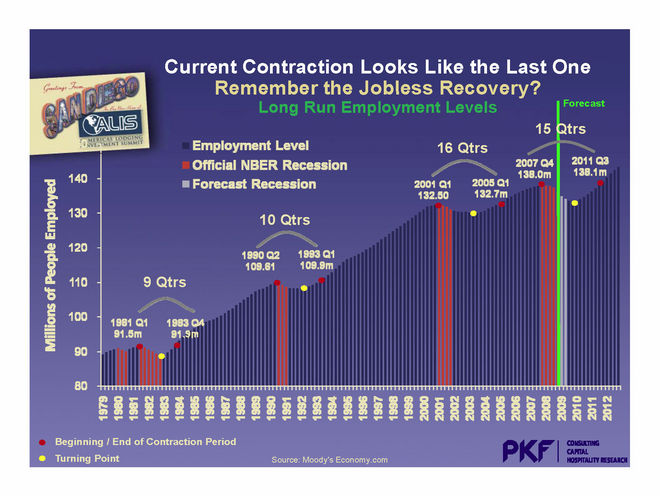 When will the hotel industry recover and what are the turning points?
Here is a graphic illustration of how PKF sees the economic recovery in terms of GDP, income and employment: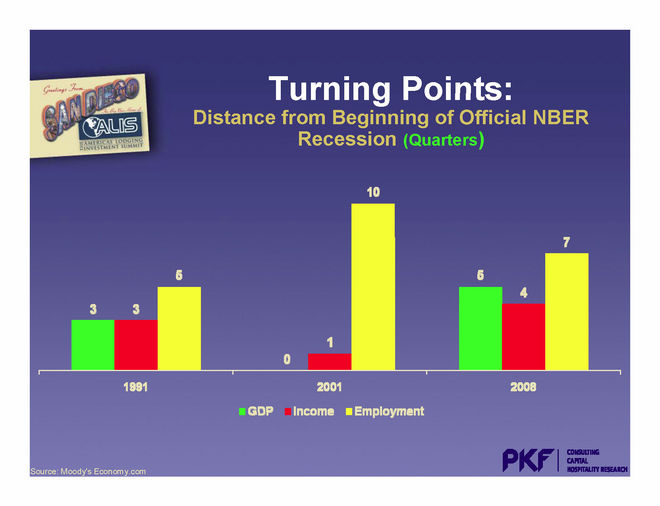 Loan delinquencies growing
The picture on the loan delinquencies looks pretty grim, with home equity loan delinquencies peaking near the end of 2010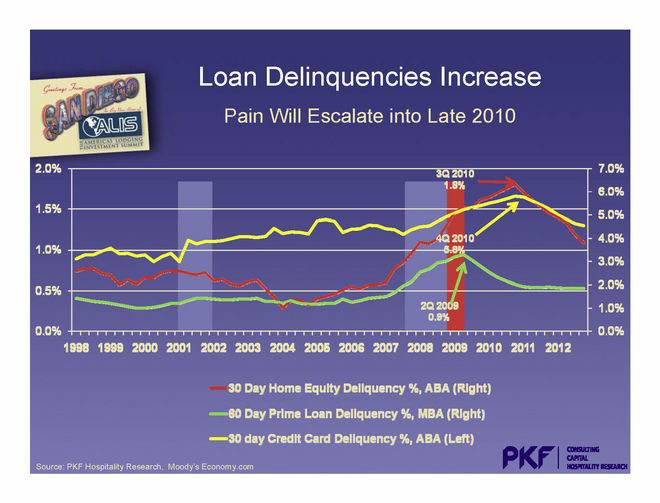 We can only guess where hotel CMBS delinquencies will go from here, but here is Mark's chart on results to date: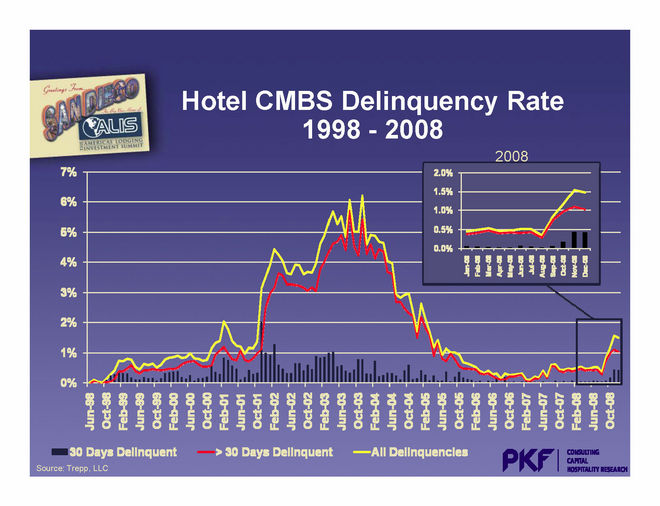 Protracted hotel supply-demand disconnect, declines in occupancy and ADR, and record declines in NOI
PKF is projecting a protracted disconnect in supply and demand for at least 31 months — a new record — as shown in the chart below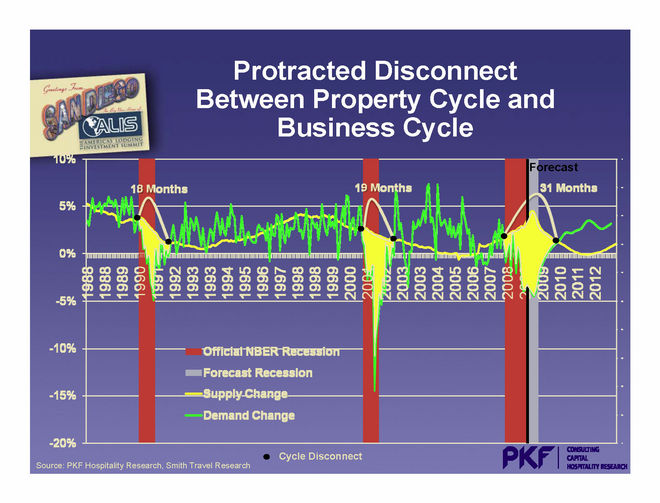 This leads to protracted declines in occupancy and ADR, with ADR recovering only in the second quarter of 2010.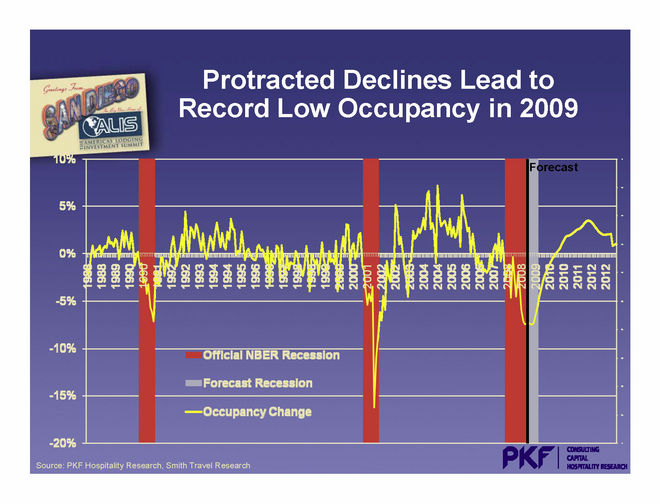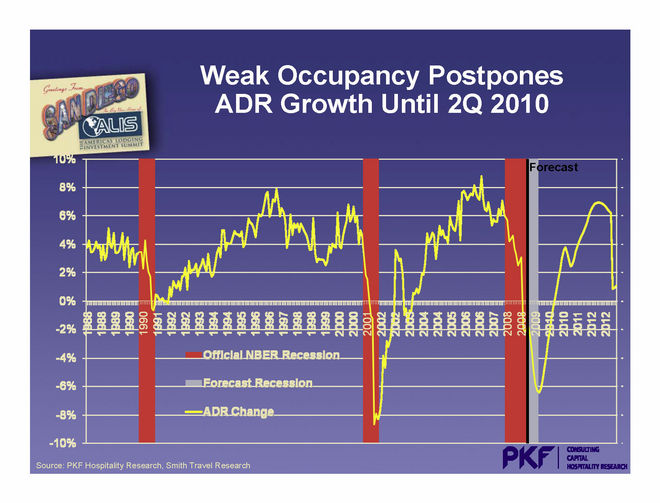 And these factors in turn cause, what Mark calls "a modern record" in NOI declines, which NOI going positive only in mid-to-late 2010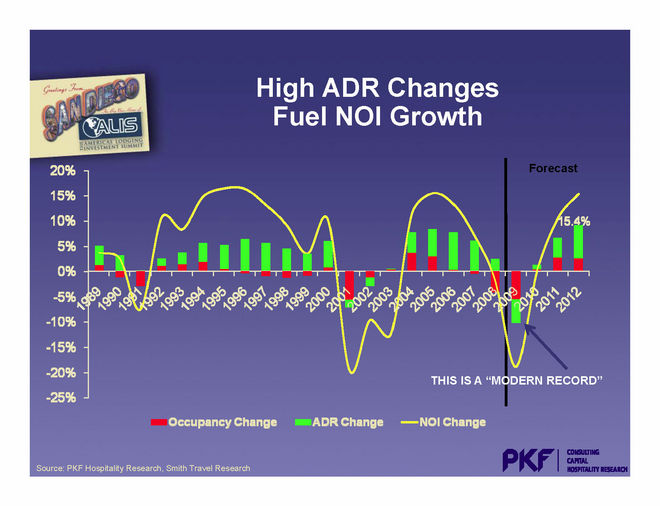 "Explosion" in hotel cap rates
PKF Consulting is forecasting an "explosion" in cap rates for hotels, up by 210 basis points from today through 2010 to 9.7%.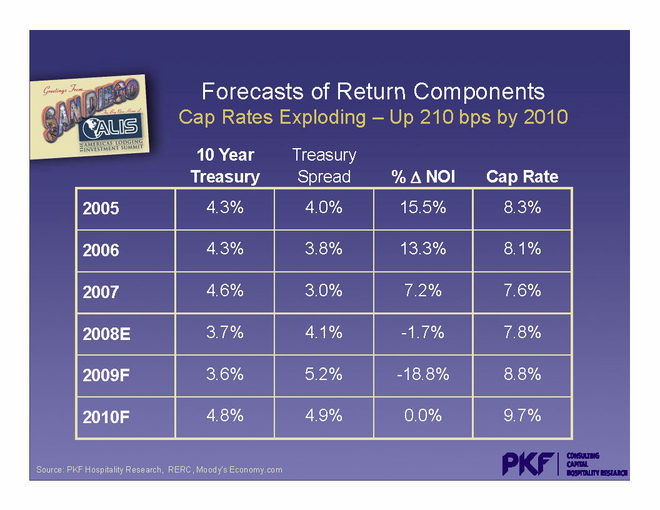 Falling hotel values
Falling NOI and exploding cap rates lead to a projected decline in hotel values of more than 20% in 2009, with no significant improvement in values until 2012.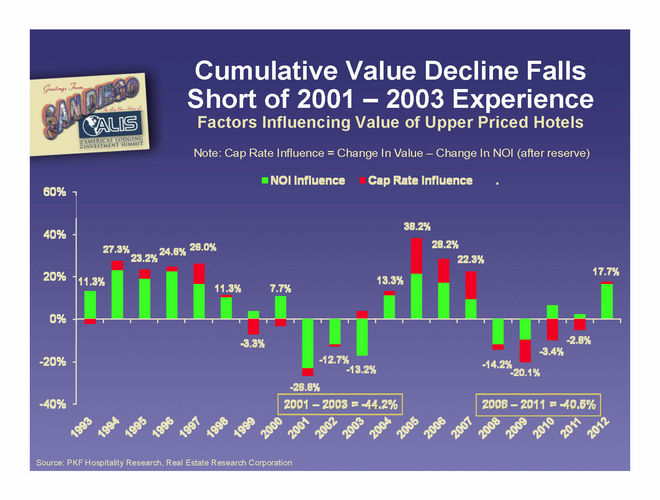 Low occupancy hotels (less than 70%) will experience extraordinary value declines
Although PKF Consulting is projecting a national average decline in RevPAR of 9.8% for 2009, the impact of RevPAR declines on NOI will depend upon the occupancy level of the hotel as it enters 2009. The following chart shows PKF's projections that high occupancy hotels (with occupancy greater than 70%) will have NOI declines of 8.6%, while hotels with less than 70% occupancy will suffer a 44.8% NOI decline!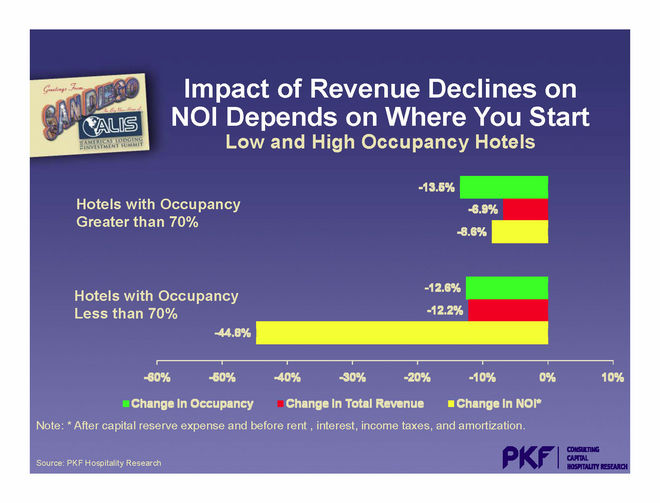 Less than 30% of all CMBS Hotel loans since 2005 have LTVs over 70%
So where does this leave lenders and borrowers in terms of "loan to value" or "LTV" ratios? This final slide suggests that at the end of 2008, less than 20% of the CMBS loans originated since 2005 still had an LTV greater than 70%.
Let me turn that around to say it differently: At the end of 2008, more than 80% of the hotel CMBS loans have less than a 70% LTV, and in 2009, the experts are predicting record RevPAR and NOI declines with an "explosion" in cap rates of 210 basis points . . . and no improvement in value for some time. This does not bode well.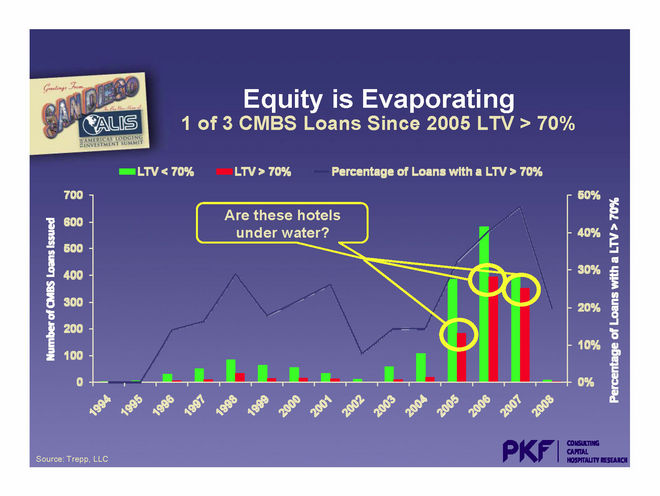 Hotel bankruptcies around the corner?
Hotel bankruptcies have already begun, but we see the flow speeding up as lenders and owners "see the writing on the wall." There will be tremendous opportunities here for someone.
See some of our selected articles at www.HotelLawBlog.com on hotel bankruptcies, workouts and turnarounds.
To better understand how this all affects the hospitality industry, please see some other recent articles listed below:
This is Jim Butler, author of www.HotelLawBlog.com and hotel lawyer, signing off. We've done more than $87 billion of hotel transactions and more than 100 hotel mixed-used deals in the last 5 years alone. Who's your hotel lawyer?
________________________
Our Perspective. We represent developers, owners and lenders. We have helped our clients as business and legal advisors on more than $87 billion of hotel transactions, involving more than 3,900 properties all over the world. For more information, please contact Jim Butler at jbutler@jmbm.com or 310.201.3526.
Jim Butler is one of the top hospitality attorneys in the world. GOOGLE "hotel lawyer" or "hotel mixed-use" or "condo hotel lawyer" and you will see why.
Jim devotes 100% of his practice to hospitality, representing hotel owners, developers and lenders. Jim leads JMBM's Global Hospitality Group® — a team of 50 seasoned professionals with more than $87 billion of hotel transactional experience, involving more than 3,900 properties located around the globe. In the last 5 years alone, Jim and his team have assisted clients with more than 100 hotel mixed-use projects — frequently integrated with energizing lifestyle elements.
Jim and his team are more than "just" great hotel lawyers. They are also hospitality consultants and business advisors. They are deal makers. They can help find the right operator or capital provider. They know who to call and how to reach them.
Contact him at jbutler@jmbm.com or 310.201.3526. For his views on current industry issues, visit www.HotelLawBlog.com.