11 May 2023
See how JMBM's Global Hospitality Group® can help you.
JMBM's Global Hospitality Group® hosted the 30th edition of Meet the Money® national hotel conference on May 1-3, 2023. Alongside investment boot camps and insightful discussion panels, the conference featured several exciting special presentations interpreting the latest data and industry sector highlights. In Part 4 of this blog series, we highlight the special presentations given by Mike Cahill and Paul Single.
Mike Cahill, CEO and Founder of Hospitality Real Estate Advisors (HREC) presented the Lodging Industry Investment Counsel (LIIC) Top Ten on Tuesday, May 2nd. The Top Ten reveals the challenges and investment trends identified through an annual survey of LIIC members. The survey covers topics such as the impact of inflation, investment performance, and the future of hotel development.
As part of the survey, members were asked to identify the best markets for investment. Many chose cities in Florida, Arizona, Colorado and Massachusetts.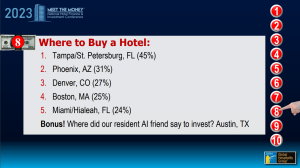 LIIC also surveyed investors about the future of debt, which some hoped would get better in the next year.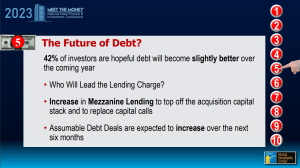 You can download the full presentation here.
Paul Single, Senior Economist and Managing Director of City National Rochdale, gave the final presentation of the conference. He shared a summary of CNR's economic outlook and the key factors which might drive change within the hotel industry. His presentation included an examination of the elements which have historically indicated a looming recession such as GDP and unemployment.
Single gave a comprehensive look at the U.S. labor market, including unemployment rates, job openings, and job cut announcements.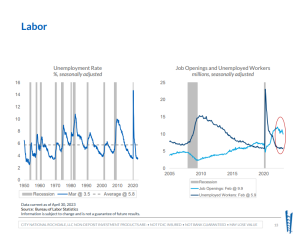 Single also discussed federal debt over the last forty years, putting it in context with historical events which necessitated large amounts of debt.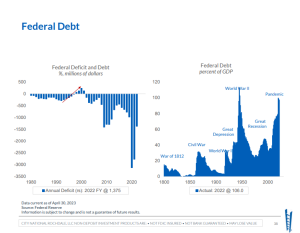 You can download the full presentation here.
Meet the Money Special Presentations
About Meet the Money®
For 30 years, Meet the Money® has created an energetic environment to forge relationships, negotiate deals, and gain an in-depth understanding of hotel investment and finance. Our national hotel conference attracts heavy hitters and offers an opportunity for productive, one-on-one networking with them.
We're looking forward to hosting the conference again in 2024. Mark your calendars – Meet the Money® 2024 will be held on May 6-8, 2024. For updates and more information, visit www.MeetTheMoney.com.
---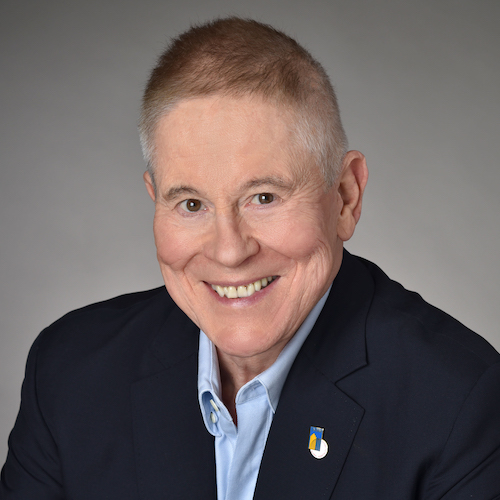 This is Jim Butler, author of www.HotelLawBlog.com and founding partner of JMBM and JMBM's Global Hospitality Group®. We provide business and legal advice to hotel owners, developers, independent operators and investors. This advice covers critical hotel issues such as hotel purchase, sale, development, financing, franchise, management, ADA, and IP matters. We also have compelling experience in hotel litigation, union avoidance and union negotiations, and cybersecurity & data privacy.
---
JMBM's Global Hospitality Group® has been involved in more than $125 billion of hotel transactions and more than 4,700 hotel properties located around the globe. Contact me at +1-310-201-3526 or jbutler@jmbm.com to discuss how we can help.
---