8 May 2023
See how JMBM's Global Hospitality Group® can help you.
JMBM's Global Hospitality Group® recently hosted the 30th edition of Meet the Money® national hotel conference. Alongside investment boot camps and insightful discussion panels, the conference featured several exciting special presentations interpreting the latest data and industry sector highlights.
Lodging Industry SWOT Analysis
Daniel Lesser, President & CEO of LW Hospitality Advisors, kicked things off with a SWOT (strengths, weaknesses, opportunities and threats) analysis of the U.S. lodging industry in 2023.
Some of the notable strengths and opportunities discussed were the strong uptick in demand for travel both domestically and internationally, the availability of refinancing, acquisition and construction financing proceeds, innovative new offerings for consumers and a market prime for investment. Weaknesses and threats included difficulty securing financing, increasing operating costs and supply chain issues, visa backlogs and economic uncertainty.
The slides below demonstrate the promising airline passenger volume which may provide increased opportunities for hotels, and the potential for innovation within the industry.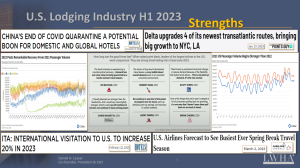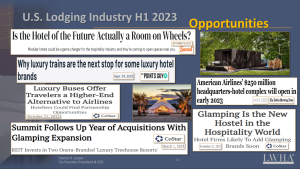 Lesser explains this should be weighed against high operational expenses and the threat of an economic downturn.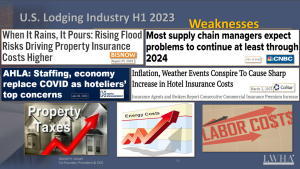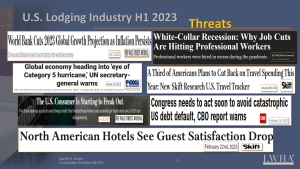 The full presentation can be downloaded here.
Performance Outlook
Luigi Major, Managing Director, Americas, of HVS, analyzed  2023 trends in the hotel industry and how current events are impacting performance and values.
After the last several years of upheaval in the hospitality industry, there are some bright spots—occupancy is slowly climbing back to 2019 levels. Group demand is on the rise, and more group travelers expect to extend trips. Last year set a new industry high for RevPAR, as ADR surpassed 2019 levels in 2022.
ADR drives RevPAR gains: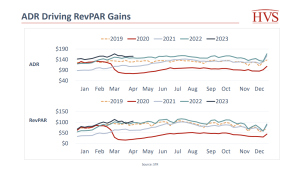 RevPar, Occupancy and ADR data for the past four years, and projections for the next three: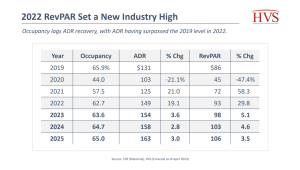 Some challenged faced by the industry as it recovers include the impact of rising construction costs on new hotel supply, Federal interest rate hikes, and climbing cap rates.
Different sectors and seeing different trajectories in their recoveries, compared to prior peaks: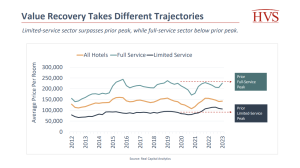 The full presentation can be downloaded here.
Meet the Money Special Presentations
About Meet the Money®
For 30 years, Meet the Money® has created an energetic environment to forge relationships, negotiate deals, and gain an in-depth understanding of hotel investment and finance. Our national hotel conference attracts heavy hitters and offers an opportunity for productive, one-on-one networking with them.
We're looking forward to hosting the conference again in 2024. Mark your calendars – Meet the Money® 2024 will be held on May 6-8, 2024. For updates and more information, visit www.MeetTheMoney.com.
---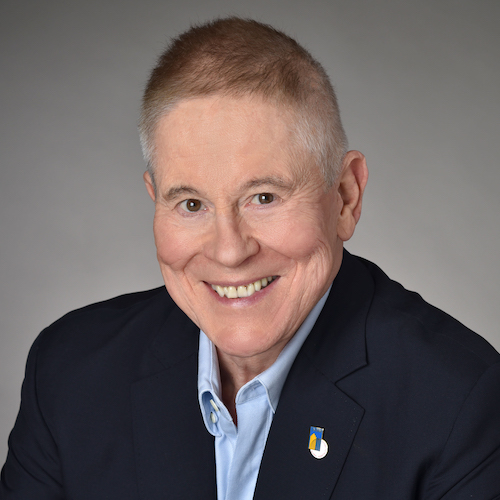 This is Jim Butler, author of www.HotelLawBlog.com and founding partner of JMBM and JMBM's Global Hospitality Group®. We provide business and legal advice to hotel owners, developers, independent operators and investors. This advice covers critical hotel issues such as hotel purchase, sale, development, financing, franchise, management, ADA, and IP matters. We also have compelling experience in hotel litigation, union avoidance and union negotiations, and cybersecurity & data privacy.
---
JMBM's Global Hospitality Group® has been involved in more than $125 billion of hotel transactions and more than 4,700 hotel properties located around the globe. Contact me at +1-310-201-3526 or jbutler@jmbm.com to discuss how we can help.
---