21 October 2008
Click here for the latest articles on Condo Hotels
Hospitality Lawyer on Condo Hotels. Do they work? Are they viable? What are the 5 biggest misconceptions about Condo Hotels?
"Condo Hotels" — they are a subject the media "loves to hate." Everyone has an opinion about them — whether they know anything about them or not. JMBM's Global Hospitality Group® has worked on more than 100 hotel mixed-use projects in the last 5 years alone, most of them involving condo hotels or hotel condos. Funny. Almost all the ones JMBM's hotel lawyers work on really "work" and don't make the headlines.
So with all the critical (and often uninformed) press lately, it was really great to see Brent Howie of Provident Hotels & Resorts — one of the 30-year veterans of the condo hotel industry — write a "no nonsense" article de-bunking the 5 biggest myths about condo hotels. I thought I would share it with you and lend our endorsement to its theme (and to the kind of support Brent gives these projects). Brent Howie can be reached at 727-726-4770 or bhowie@prov.com.

.
.
Brent Howie, President of Provident Hotels & Resorts, is a 30-year veteran of condo hotels and makes them succeed!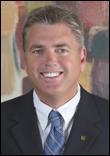 Brent Howie's article isn't as sensationalistic as Paris Hilton writing on her hotel walls or Robert Falor getting another lawsuit from an investor in one of his deals. But who wants to write a serious piece about why condo hotels really work? Well, my esteemed friend Brent Howie, the President of Provident Hotels & Resorts, does. He has just lived and breathed condo hotels for almost 30 years. He understands them, runs them and believes in them. So do I . . . at least when they are well-researched, designed and executed. (In fact, we have an entire "Hotel Law Topic" at www.HotelLawBlog.com devoted to the subject of condo hotels. See Condo Hotels" or https://hotellaw.jmbm.com/condo_hotels/).
I also believe that condo hotels have a truly enduring legacy that continues to be vibrant and alive. But that is another story. (See "Condo Hotels' Enduring Legacy: Hotel-Enhanced Mixed-Use" or https://hotellaw.jmbm.com/2006/09/the_enduring_legacy_of_condo_h.html).
Here is Brent Howie's recent article on the 5 top misconceptions about condominium hotels.
Top Five Misconceptions of the Condominium Hotel Industry
By Brent Howie
Provident Hotels & Resorts demystifies condo hotels
CLEARWATER, Fla. (October 20, 2008) – For more than 30 years, the condominium hotel industry has been a viable marketplace for vacation home buyers and property developers. Unfortunately, there are still some deep-seated misconceptions about the industry, recently magnified by the downward real estate market, that have led the ill-informed to see the condo-hotel business strategy as problematic. In an effort to clear misconceptions about the industry, Provident Hotels & Resorts (aka Provident Management Corporation), a leading full-service condo hotel management organization, explains the five top misconceptions of condo hotels.
Condominium Hotels are a flawed business modelCondominium hotels have been and continue to be a stable business concept when implemented correctly. A balance between the goals of the developer and unit owners has to be achieved for the project to succeed. Condo-hotel projects can run into problems when one side gets too greedy or the location does not make sense from the standpoint of it being a viable second home or vacation destination. The downfall of a property typically occurs when developer promises are not delivered and/or when purchasers have their own misconceptions about what they are actually buying.
Condominium Hotels are an investment opportunity to make a quick profit or at least pay for themselvesWhile condo-hotels are able to achieve rental revenue to offset certain ownership expenses, they are meant to serve as a second/vacation home first and foremost. This means those interested in purchasing a condo-hotel unit should be in the market for lifestyle enhancement properties, not for potential profits. The income acquired from the rental program should primarily be used to offset the overhead costs when the unit is not in use by the owner.
All condo-hotel units must be enrolled in the developers rental programCondominium hotels vary across the board, however every properties' on-site rental programs are optional. Owners can choose whether or not to have their unit in the program to be rented as a hotel room while not in use. It is however, to the advantage of the owner to use the on-site rental program to maximize potential rental revenue as well as to take advantage of the numerous other services that often times are offered.
Condominium Hotels will work at any location that works for a straight hotelNot all successful hotels would make for a successful condominium hotel. Since condominium hotels should primarily be viewed as a second home opportunity they primarily work best at locations that would be desirable and will be periodically used by the owner as a vacation or leisure destination.
Owners can only use their units on certain days of the yearIn many condominium hotel rental programs this restriction does exist but it is always unjustified. Most condo hotel operators are concerned that the condo hotel unit owner will occupy their unit during all or most peak occupancy periods thus taking away potential revenues and management fees. This restriction however is unnecessary since most condo hotel unit owners are also interested in capitalizing on rental revenues during "high season" periods and will reserve their stays accordingly.
Entering the condominium hotel industry in 1980, Provident has handled purpose-built and conversion properties in various markets including Tampa, Orlando, Miami, the Florida Keys, Hawaii and California. Provident's continued success is attributed to unmatched insight into the needs and requirements of this demanding industry, so that both property developers and unit owners achieve satisfying and profitable results. As an advocate for the industry, principals of the company are often keynote speakers on a national level.
Other condo hotel resources
You can access the full library of Condo Hotel materials on Hotel Law Blog by going to the home page, selecting the tab at the top that says "HOTEL LAW TOPICS", and then clicking on "Condo Hotels" in the drop down menu . . . or by clicking here.
Below is a partial listing of articles by JMBM's Condo Hotel Lawyers:
This is Jim Butler, author of www.HotelLawBlog.com and hotel lawyer, signing off. We've done more than $87 billion of hotel transactions and have developed innovative solutions to unlock value from hotels. Who's your hotel lawyer?
---
Our Perspective. We represent hotel owners, developers and investors. We have helped our clients find business and legal solutions for more than $125 billion of hotel transactions, involving more than 4,700 properties all over the world, including more than 100 condo hotels and hotel condos. For more information, please contact Jim Butler at jbutler@jmbm.com or +1 (310) 201-3526.
Jim Butler is a founding partner of JMBM, and Chairman of its Global Hospitality Group® and Chinese Investment Group®. Jim is one of the top hospitality attorneys in the world. GOOGLE "hotel lawyer" and you will see why. Jim and his team are more than "just" great hotel lawyers. They are also hospitality consultants and business advisors. They are deal makers. They can help find the right operator or capital provider. They know who to call and how to reach them.